While most cryptocurrencies struggled to maintain prices due to a fraud-induced crypto winter, Litecoin appears to have been decoupling from vapourware projects like SBF-backed Solana, which went offline 5 times in 2022 alone.
While there's certainly still a lot of work to be done, Litecoin has been posting relative gains over other cryptos in recent months. The comeback has been accompanied with a number of fundamental achievements, with developer activity being the next frontier for the high-integrity 11-year old cryptocurrency.
Santiment data shows that developer activity gained traction in early September, before skyrocketing in October. But this activity tapered off from 2.26 to 0.12 in a span of two months. So-called 'OG' coins like Bitcion and Litecoin tend to prioritise slow, cautious and deliberate development updates over hasty ones which could break the network.
Litecoin has a 100% uptime history, and has set a high standard for cryptocurrency legitimacy in the ecosystem.
Transaction volumes increase
While increasing developer interest is a frontier for Litecoiners, the metric is counter-balanced with surging user activity. Analytics platform Messari, ranked Litecoin as the second most active chain in estimated on-chain transaction volumes over the past 24 hours. With $2.53 billion in transaction volumes, Litecoin is trailing behind Bitcoin.
The volume for the latter stood at a whopping $4.41 billion. Litecoin 24-hour volumes hit $3.98 billion earlier in the week.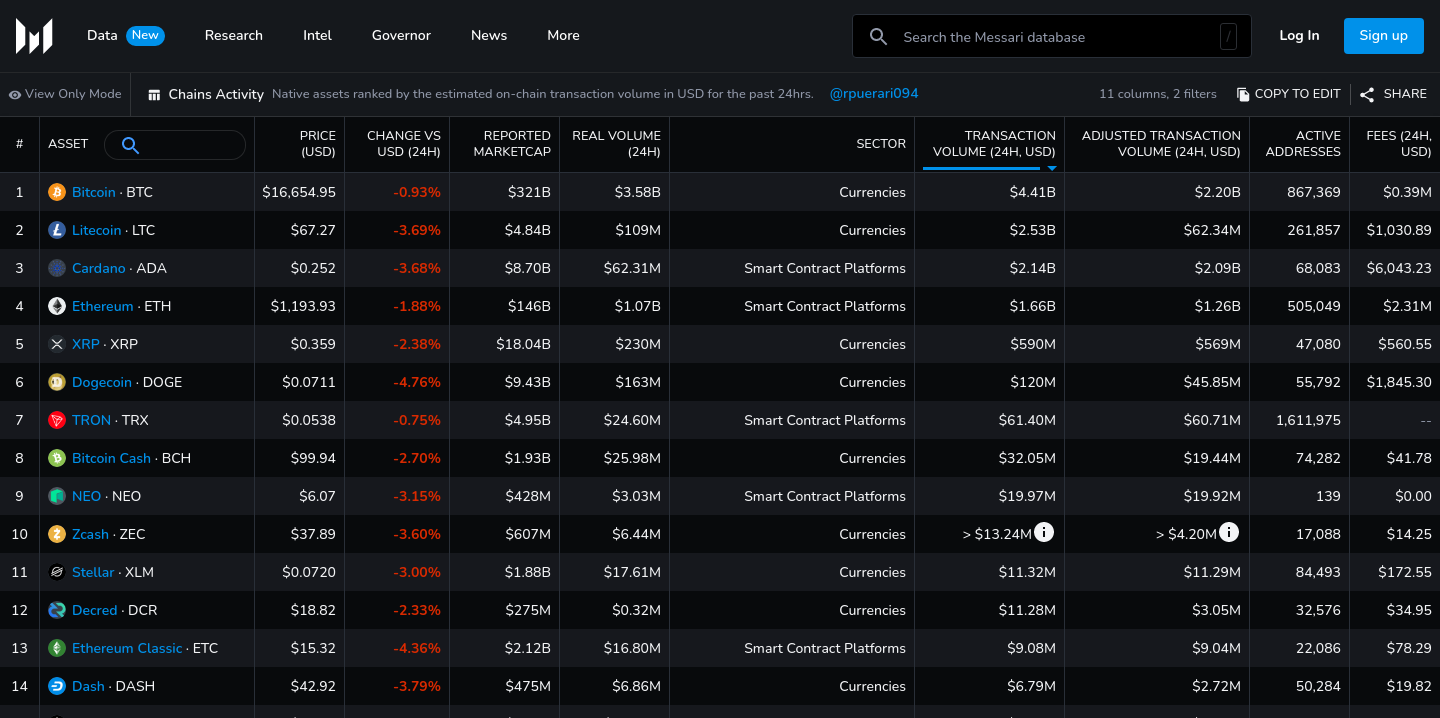 The two cryptos were followed by other networks, such as Cardano, Ethereum, and XRP, with $2.14 billion, $1.66 billion, and $590 million, respectively. Notably, Solana did not make the list.
Mweb usage ticks higher
Litecoin has also witnessed a surge in the average balance currently held on Mimblewimble Extension Blocks (MWEB), which has increased to 58,000 LTC, or the equivalent of over $4 million this week. Moreover, the crypto took the second place on the list of the most supported ATM crypto, beating the likes of Ethereum.
Hash rate all time high
Besides high user activity, Litecoin's resurgence is also echoed in network security. Litecoin's hash-rate hit an all time high of 630Th/s on Monday, per data from bitinfocharts.

A report from BitPay also highlighted the emergence of Litecoin as a preferred payment method worldwide. In one year since the crypto payment provider added Litecoin support, monthly LTC payments increased by 109%. Litecoin is known for having cheap on-chain payments.
Meanwhile, LTC payments accounts for about 27% of payments processed by the firm. Bitcoin took the first spot at over 40% dominance.
---
Join the telegram channel for updates, charts, ideas and deals.
Did you like the article? Share it!