Ethereum's transition from proof-of-work (PoW) to proof-of-stake (PoS) was met with an all-time-high in Bitcoin's hash rate as the industry eyes the big launch. Meanwhile, the largest stablecoin issuers, Tether and Circle, worth a combined $100 billion, have stated they will support the transition.
In brief
The BTC hash rate hit 270EH/s ahead of the merge.
Miner selling pressure is expected to end in September.
Tether and Circle will support the PoS transition.
Support for hard-forks is unlikely at press time.
Hash rate soars to new highs
Bitcoin's hash rate hit fresh highs this week, reaching 272EH/s. Since July 2022, Ethereum's market cap has been closing the gap on Bitcoin, reaching ₿0.085 before cooling off – a level not seen since May 2018.
$BTC hash rate hit an all time high – 272EH/s. Just in time for the merge. pic.twitter.com/wwOgMVvsQv

— Chris on crUPto (@ChrisOnCrypto1) September 12, 2022
In recent weeks, miner selling pressure on the Bitcoin network has begun to subside according to the latest hash ribbon data.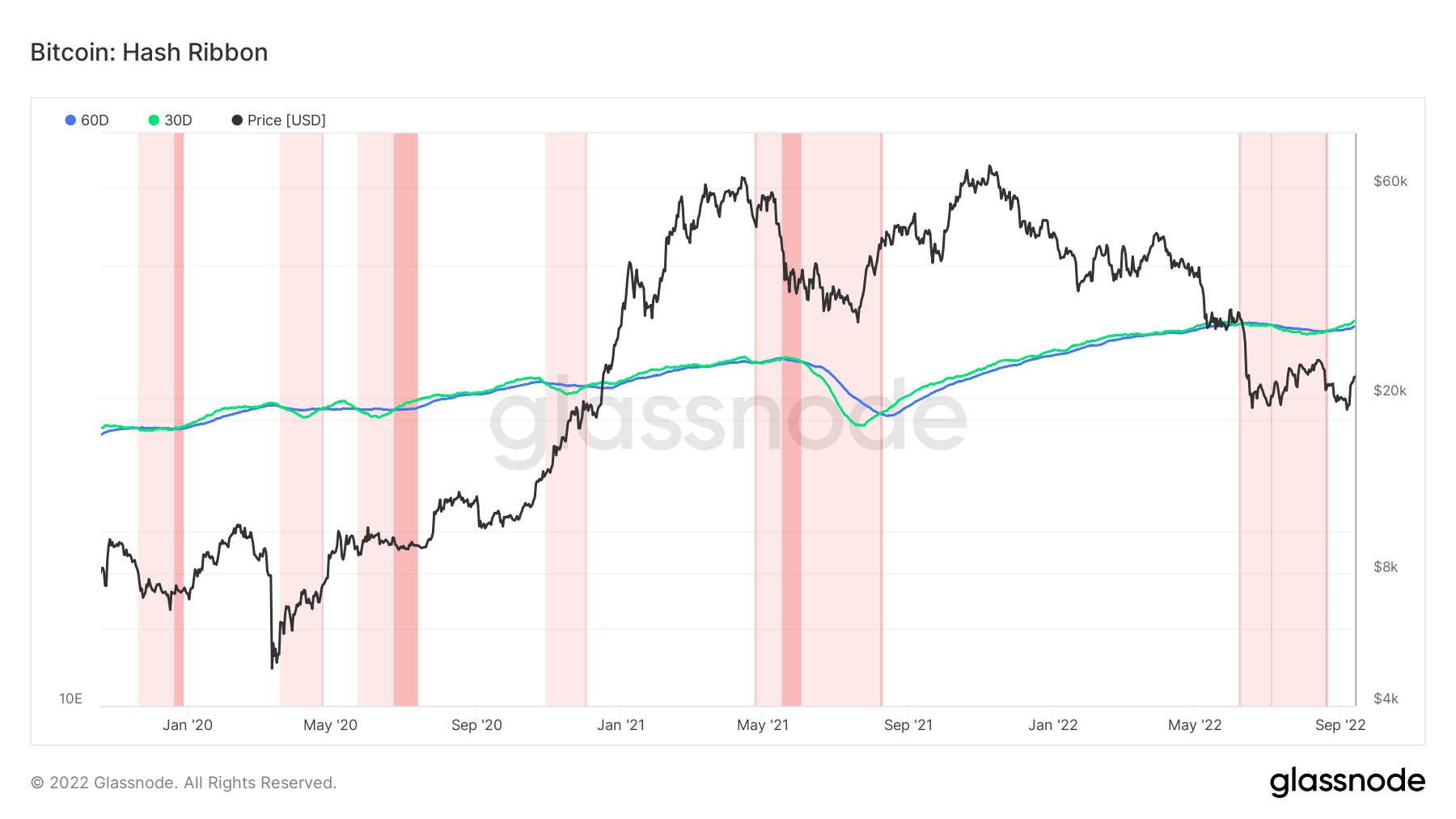 Back in May, mining firms offloaded 100% of their BTC production to offset heavy drawdowns as the market faulted. This was an unusually large spike in comparison to the normal 20%-40% in previous months. But to the relief of onlookers, the latest intelligence report from mining firm Blockware indicates that the last of the selling pressure will subside this September.
Tether Supports the merge
Tether, the digital asset company behind crypto's largest fiatcoin (stablecoin) USDT, is fully supporting the landmark transition of Ethereum's consensus mechanism from PoW to PoS.
The USDT issuer joins Circle (USDC issuer) in support of the merge. Tether USDT and Circle USDC are the two largest stablecoins in crypto, having a combined market cap of over $100 billion.
USD₮ Supports ETH Proof-of-Stake Transition https://t.co/gMcEYl3aI0

— Tether (@Tether_to) September 12, 2022
As the biggest stablecoin in the market trading at 10 times the volume of our closest competitor, and the most used stablecoin on the Ethereum blockchain with 3 times more people holding tethers in their wallet than any other stablecoin, we know it is our responsibility to reassure the community of our support for its development.
Both issuers have indicated that hard-forks are unlikely to be supported should they emerge. The firms stressed that their tokens "can only exist as a single valid version" on the Ethereum blockchain.
---
Cryptocurrencies aren't going away. Buy Bitcoin & Litecoin here.
---
A few days till the update
As of September 12, all eyes are on the Merge as Ethereum moves into the final stages of its PoS transition. The first upgrade dubbed Bellatrix was successfully launched on September 6.
Per comments from Vitalik Butern, the final update called Paris is expected to be deployed sometime this week. A successful deployment would indicate a watershed moment for Ethereum engineers.
Ethereum currently trades above $1,700, while Bitcoin exchanges hands at $22,400 at press time.
---
Join the telegram channel for updates, charts, ideas and deals.
Did you like the article? Share it!