Bybit review: is it legitimate?
Bybit is a cryptocurrency derivatives exchange that focuses on perpetual futures trading. It is registered in the British Virgin Islands and headquartered in Singapore as Bybit Fintech Limited. If this sounds confusing, continue reading for the explanation. The review will cover Bybit's market services, financial products and general positives and negatives.
Review summary (2023)
Bybit is a cryptocurrency derivatives exchange that caters towards traders with a high-risk tolerance. It allows you to trade perpetual futures, with positions maxing out at up to 100x adjustable leverage.
The exchange has an uptime of 99.9%, fees are on the cheap side and support services are good at addressing complaints. Additionally, while KYC is an option, Bybit does not require users to go through the process to use the exchange. US citizens are not allowed to use the exchange.
That's the Bybit exchange in a nutshell. For a detailed review of Bybit, continue reading on; here's what I'll discuss:
---
1. Bybit overview
Launched in March 2018, Bybit was the first exchange to challenge Bitmex's market dominance. The exchange was built by customers who were frustrated with Bitmex exchange, which was known to have been trading against its users via a trading arm – similar to FTX but admittedly less grievous. Customer frustrations built in part because of the exchanges engine, which had excessively long periods of downtime when activity was high.
The CEO and co-founder, Ben Zhou, has been growing the exchange from the Singaporean headquarters for several years. Today, the exchange is a popular place for traders, and the implosion of fraudulent exchange FTX has meant these 'homeless' traders have dispersed into other crypto exchanges – Bybit being one of them.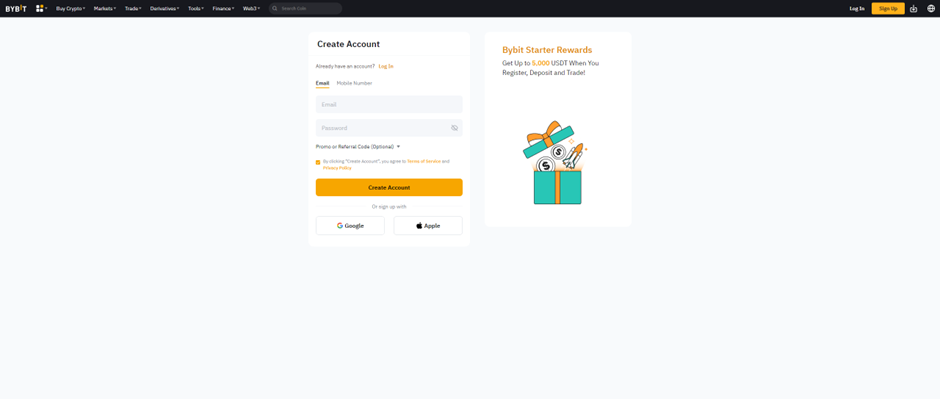 2. Bybit services
Bybit is a cryptocurrency derivatives exchange where you can trade perpetual futures, primarily. But what are derivatives and perpetual futures contracts, you might ask? Before delving into the user interface and fees, it's important to understand this main product offering from Bybit.
What are derivatives?
First and foremost, derivatives products mean that you are not directly buying and selling cryptocurrencies. Instead, you are buying a contract that refers to the underlying asset or currency. When you trade contracts that 'track' the value of an asset (e.g. Bitcoin, Litecoin, Ethereum), this is called a derivative.
The concept of trading futures (a type of derivative product) is fairly straightforward with this basis in mind. A futures contract is an agreement to buy or sell an asset for a given price at a specific time and data in the future.
For instance, two people can enter a contract to trade 1 Bitcoin for $30,000 on April 28th. This guarantees a price for the trade regardless of the value of Bitcoin once the due date comes around. Historically, futures contracts were designed for farmers looking to guarantee prices ahead of time for their crop harvest instead of risking fluctuating prices after the harvest season.
Bybit also offers perpetual futures trading contracts, which adds a step of complexity. Perpetual futures contracts are traded without a specific settlement date (hence the term perpetual). This means you can hold onto the trade for as long as you're able to pay funding fees, and provided your solvency status is not an issue.
Additional conditions are added to the contract due to the increased risk. Failure to meet requirements will end up in a terminated contract (liquidation). Forced liquidation means closing the contract at market prices without warning.
3. Margin trading on Bybit
Initial margin and collateral
Perpetual futures contracts with leverage means you can loan money from an initial stake in order to amplify your risk/reward factor. This is a double edged sword, similar to a house mortgage. You use an initial deposit to leverage more capital to buy the asset payments until you eventually sell the property. By using a portion of funds, you can do this multiple times and magnify profit or loss. This simple mechanism of leverage exists in all domains were finance is involved and tends to cause financial crises.
On Bybit, you can access up to 100x leverage ratio. In practice, this means that if your initial margin is $1000, you can leverage that to turn it into $100,000. This is extremely risky. Crypto markets are partly extremely volatile because of this 'moral hazard' which is part and parcel with fiat monetary policy. If price moves down by $10, you lose $1,000 and forced liquidation ensues. In this case, all your capital and your position will be gone.
Maintenance margin
To maintain your perpetual futures contracts you must pay maintenance margin. Continuing on the house mortgage example, the initial margin to buy the asset and the maintenance margin covers the 'interest payments' for the loan. With futures, your maintenance margin changes depending on the market (variable rates).
On the Bybit exchange, maintenance margin is the minimum margin (funds) required to hold the position. On a USDT contract, maintenance margin starts at 0.5% of the entire contract value. If the maintenance margin is less than the contract value, the contract will be liquidated.
For instance, you open a long position of 1 BTC at USDT 10,000 with 50x leverage.
Initial Margin = 1 (number of BTC) x 10,000 (price in USDT) x 1/50 (your leverage) = 200
USDT Maintenance Margin = 1 x 10,000 x 0.5% = 50 USDT.
You can now take unrealised losses up to 150 USDT (200USDT – 50USDT) before your position faces forced liquidation.
You can find the Maintenance Margin for a trade at the bottom right of your trading screen.
Insurance fund
The Bybit platform also boasts an insurance fund, which is funded using a percentage of collateral from liquidated traders. The fund is used when markets move quickly and traders aren't able to execute orders in time to avoid getting liquidated. The fund stops traders from running up debts past their invested collateral and ensures that those traders who are profiting receive full compensation when winning.
As you can tell, Bybit is not an exchange for new traders. Nor is it an exchange for someone looking to purchase their first Bitcoin. Like most derivatives exchanges, there is a learning curve which includes a well-rounded understanding of financial products, derivatives and synthetic asset risks, among other things.
Bybit's advanced trading features essentially allow users to bet on the future of asset prices, while possibly leveraging a position for an additional risk-to-reward ratio.
4. Currencies and payment methods
Bybit is a crypto-native exchange, which means you can deposit cryptocurrencies. You can't stake your futures contracts using fiat money.
Traders on Bybit can use the following major cryptocurrencies as collateral, among others:
Bitcoin
Ethereum
Tether (USDT)
USDC
Adding to this, Bybit has launched a fiat gateway allowing users to buy BTC and ETH via debt and credit cards, deposited directly to theiraccount. This service is relatively new, and it remains to be seen whether the fiat gateways will continue to operate as cryptofinance becomes more popular.
5. Bybit Fees
Trading fees for Bybit are listed on the platform. The exchange uses a maker-taker fee structure, whereby market makers are incentivised to add liquidity to the platform.
Maker fee: -0.0025%
Taker Trading Fee: 0.075%
Fees are in line with industry-standards, but the fee is calculated based on the leverage amount, not the initial stake. As such, costs can quickly grow.
6. Supported countries
As a crypto-native exchange, Bybit is available to users worldwide, except for a small number of countries which prohibit the platform from operating in country. Bybit exchange is currently not available to citizens from: the United States, Quebec (Canada), Singapore, Cuba, Crimea, Sevastopol, Iran, Syria, North Korea, Sudan.
7. Customer support and review
Normally companies that grow quickly struggle to stay afloat or to provide solid customer support. However, Bybit support is speedy when you deal with the platform's chatbot. The live chat function works well and responded to queries instantly – granted this is a chatbot, but human interactions are also speedy.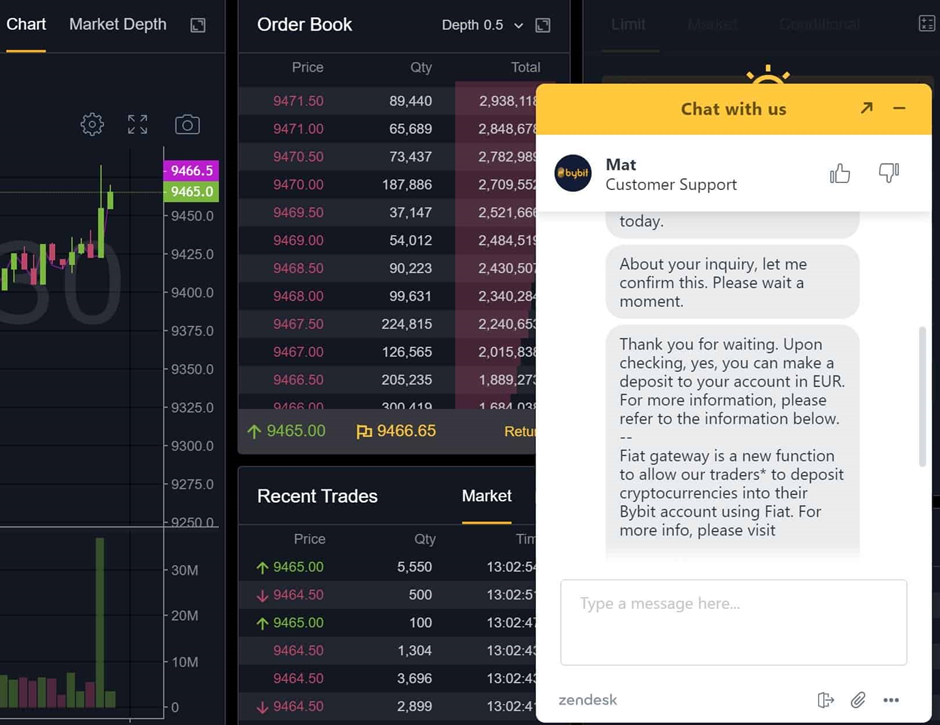 Queries are normally dealt with quickly. That's my general experience.
That said, Bybit's TrustPilot rating is only 2.9, which is average and suggests the support team isn't as speedy as my encounters were, generally. Google Play ranks Bybit at 4.1, however, which is a far more attractive rating. Notably, the rating is not about customer support, but rather about the app, performance, and UX/UI functionality.
Bybit has an active social media presence and an active Reddit community.
8. Frequently asked questions (FAQ)
Is Bybit safe?
When dealing with financial assets, security is understandably a concern. Bybit uses a number of strategies to safeguard the security of users' crypto assets:
As a derivative platform, it is immune to fiat-crypto exchange risks or traditional banking risks.
Bybit is profitable, making it possible for the exchange to avoid counterparty and performance risks. The exchange is still around after the FTX implosion.
Bybit places limits on the maximum order and position size
Dual price mechanism protects traders from incorrect liquidations caused by market volatility and possible manipulation or unfair practices.
The "Exchange Transparent Assets" program by BitUniverse allows users to review Bybit's assets on the platform directly.
Bybit reconciles and monitors users' assets. On-chain and off-chain fund flows are monitored by a third party. If privacy is a concern, use the public bathroom analogy: in and out – no loitering.
Bybit has a built-in cold wallet to safely store funds in case of a hacking incident. Deposit addresses for users are cold wallet address. Asset consolidation and withdrawals are finalised via offline signatures.
Withdrawal requests are subject to manual reviews three times, once every eight hours.
Bybit employees undergo background checks, mandatory security training and assessment for security purposes.

Check out this Bybit post to familiarise yourself with additional security measures.
Is Bybit available to US citizens?
Per Bybit's terms of service, the exchange is not available to US citizens at the moment.
Is Bybit available to Canadian citizens?
Per Bybit's terms of service, the exchange is not available to Canadian citizens at the moment.
9. Conclusion: is Bybit a legitimate exchange?
Bybit emerged as the first credible alternative to Bitmex. The platform is intuitive, well-built and delivers on its promises, which includes 99.9% uptime for the platform. The exchange hasn't gone offline during high demand in my experience, and traders are somewhat protected with an insurance fund.
The fiat gateway helps as an on-ramp for traditional finance users to begin their trading journey in cryptofinance. While most traders use native crypto assets, the fiat on-ramp is a nice addition.
Coin selection for contract staking is varied, and is available to traders who seek it. Bitcoin and Tether (USDT) are available, though the service might not be of particular interest to those who are looking solely at proof-of-work coins and self-custodying after conducting successful business.
Fees are set at the industry standard for futures exchanges with market makers incentivised to add liquidity to the exchange. The international platform is available to most countries, but US and Canadian citizens cannot use the service due to abrasive US regulations. While it is technically illegal, citizens who live under dictatorial regimes can us a VPN service to access cryptocurrency exchanges.
As for the customer experience, the above average TrustPilot rating seems adequate. Bybit has built a loyal and engaged user-base. Where there's money involved, there will always be some traders who become disgruntled, but in-so-far as the experience goes, Bybit is a legitimate exchange in the emerging cryptofinance sector.