Bitfinex review: is it legitimate?
Bitfinex is a cryptocurrency exchange registered in the British Virgin Islands which has been in operation since late 2012. The exchange has been around through most crypto boom and bust cycles and continues to stand the test of time. In this post, I will review the exchange, the company behind the exchange as well as discuss the controversial episodes the exchange faced throughout its lengthy history.
Review summary (2023)
Bitfinex is primarily a bitcoin and cryptocurrency exchange used by professional traders and investors with an interesting track record. The platform is well suited for advanced traders and also supplies the option for margin trading and lending. Bitfinex does not accept US customers. That's Bitfinex in a nutshell. For a detailed review about Bitfinex, continue reading on; here's what I'll discuss:
---
1. Bitfinex overview
Bitfinex was first founded in 2012 in the British Virgin Islands by iFinex inc., and it is headquartered in Hong Kong. Focusing on peer-to-peer technology, the exchange first started out as a p2p margin lending platform for Bitcoin only. Some founders and iFinex management, like Paolo Ardoino, also manage Tether, the US pegged stablecoin.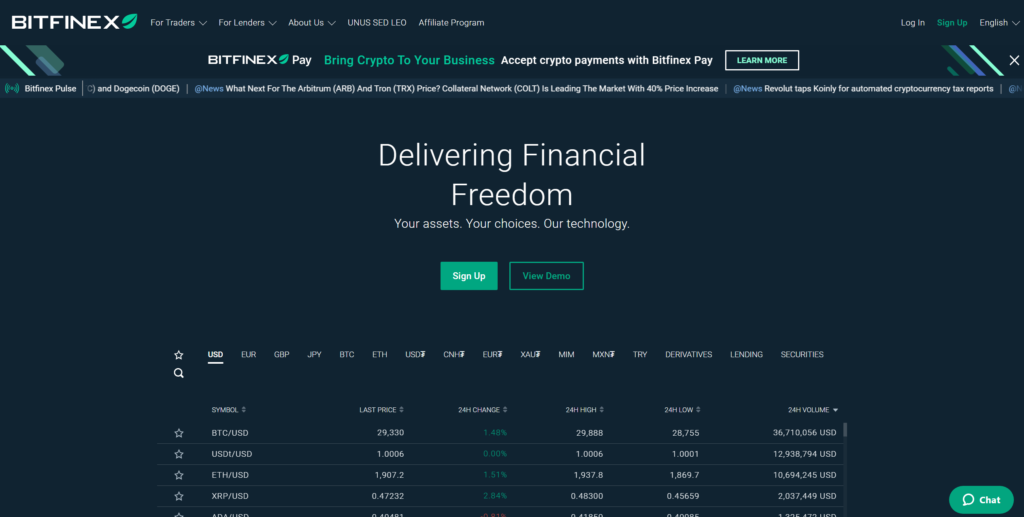 2. Bitfinex services
Bitfinex offers users a number of services. These include:
Advanced trading platform
Bitfinex has the most liquid order book in the cryptocurrency space. High volumes are especially important for traders, as high trading activity ensures a low spread for orders. The spread is the difference between the best bid and asking prices.
Bitfinex features a customisable graphical user interface (GUI), over to trading pairs (BTC/LTC), and many order types traditional traders will be accustomed to such as limit, market, stop, stop-limit, trailing stop, fill or kill, and scaled orders.
The interface can be changed according to user preferences. Bitfinex users can get access to advanced charting and application programming interface (API) access. Together, these features make Bitfinex a consistently popular exchange, normally with more veteran cryptocurrency traders.
Margin trading and funding
Bitfinex users can borrow and trade with up 3.3x leverage using the platform's P2P (peer-to-peer) margin trading platform. The terms to borrow money (duration, amount and interest) can be set by the user, or automatically through Bitfinex.
At the same time, users with crypto assets can lend funds securely through the P2P system. These secure trades allow users to earn interest on their cryptocurrency assets if lending terms are reached. Users can offer funding across an increasingly wide range of currencies and assets, at an interest rate and duration of their choosing.
Warning: Margin trading increases risks and is not suitable for traders who are unfamiliar with borrowing and lending nuances. Margin funding locks funds on Bitfinex for the entire duration of the loan.
Over the counter (OTC) services
Those looking to trade large amounts ($100,000 or more) without showing up on visible order books, Bitfinex provides an over-the-counter trading facility. This matching service allows large users to secure private deals privately.
Derivatives trading
Bitfinex also offers derivatives contract trading, which provides the option to speculate on the price of an asset, without buying or selling it directly. To do this, traders need to add collateral to their derivatives account using USD Tether (USDT), or other crypto assets before they can trade.
Staking and lending
Last but not least, Bitfinex also provides a lending and staking service. The service lets users stake or lend crypto holdings, without needing to have the technical know-how to operate staking software.
3. Bitfinex turbulence
It's no secret that Bitfinex has gone through rough times throughout its existence. The exchange has experienced its fair share of problems, yet much like bitcoin, managed to emerge from the depths every time. In 2015, Bitfinex was hacked for the first time, with 1500 BTC being stolen outright.
A year later, in April 2016, a theft of nearly 120,000 BTC occurred; the second-largest Bitcoin heist in history, surpassed only by the loss of around 750,000 BTC from Mt. Gox.
The main difference between Mt. Gox and Bitfinex is that the latter made amends and efforts to make clients hold. This was done through the creation of LEO token. While not all accounts were affected by the hck, Bitfinex made the decision to effectively socialise the loss among clients, and all users took a 36% 'haircut' on account valutions.
A year later, clients who held onto their BFX tokens (IOUs) were fully compensated. However, issues did not end there for Bitfinex. In April of 2017, Bitfinex's bank accounts were frozen by its corresponding bank, Well Fargo.
The high-tension situation continued for weeks, which lead to client complaints and various distortions in Bitfinex pricing. Eventually, normal services resumed, though US customers are no longer accepted by Bitfinex due to the ongoing banking headaches with traditional banks in the states.
More recently (2020), Bitfinex lost access to $850 million worth of customer money as their payment processor – Crypto Capital – had its funds seized by Poland, Portugal and the United States. The hole was fully covered by Tether. Tether's stablecoin market share has since climbed to 65%, per Coingecko data (as of 04/26/2023).
Notably, Bitfinex appears to be one of the first victims behind today's rumblings around operation chokepoint 2.0. The operation is covered in depth by long-standing commentator Nick carter, who in so many words, details how US regulators are colluding to destroy the cryptocurrency sector by cutting off access to the traditional financial system.
4. Currencies and payment methods
Bitfinex accepts fiat deposits in EUR, JPY, GBP and USD. Deposits can only be made via wire transfer. Bitfinex also supports Tether (USDT), the 1:1 stablecoin which is pegged to the US Dollar. Deposits are cheap and withdrawals for Bitcoin, Litecoin, Ethereum, Monero some 90-odd assets are also available.
Bitfinex requires verification in order for users to gain access to Tether. However the exchange is still fully usable by means of an email address signup for those who are only interested in using native cryptocurrencies. In keeping with its 'freedom manifesto', Bitfinex also offers direct access via the Tor network.
5. Bitfinex fees
Bitfinex uses a taker-maker fee model where users who fill existing orders are consider 'takers', while those that place limit orders are considered 'makers'.
Taker exchange fees start at 0.2% and can drop to practically 0% for large maker orders. There are zero trading fees for big orders (about $100,000) conducted via the OTC desk.
Bank wire transfers have a 0.1% deposit and withdrawal fee, which can be nearly 1% if you're after a very quick withdrawal.
Crypto deposits are normally free of charge, while withdrawals include small fee which can be taken from the transferred sum, depending on the funds/cryptocurrency withdrawn.
For the full fee schedule, which includes margin trading fees check out this page.
6. Supported countries
According the Bitfinex terms of service (Tos) and FAQ, the only country that is explicitly excluded from using the platform is the United States. As mentioned earlier, US regulators and Bitfinex have had multiple run-ins in the past.
Bitfinex's 'basic' services are fairly fleshed out and available worldwide. These include using exchange, margin trades and cryptocurrency/digital asset deposits and withdrawals, which only require an email address. Assuming you live in a non-dictatorial regime, the onus is on you, the potential user, to adhere to your country's legislation or legal framework on the matter.
More advanced usage requires a deeper KYC process, unfortunately. This includes a 'proof of address' process. That said, the list of available countries is not on the website, as such you will be able to figure out eligibility by going through the verification process.
7. Customer support and reviews
Bitfinex provides users with detailed knowledge base and a ticketing support system. On average, TrustPilot indicates that Bitfinex does a fairly decent job in maintaining user satisfaction. This is noteworthy as many exchanges have a 'poor' rating. Bitfinex caters to larger holders, however, so there's an expectation for better service overall.
Needless to say much criticism has been levied against the exchange throughout the years, particularly as it relates to the stablecoin Tether. Attempts to increase transparency via transparency reports have been made, but as exchange spokespersons have indicated in press releases, Bitfinex and Tether have been subjected to unfair and potentially targeted coverage by mainstream media outlets such as the Wall Street Journal. On the other hand, critics say Bitfinex has something to hide.
On April 24th, 2018, Bitfinex was accused by the NYDAG of covering up an $850 million hole. In 2021, Tether/Bitfinex settled with the New York Attorney General's office over a 2-year dispute for $18.5 million, however, suggesting the abrasive state of affairs may be subsiding.
8. Bitfinex or Binance?
Both Bitfinex and Binance support numerous cryptocurrencies. Bitfinex have recently launched an interface rework which brings the exchange up to speed with today's UI/UX standards.
The two faces of either exchange have certainly received their fair share of criticism in terms of reputation over the years. Binance's CZ is generally more forthcoming with Binance operations and is more PR-friendly on his Twitter profile, while Bitfinex CTO – the de-facto Tether/Bitfinex representative – tends to post technical Bitcoin-related activity and other privacy and peer-to-peer technologies, excluding the odd pasta post.
In 2022, Binance was obliged to effectively wind down its BUSD (stablecoin) operations it had in the United States, following what many regard as an escalation of operation chokepoint 2.0, where fully regulated exchanges such as Kraken and Coinbase are also under pressure.
On the other hand, while Bitfinex's previous hacks, accusations and general bumpy trajectory have trended towards resolution, the ideal scenario is that these tensions wouldn't have existed in the first place. The bumpy road could be written off as part and parcel with the sector's relative nascency and larger-than-life undertaking.
Fees used to be lower on Binance, but SPOT-free Bitcoin trading has been removed in 2023. Binance 0.1% fee as opposed to the taker-maker fee Bitfinex uses. Instant buy/sell orders are 0.1%-0.5% on Binance.
Overall, Bitfinex caters to larger players, generally, while Binance caters to a variety of users.
9. Conclusion: is Bitfinex a legitimate exchange?
If you are an advanced non-US trader or looking to trade large amounts, then Bitfinex is the better exchange. However, newer users might want to look into other exchanges for purchasing smaller amounts. Bitfinex has also made inroads into traditional markets, with FX and Gold (XAUt) being available to traders is the emerging cryptofinance landscape.
While strides have been made to make the interface less complicated, it will take some time to get used to the system. This is in contrast to simpler exchanges such as Kraken, Coinbase or even Binance. Newcomers that are unfamiliar with trading terminals should consider a simpler exchange that offers a variety of familiar payment options before trying out Bitfinex.
At the same time, experienced traders should migrate to Bitfinex as it offers everything you'll need and more. The downside is KYC, which has been creeping into the industry, and will have to be contended with, unfortunately. Since privacy and government or third-party spying is a very serious concern, users might want to think of any exchange like a public bathroom: a place to do your business and get out – no loitering. Not your keys, not your coins.
Regardless, Bitfinex boasts the most liquid order books in the space, since volumes are real and not a consequence of wash trading. The high liquidity combined with advanced features such as margin funding, leverage, and multiple order types makes Bitfinex a great trading platform.
For those worried about the safety of their funds due to prior hacks, there's not much to add on top of the 'public bathroom' remarks, besides the fact that Bitfinex appears to have made it a priority to reimburse customers in such cases.
There's also an argument that Bitfinex's staying power suggests that the platform has become more resistant to future attacks and possibly cataclysmic crypto scenarios.