Much has been said about the crypto energy debate, with critics arguing that proof-of-work blockchains like Bitcoin and Litecoin are too energy intensive due to excessive carbon emissions. But are these concerns born out of facts or doomsday fantasies?
PoW Climate Concerns Unsupported by Data
Bitcoin's energy usage is supposed to be justified by the economic outcomes it promotes – an incorruptible tool for storing and sending value across boarders with no middle-man.
But is this energy usage a cause for concern?
Several reports have emerged over the years outlining Bitcoin's energy requirements, the transition to sustainable network growth as well as the necessary trade-off to achieve good money.
In May 2021, as discussions about energy usage ramped up, reports comparing Bitcoin's energy consumption to the traditional fiat banking system began to emerge. Crypto firm Galaxy Digital released a report titled "On Bitcoin's Energy Consumption: A Quantitative Approach to a Subjective Question," providing open access to the research methods used.
The firm found that Bitcoin's annual energy consumption to stood at 113.89 TWh, which included energy for miner demand, power consumption, pool power and node power consumption. The estimates were at least two times lower than the energy consumed by the traditional banking system as well as the gold industry on a yearly basis. Today, data from the Cambridge Bitcoin Electricity Consumption Index estimates Bitcoin's annualised consumption at 96.05TWh. These numbers mean bitcoin's current energy consumption is effectively a rounding error in a larger global context.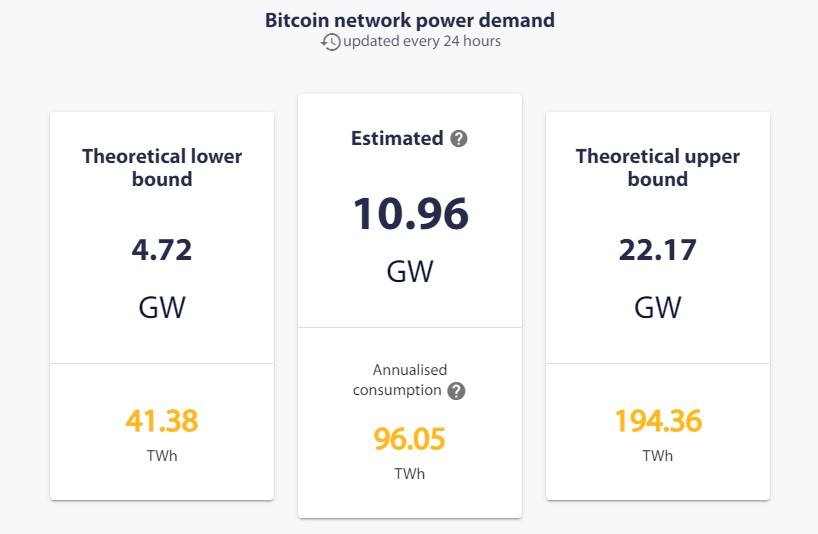 The encouraging data sets were further confirmed as new reports emerged over time. In March 2022, research and crypto analytics firm Messari released energy usage data in response to misguided efforts by European politicians to effectively ban proof-of-work (PoW) mining. The draft bill would have followed recurrent Chinese bans against the monetary network, but was soundly pushed-back by incontrovertible data about Bitcoin's near-absent carbon emissions. Messari research found that the network's carbon emissions are less than half of the global banking system and more comparable to carbon emissions from tumble dryers.
This raised serious questions as to whether parliamentarians knew what they were voting on at all.
Elon Musk, a once vocal critic of the Bitcoin network also had a change of heart after reading a collaborative paper from researchers at Square and Ark Invest, which drove the point that Bitcoin adoption will increase renewable energy efficiency and production, not decrease it.
---
Cryptocurrencies aren't going away. Buy Bitcoin & Litecoin here.
---
Misguided Beliefs about Carbon Emissions
Regardless, questionable energy concerns remained, leading many proof-of-stake (PoS) projects to openly declare an affiliation with the Environmental Social Governance (ESG) movement.
Indeed, Bitcoin's energy critics tend to argue from a larger context framed by ESG proponents (i.e. net zero carbon emissions). Followers of climate-related rhetoric would be aware about the looming transition towards mineral-intensive green energy usage in Western nations. However, they may not be aware that this narrative does not address the significantly positive impact fossil fuels have on societies worldwide.
This is what author and founder Alex Epstein has been arguing for some time. Epstein says that any transition must be sustainable and necessarily include fossil fuels if human flourishing is a top priority. In contrast to the current conversation around the apparently dire climate situation, Epstein points to the fact that climate-related death rates are down 98% over the past 100 years, specifically because of fossil fuel and the machines it fuels. These second and third-order effects are not given due recognition in energy discussions today.
Recently discussing energy and climate change narratives on Anthony Pompliano's podcast, Epstein also questions the motivations of the ESG movement, noting that their interests are more about 'human impact' rather than 'human flourishing'. Such reasoning implies that collateral damage in the form of increasing human death could be justified provided CO2 emissions are brought down and 'net zero' policies are followed.
According to the author, such ideas are alarmist and 'catastrophising'. In fact, the human impact on global warming is far less consequential than it's made out to be. He says that "we have a fascinating phenomenon were fossil fuels have made our climate safer and nobody is talking about this".
Epstein's thesis and concern about the anti-carbon crusade narrative is shared by thousands of scientists, Nobel Prize Laureates, physicists and professionals who have just signed a 'World Climate Declaration (WCD)' declaring 'there is no climate emergency'.
Climate science should be less political, while climate policies should be more
scientific. Scientists should openly address uncertainties and exaggerations in
their predictions of global warming, while politicians should dispassionately
count the real costs as well as the imagined benefits of their policy measures.
Bitcoin's Sustainable Future Energy Consumption
As green-energy precepts are increasingly scrutinised, partly due to Europe's energy crisis, the question as to where Bitcoin fits into a future of sustainable energy usage is wide open.
Attempting to demystify the abstraction, analysts at Arcane research have posited estimations around Bitcoin's energy consumption in 2040. Accounting for various scenarios that are largely dependent on Bitcoin's price in Dollar terms, Bitcoin's energy usage will probably increase over time – the question is to what extent?
In one estimate, a $2 million (per) Bitcoin by 2040 would put the cryptocurrency's share of global energy at 0.36%. This would be a significant increase from today's level of 0.05%, but "still far below the doomsday estimates provided by certain Bitcoin critics."
At such an energy consumption, bitcoin mining will be considered a significant energy-intensive industry, but still far below industries like cement production, which consumes 2% of the global energy.
The report underlines that due to the various factors, Bitcoin's proof-of-work mining activity is very uncertain. But in the grand scheme of things, "Bitcoin will only become a significant global energy consumer if its price reaches several million dollars."
In other words, only if Bitcoin succeeds as money will its energy consumption reach a significant level.
However, the prospective increase in energy consumption is offset by miners' steady shift to sustainable forms of energy. A quarterly report from the Bitcoin Mining Council found that as of the first quarter of 2022, the mining industry as a whole is using a sustainable electricity mix of 58.4% — one of the most sustainable industries on the planet.
The report notes that sustainable energy usage increased 59% over 2021.
In summary, aggregated data indicates that:
Proof-of-work environmental concerns are incorrect and run contrary to current data.
Net zero carbon emission policies are misguided and disregard sustainable energy solutions.
At $2 million per BTC, network energy usage would be markedly higher than today.
Bitcoin mining operations are offset by a sustainable energy mix.
---
Join the telegram channel for updates, charts, ideas and deals.
Did you like the article? Share it!