PrimeXBT review: is it legitimate?
PrimeXBT is an advanced trading platform for trading cryptocurrencies and other assets such as stocks and commodities. The exchange is based in the Seychelles and has been around since 2017. This PrimeXBT review will cover what you need to be aware of before using it.
Review summary (2023)
PrimeXBT is an exchange that offers leveraged trading options across cryptocurrency, Forex, and commodity markets. The exchange's competitive features and fees hold promise for experienced traders. However, it's worth noting that this platform is unregulated and exclusively deals with cryptocurrencies. It's crucial to be responsible while trading, as the use of excessive leverage on an unregulated platform may result in substantial losses.
That's PrimeXBT in a nutshell. For a more detailed review keep on reading, here's what I'll cover:
---
1. PrimeXBT overview
Launched in 2017, the company is registered in the Seychelles, operating a global dynamic trading platform which caters towards experienced cryptocurrency and Forex traders. Acquiring company information is not easy given that this off-shore registration is meant to cut through regulatory red tape, but the exchange has grown significantly after almost five years of operation without hiccups.
PrimeXBT is a growing trading platform which appears to focus on customer satisfaction by offering a wide range of tradeable markets and high leverage options. With its Bitcoin-based exchange, PrimeXBT is emerging as a strong competitor to industry leaders like Bitmex. Operating with minimal regulatory compliance, the platform provides a borderless global experience.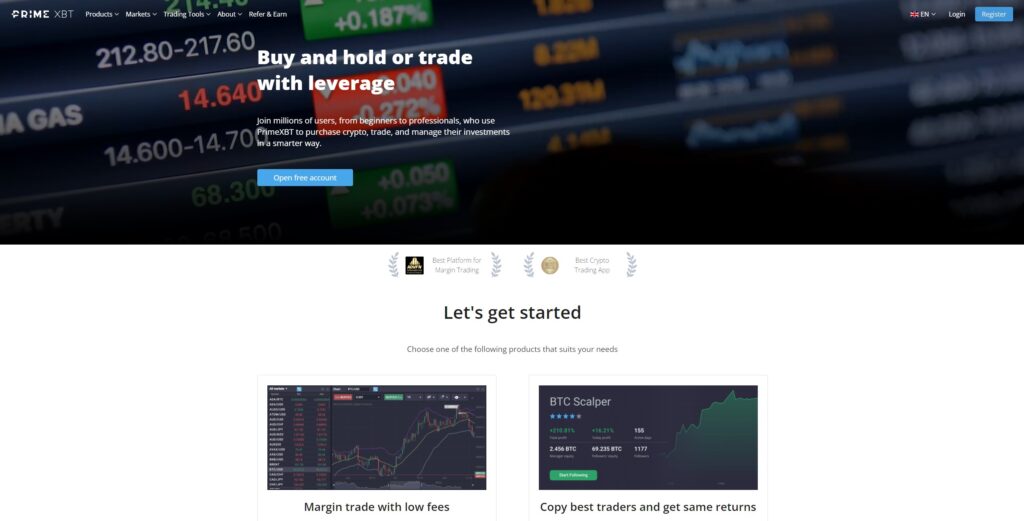 2. PrimeXBT services
The crypto trading platform offers many options that are atypical of Bitcoin and cryptocurrency exchanges. In fact, the exchange only accepts deposits in Bitcoin, Ethereum, Tether (USDT), USD Coin (USDC), or Covesting (COV).

PrimeXBT offers up to 100x leverage for cryptocurrency markets, with five flagship assets to choose from. Forex (foreign exchange) trading markets add to this selection with a leverage ratio that's quite absurd and which will get you into trouble (1000x). The incredibly high margin is a sure-fire way to get liquidated the moment you open a trade, and is generally something that's only found on unregulated Forex platforms.
PrimeXBT also offers high profile indices such as the S&P500, FTSE100, and JAPAN as well as commodities such as Gold, Silver, Natural gas, Crude Oil, and more.
Trading is carried out in one clean trading platform that boasts customiseable widgets for users to design their own trading setup. Additionally, Covesting (COV) integrates directly with the platform, which allows users to both view and mirror the tactics of other traders who allow it.
3. Referral program
PrimeXBT's referral model has a four-tier system for referral payouts. Rewards are received not only for direct referrals but for the referrals which are brought in turn. It's a multi-level marketing plan, of sorts.
The setup helps generate income from trading fees paid by your network. You'd need to use a custom referral link to invite people. In order to reach the maximum reward bonus, encourage your referrals to invite more traders to the platform.
4. Currencies and payment methods
Customer accounts
PrimeXBT uses multicurrency accounts for deposits. Users can deposit multiple cryptocurrencies to corresponding account wallets and each currency has a separate wallet. PrimeXBT des not use a slush fund for individual users or for traders.
Deposit options are simple to navigate and an address is provided on request. Users can also deposit via SEPA transfers or gift cards via third-party exchange services. These service providers include CEX.IO and Coinify.
Bitcoin, Ethereum, Litecoin and a wide variety of coins are all available to trade in Bitcoin or USDt pairs. There's a decent selection of cryptos for high margin trading similar to Bybit, Bitfinex or Bitmex.
Multi-currency support
Forex (foreign exchange) trading adds heavy hitting fiat currencies to the paper money roster, with the Euro, British Pound, US Dollar, Canadian Dollar, Swiss France, Japanese Yen and Australian Dollar all on offer in various pairs.
That said, it's important to note that PrimeXBT is primarily a cryptocurrency exchange, not a forex exchange. As such, fiat currency support is minimal and does not include a deposit/withdraw option in fiat. You cannot withdraw fiat to your bank account currently, but you can use one of the third party services as an intermediary, then transfer to your bank account.
Otherwise, you can simply withdraw profits in Bitcoin.
5. Exchange fees
PrimeXBT attempts to be transparent when it comes to trading fees. With so many markets available on the platform, it's important to know when and where you'll face fees. For instance, day trading without margin involved a different fee structure to longer-term leverage trading.

The flat fee is 0.05% for all trades, and doesn't involve any difference for the maker or the taker. This structure is a comparable price to competitors such as Bybit.
Margin trading adds an overnight financing fee for positions that are carried into a new trading day. This is about $6 per day per 1 BTC for long trader and may vary depending on market conditions. COV-denominated margin trading accounts get 25% discount on trading fees.
Since fees vary between assets, be sure to compare exchange fees with other exchanges. This is best practice to avoid paying extra charges from exchanges with higher fee structures. Overnight/day calculations are done in UTC time, so being aware of your time zone difference is important. Also, starting trades around midnight UTC should be avoided. Overnight fees are not charged on weekends.
6. Trade limits
A number of limits apply based on what assets you're trading.
The minimum order size is 0.01BTC for the BTC/USD trading pair, but the minimum necessary trading size for other coins is lower. The 0.01BTC minimum is fairly high, and is likely to be more expensive in fiat terms as time goes by. As such, if the idea is to just try out the platform, it might be worth using Ether or USDt as a funding mechanism, then trying out an altcoin trading pair instead of risking your BTC directly.
Unlike Bitfinex, PrimeXBT does not support paper trading accounts (test accounts). Instead, you can take part in a contest with a free pre-funded contest account (funded by PrimeXBT).
The maximum single trade are set at 100BTC and the maxmimum exposure possible is capped at 150BTC.
For full details of trading fees and limits, check out PrimeXBT's fees & conditions page.
7. Supported currencies
The PrimeXBT platform is advertised as a global exchange. But the exchange is not available for traders in the United States. This is largely due to the company's aversion to aggressive regulators, which tend to place red tape around markets, particularly in the United States. While KYC is an option, there is no in-depth verification process that's necessary to use PrimeXBT.
Running an account with just five main assets as deposit options creates a borderless trading exchange to all countries with an internet connection. Supported currencies include the following cryptocurrencies: BTC, ETH, USDT, USDC, COV. Unfortunately, PrimeXBT does not support native LTC deposits yet, which can be problematic for traders using LTC as a bearer asset.
The service has a varied language selection, including English, Spanish, Korean, Portuguese, Chinese Russian and Turkish.
8. Customer support and reviews
Chat support on the website is fast and responsive, which is a big improvement from other exchanges in previous years. Some exchanges have lacklustre support and leave you hanging. In my experience, PrimeXBT quickly follow up when prompted with an inquiry.
The exchange also helps newer traders by supplying tutorial clips to help users understand the platform's ins and outs.
Since PrimeXBT has grown over the years, there are numerous customer reviews which offer a good account of the company overall. While the mobile app on Google play is rated 4.1 out of 5, this is likely due to UI features, not exchange liquidity and functioning. TrustPilot scores rate the exchange a 3.9 out of 5, with various 2023 reviews indicating it's a good exchange.
Needless to say, there will always be hiccups and disgruntled traders, but overall, the exchange is legitimate. It remains to be seen whether reviews will continue to make any sense in the future since ChatGPT can easily create fake reviews and spam trust-scoring sites.
Ultimately, as with any new exchange, it is up to the individual to do his due diligence. If you are unsure of an exchange, test it out with a small deposit you're willing to part ways with (or try another exchange!)
9. Is your crypto safe with PrimeXBT?
PrimeXBT places an emphasis on safeguarding its users and offers a comprehensive and multi-tiered cybersecurity framework. This framework is mostly standard practice today, and these protocols shield user assets from potential harm or cyber threats.
The exchange also conducts period random stress tests and security audits to ensure the constant upkeep of its secure network.
These security measures include:
Two-factor authentication (Google) to prevent unauthorised access to your account.
Encrypted secure sockets layer (SSL). This encodes and protects web traffic.
All passwords are encrypted using the bcrypt hashing function.
PrimeXBT uses Cloudflare to prevent potential distributed denial-of-service (DDoS) attacks.
Continuous IT security checks are run to stay ahead of new threats and vulnerabilities.
The PrimeXBT environment is hosted on Amazon Web Services (AWS). AWS has a proven track record of industry-leading digital and physical security.
That being said, the standard 'public toilet' mantra applies. Use the exchange's services to do your business but there's no need to linger and risk your funds with a custodian. Not your keys, not your coins.
10. Conclusion: is PrimeXBT legitimate?
PrimeXBT is a near-globally accessible trading platform with numerous markets and features. The user interface is friendly and it allows customisable widget setups too. Fees are normally low and there is substantial freedom for traders to move funds around and use as much leverage as their heart desires.
Chat support is quick to react and welcoming, answering inquiries within a minute or less.
Overall, the product design is clean and neat. Of course, unregulated exchanges are flexible because they have to make up for the fact that there is generally no oversight. But with so many regulated entities dropping like flies over the last 12 months, it's questionable whether that's a positive or a negative at this stage. Regardless, it's prudent to be aware of exchange policies and to avoid leaving funds around in an exchange unless they're explicitly used for trading.
Finally, excessive leverage may lead to loss of funds far sooner than you might have ever intended. As such, only experienced traders should use these derivatives products.