Bitcoin launched to $21,000 for the first time since the FTX saga tanked the market to new lows early November. After a slight pullback in the early hours of Saturday morning, BTC is priced at $20,800 at the time of writing.
Around $267 million worth of physical Bitcoin were purchased on Jan. 13th. In the last 24 hours, liquidated longs amounted to $121.82 million (16.69%), while $608.04 million were shorts (83.31%), propelling the coin to $21,300.
The relief rally has been felt across the crypto market, with a total of $721 million in liquidations registering over the 24-hour period, per data from Coinglass. In addition, a total of 132,021 traders had their accounts wiped, with the largest liquidation taking place on Huobi exchange at $6.84 million (USDT) bet against Bitcoin.
Notably, there have been many Bitcoin purchases over the last day, with BTC exchange outflows seeing a spike over the last 24 hours. Most exchange-purchased coins were withdrawn almost instantly, with net flows hitting -12,900 on Friday ($267 million).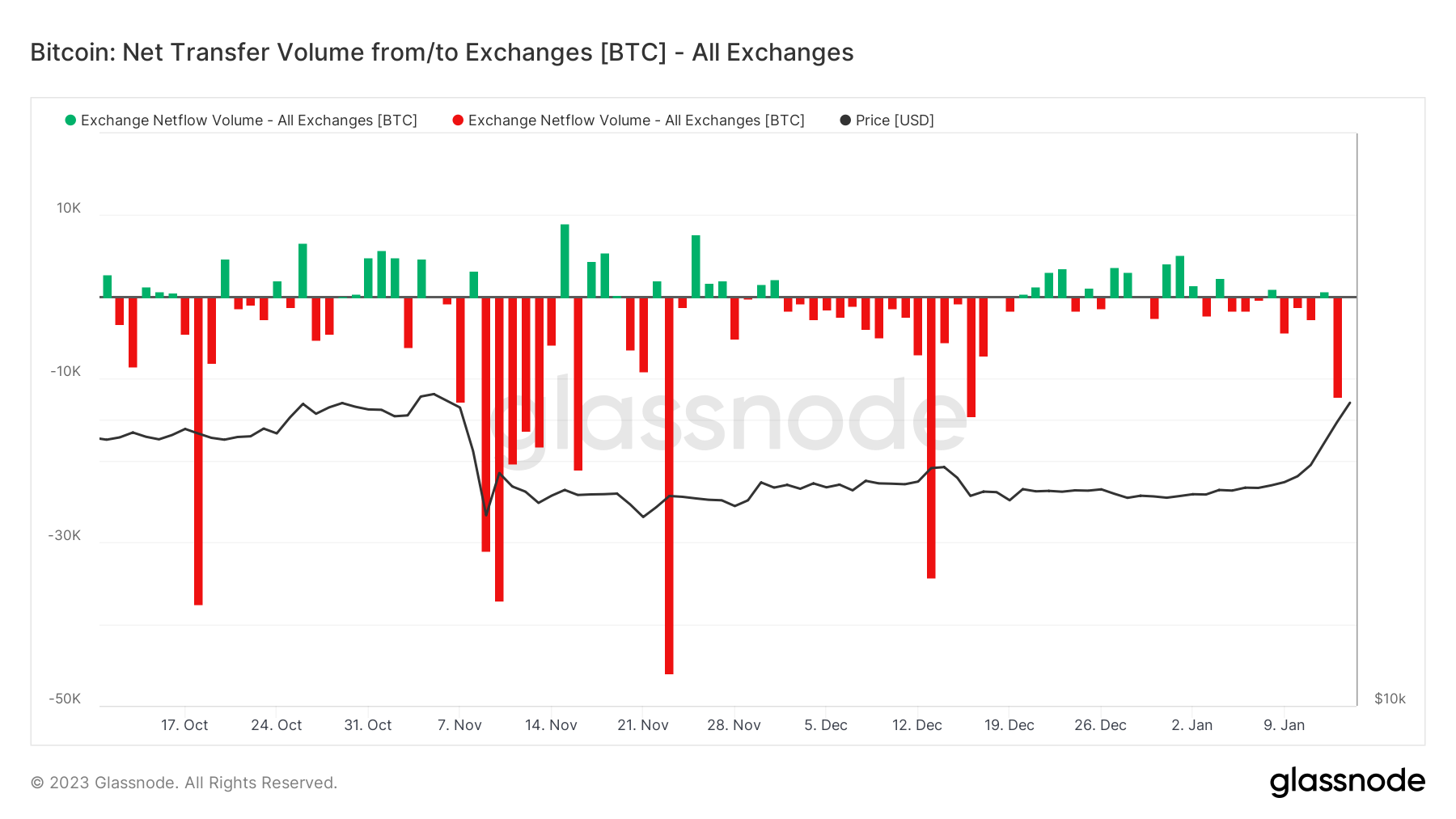 Withdrawals were largely made in instalments of $1 million and above. Additionally, the largest group to withdraw were those with over $10 million BTC, indicating institutional movement.
According to cryptographer and Blockstream CEO, Adam Back, who correctly called the Luna-Foundation fallout before it happened – BTC below $20,000 was 'nonsense'.
#bitcoin FTX dip filled. onwards and upwards 📈
below 20k was nonsense. pic.twitter.com/9XmwqHepvu

— Adam Back (@adam3us) January 13, 2023
Bitcoin continued to exit exchanges overnight on Jan. 13 as the total value of Bitcoin held on exchanges fell to just 2.24 million BTC.
Per the latest insights, various on-chain data points indicate that Bitcoin is within a long-term accumulation zone.
---
Join the telegram channel for updates, charts, ideas and deals.
Did you like the article? Share it!