Grayscale Investments ramped up their rhetoric against the US Securities and Exchange Commission (SEC), lambasting the regulator's latest brief against their proposed bitcoin-backed ETF as "illogical, arbitrary and discriminatory".
Grayscale lawyers did not hold back in their response brief on Friday:
Its central premise—that the Exchange's surveillance-sharing agreement with the CME provides adequate protection against fraud and manipulation in the bitcoin futures market but not the spot bitcoin market—is illogical. The commission's brief never comes to terms with the order's arbitrary premise and the discriminatory result it has produced.
The firm's latest brief, filed on Friday in the US Court of Appeals for the District of Columbia Circuit, was in response to the SEC's filing submitted in December. The company sued the SEC in June after the regulator blocked the Grayscale Bitcoin Trust (GBTC) from becoming an ETF.
Grayscale says that the SEC's willingness to approve Bitcoin futures ETFs, while refusing to approve their Bitcoin-backed GBTC fund conversion is unjustified and in violation of the Administrative Procedure Act and The Securities Exchange Act of 1934.
By continually rejecting the appeal, the SEC funnelled investors into technically riskier financial products while inadvertently encouraging growth of fraudulent institutions epitomised by the recent FTX exchange blowout, which defrauded billions of Dollars worth investor funds. Their actions have raised questions about the regulator's culpability in forcing needless capital destruction.
Grayscale lawyers dismissed the SEC's argument that futures and spot funds have "fundamental differences in the ability to detect and deter fraud and manipulation," saying that any manipulation in the bitcoin spot market would affect bitcoin futures prices, and that the futures-backed ETF relies on the Bitcoin Reference Rate just as GBTC does.
On June 29th, Grayscale announced that it was suing the regulator. The SEC argued that Grayscale's application failed to meet the standard designed to prevent fraudulent practices and offered insufficient investor protection.
Grayscale challenged the SEC's decision. At the time, Grayscale's CEO Michael Sonnenshein said:
Grayscale supports and believes in the SEC's mandate to protect investors […] and we are deeply disappointed by and vehemently disagree with the SEC's decision to continue to deny spot Bitcoin ETFs from coming to the U.S. market.
Grayscale's Chief Legal Officer, Craig Salm, also posted a blog update on Friday.
We are fighting for all those who believe in the future of bitcoin, so if you're long bitcoin – whether you self-custody your private key(s) on a piece of paper, cryptosteel, hardware wallet, a brainwallet in your head, or entrust them to a third party – I encourage you to support our ETF case.
Final briefs are set due on February 3rd, and arguments will be scheduled once judges have been picked.
Grayscale's parent company, Digital Currency Group (DCG), has been making headlines on a daily basis as their ongoing battle with Genesis blew up on twitter. Criminal allegations and ultimatums were issued, with the SEC ultimately filing charges against both firms.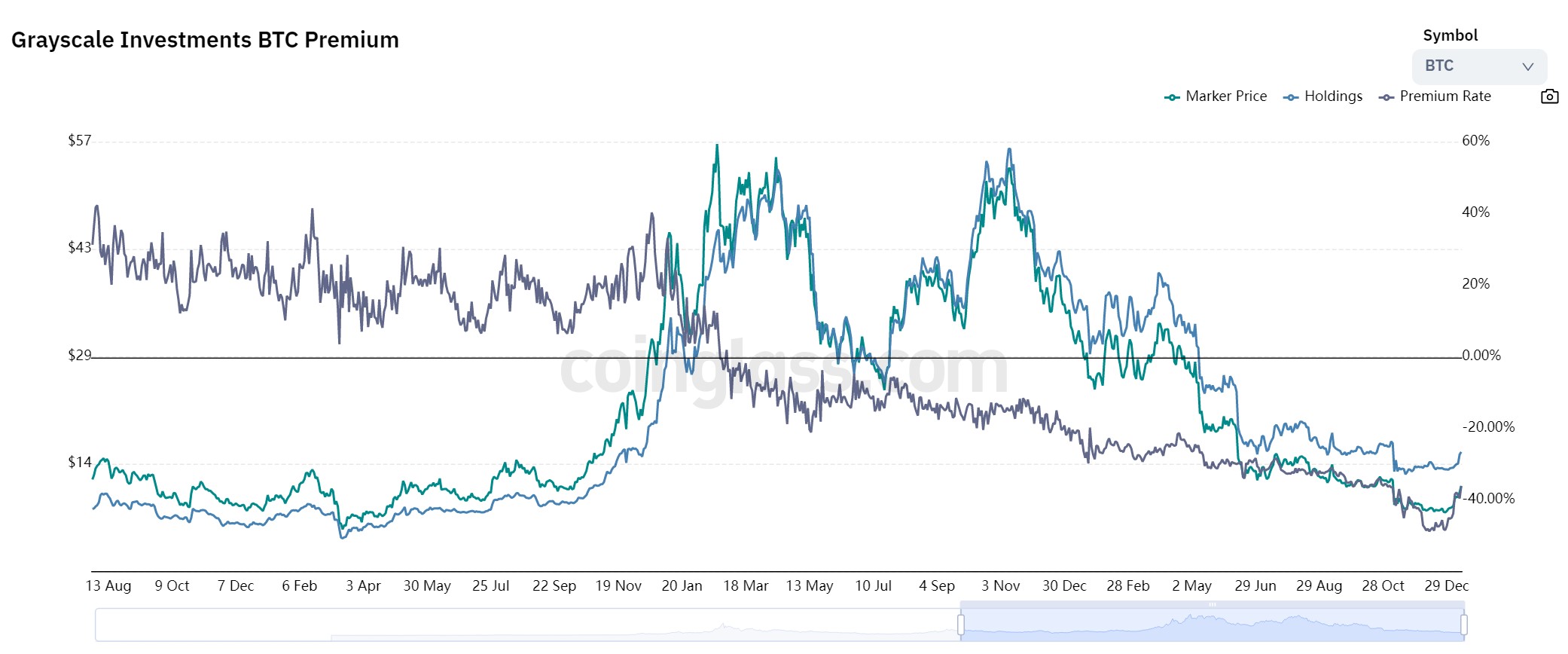 Grayscale's Bitcoin Trust has been at a discount compared to spot Bitcoin since February 2021. Its discount compared to spot bitcoin prices grow as high as 49% in December. On Friday, GBTC gained over 8% on the session and was trading at $11.33, with the discount rate just under 36%.
---
Join the telegram channel for updates, charts, ideas and deals.
Did you like the article? Share it!