On-chain data for February indicates a positive turnaround for Bitcoin in sentiment as addresses with non-zero balances spike to all time highs.
Moreover, wallets with a positive Bitcoin balance have increased their holding behaviour and are not adding fresh supply in the market overall. Bitcoin's circulating supply last active between three and five years ago has reached a historical moment which preceded an extended bull run in 2017, according to data from Glassnode.
📈 #Bitcoin $BTC Number of Non-Zero Addresses just reached an ATH of 40,276,163

Previous ATH of 40,275,801 was observed on 05 February 2022

View metric:https://t.co/VtoChZbLsa pic.twitter.com/hTnHlN9GeU

— glassnode alerts (@glassnodealerts) February 27, 2022
Through 2019 and 2020 up until mid-2021, the number of addresses with a non-zero balance was on a steep rise, when growth seemed to have plateaued at around 35 million addresses. The growth trend saw a sudden spike at the start of 2022, which lead to a new all time high of 40,276,163 according to data from Glassnode.
The sudden jolt that was last active three to five years ago coincides with the peak of the last bull market at the start of 2018. Growth in this metric has spiked since the beginning of 2022, leading to a new ATH of 40,276,163 according to Glassnode.
Notably, the spike in Bitcoin supply last active three-to-five years ago coincides with the peak of the previous extended bull cycle at the start of 2017.
---
Crypto is not going away. Buy Bitcoin & Litecoin here.
---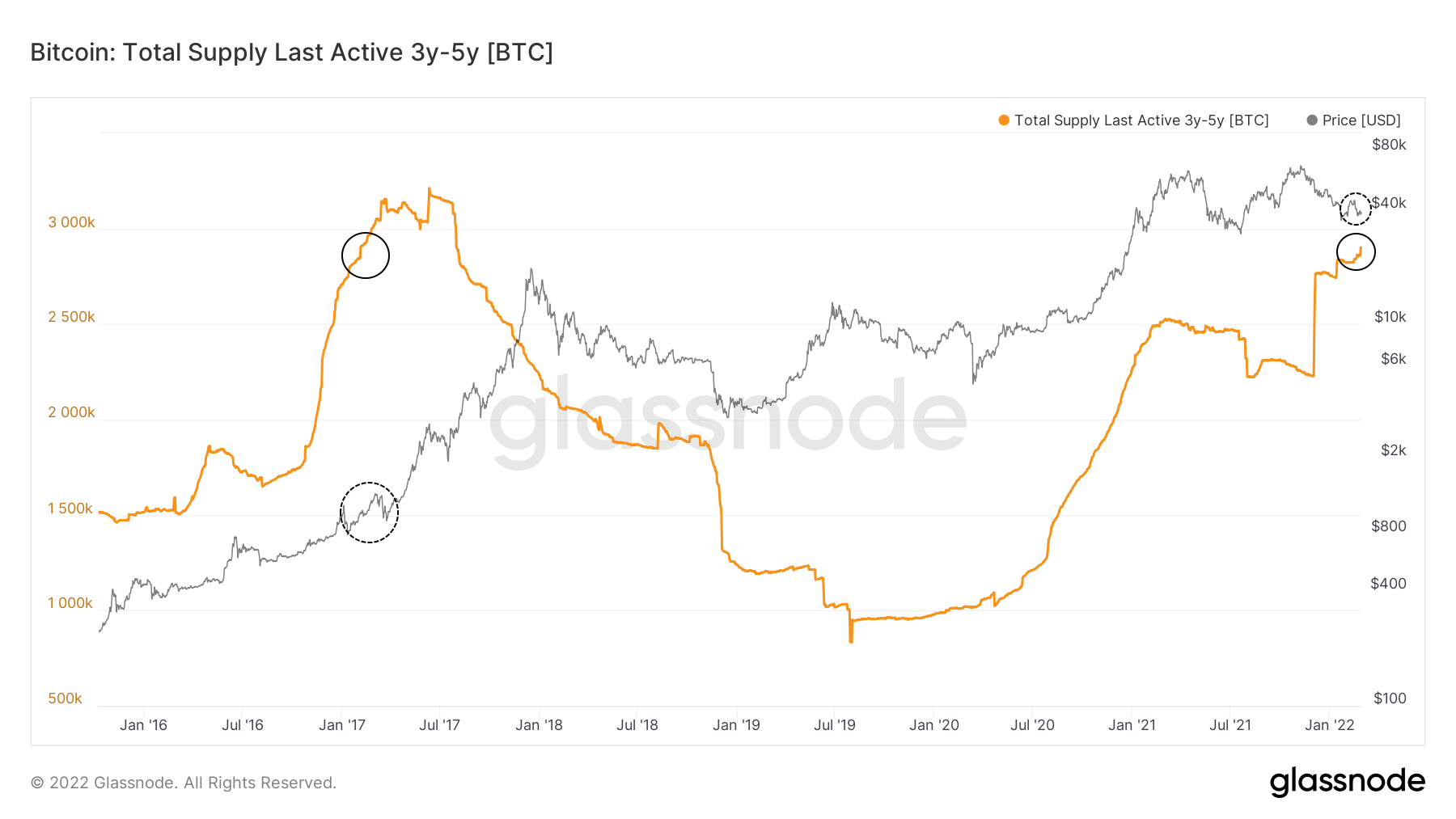 Among the addresses with a non-zero balance, Glassnode reported that 817,445 have at least one full BTC.
Supply-side dynamics in Bitcoin also speak to this uptick in accumulation in recent weeks. In the first week of February, a fairly major divergence between bitcoin's price trajectory and 'hodler' behaviour became apparent. As prices declined since the $69,000 top in November, bitcoin's 'illiquid supply' marked a steady decrease.
Powder Key Moment
The trend suggests a 'powder keg' moment that's ready to blow as soon as a modest amount of Bitcoin is bought at market prices.
Political turbulence in Canada as well as the Russia-Ukraine conflict has also underlined the paramount nature of Bitcoin as a monetary asset outside traditional SWIFT-based financial system. Canadians have adopted Bitcoin to protect their funds from being forzen, all the while Ukrainian organisations are accepting Bitcoin and crypto donation to help fund the defence of the country.
BTC is currently trading at $37,360, down around 45% since the Nov. 10 all-time-high of $69,000 per data from CoinGecko.
---
Join the telegram channel for updates, charts, ideas and deals.
Did you like the article? Share it!