Global markets took a major beating as words turned into action in Eastern Ukraine. Bitcoin and crypto markets wiped out $109 billion in 24 hours as the crisis peaked, giving rise to the notion that Bitcoin is under-valued.
Bitcoin fell to lows of $36,370 per coin overnight before rebounding slightly. Ethereum dropped to $2,500 and Litecoin also retreated to $100, falling sharply as the crises unfolded.
The crypto crash comes at a time when equities have taken a beating across the board, with over $1.6 trillion getting wiped out over the week. Sentiment in the crypto market has turned to 'extreme fear' as investors fear a a continued escalation in conflict.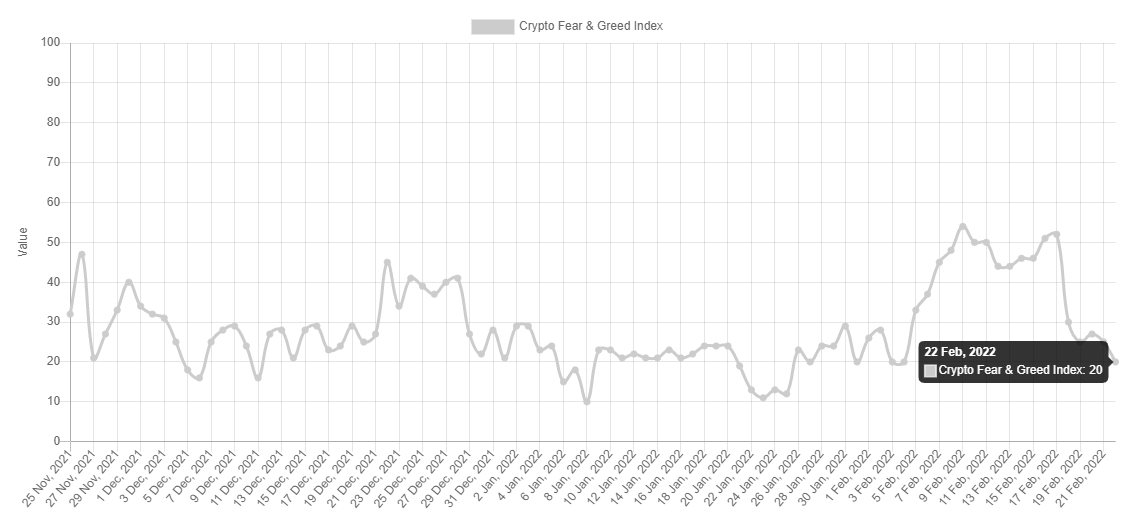 Russia recognises Ukraine Separatist Regions
The Geopolitical conflict over the Eastern regions of Ukraine came at a time of heightened rhetoric from both legacy media and Russian state media, with both sides accusing each other of setting up false-flag operations for war. It remains to be seen how Western nations and Nato will react to Russian President Vladimir Putin's recognition of independence of eastern Ukrainian separatist regions. Rhetoric from Western leaders indicates that monetary sanctions are the way forward and that military tit-for-tat escalation may not be tabled.
UK Prime Minister Boris Johnson is expected to introduce sanctions against Russian economic interests that support the country's "war machine". A "full package" of sanctions are expected to be tabled in the House of Commons on Tuesday.
---
Cryptocurrencies aren't going away. Buy Bitcoin & Litecoin here.
---
Is Bitcoin undervalued?
A week ago, Russia revealed that it will not ban bitcoin and cryptocurrencies, but that it would instead adopt them by creating regulatory frameworks for trading bitcoin as a 'foreign exchange'. Potentially, the u-turn came in anticipation of the current flare-up in Eastern Ukraine.
Meanwhile, fresh data from on-chain analytics firm Santiment suggests that market expectations for bitcoin are negative. The analytics firm tweeted:
📉 The #crypto markets continued their drop Tuesday. Unlike previous dips, optimism appears quite low from the trading crowd with few #buythedip calls. Patient investors have been waiting for this as a #capitulation sign. Read our community member's take! https://t.co/ksr4dgrFUG pic.twitter.com/j4JjENicoR

— Santiment (@santimentfeed) February 22, 2022
Last Friday, Pantera Capital CEO Dan Morehead asserted that the highly anticipated rate hikes from the US are effectively priced in.
In a letter to investors, the company's chief investment officer Joey Krug said that a $2,200 Ethereum was "likely the bottom", too. Morehead referenced Bitcoin's 11-year trend to buttress his argument, noting that "the odds are really high that the markets are at an extreme and will bounce back relatively quickly."
---
Join the telegram channel for updates, charts, ideas and deals.
Did you like the article? Share it!