A well-known economist has predicted that the Federal Reserve interest rate hikes may result in safe-haven assets such as Bitcoin and gold increasing in value.
In Brief
The Fed may push for a 3% rate target this year.
The Fed's monetary tool box is limited, and if the target is not met this could cause a recession.
Safe havens such as Bitcoin, Litecoin and gold may go up if this is the case.
---
An Empty Tool Box?
The US central bank is unloading what's left of its monetary policy tools in an attempt to fight the country's skyrocketing cost of living. In March, the US Consmer Price Index (CPI), which purports to measure inflation reached 8.5% – the highest figure in four decades. When measured using the 1980's methodology, inflation hit 17%, and 12% using the 1990's method.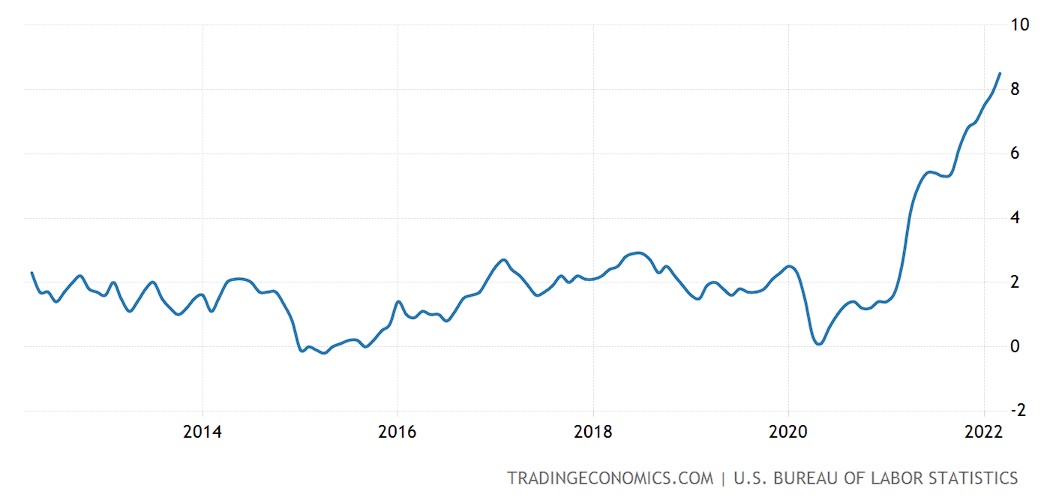 The Fed's monetary tool box includes raising interest rates, which increases the cost of borrowing and encourages saving. That is, if there is anything left to save for the average household.
On April 18, St. Louis Federal Reserve President James Bullard said a 3.5% target is possible if the central bank swiftly raises rates. He said that rate hikes over 50 basis points are "not my base case," but didn't rule out an increase of 75 basis points according to the WSJ.
The central banker also believes the bank shouldn't be held responsible for the economy, adding "I don't think you can blame a recession on the Fed."
The current interest rate is 0.5% following the first rate hike in three years of 0.25% in March. Fed chairman Jerome Powell has indicated that a 50 basis-point increase is possible at the Fed's May 3-4.
---
Cryptocurrencies aren't going away. Buy Bitcoin & Litecoin here.
---
Safe Haven Asset Demand to Increase
The long-term target is a 2% interest rate, but an accelerated move to 3% or more would unleash dire consequences, according to some economists.
Speaking on CNBC's "Squawk Box" on April 18, the President of Queens College, Cambridge University El-Erian said the Federal Reserve could be forced to change its target by realising it's too late to achieve its goals. This would damage the Federal Reserve's credibility, causing market confidence to plummet and to seek safety elsewhere.
He added that by pushing the rates too hard the Fed may push the economy not just into a short-term recession but into a longer-term recession. When asked by the host, what happens to gold and crypto if that is the case, he responded: "they both go higher."
Anticipating this almost-inevitable outcome during the Bitcoin Conference, investor and venture capitalist Peter Thiel called out the Federal as "bankrupt", and that "we are at the end of  the fiat money regime."
Thiel warned that this is the last warning monetary mad scientists are going to get.
And that's sort of what it has priced in. I think the central bankers, Mr Powell, people like that, should be extremely grateful to bitcoin because it's the last warning they're going to get."
Bitcoin And Gold at Loggerheads
Gold and Bitcoin are often thought of as stores of value or safe haven assets. However, while gold has thousands of years backing it, Bitcoin is an emergent safe haven for now that's often correlated with risk-assets like tech stocks. Regardless, demand for assets with safe haven properties increases during economic downturns; and with inflation at 8.5% and the Fed unable to stabilise markets without causing a recession, the allure of safe haven assets increases.
Gold prices are currently near their peak at $1,974/oz after gaining 8% this year. Meanwhile, Bitcoin has been on retreat for most of the year so far, falling 5% since Jan. 1 at the time of publication.
Bitcoin exchanges hands at $41,500 at the time of writing, up 7.4% in 48 hours.
---
Join the telegram channel for updates, charts, ideas and deals.
Did you like the article? Share it!