Crypto analytics firm Santiment found that Litecoin's largest investors have started moving LTC at levels not seen in a year.
The analytics firm noted that on April 14th, LTC transactions worth more than $100,000 were at their highest level since May 2021, when volatility exploded in cryptocurrency markets.
Litecoin's top key stakeholders have been quite busy over the past week with massive transactions occurring near its price bottom at the beginning of the week. The 5,508 LTC transactions valued at $100k+ was the highest total in 11 months.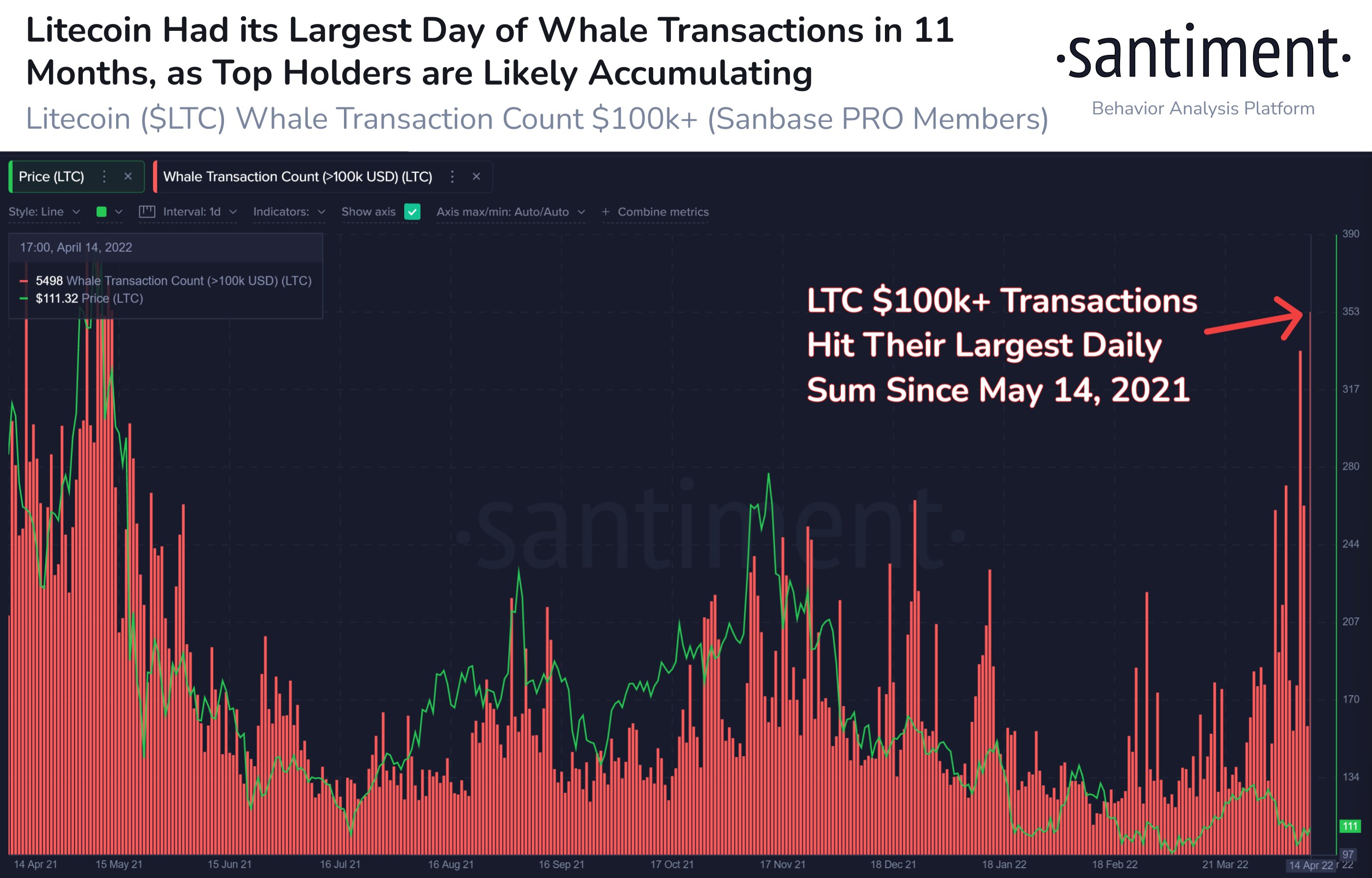 After briefly sliding to $102.7 last Monday as noted in the bi-weekly analysis, LTC/USD recovered 11.5% in the days following. Litecoin is priced at $113 at the time of writing and is down 70% since achieving its all-time high of $410.
Litecoin's hashrate reached a level not seen in three years on April 6. Since then, the coin's hashrate reached an all time-high of 470TH/s after new miners entered the market. Litecoin's network security is currently the highest it's ever been.
Looking at Bitcoin, the analytics firm found that investors expect prices to head lower and that the bottom is not in yet.
"When we sum up everything, it looks like it represents the following crowd sentiment: whatever happens at the bottom is not convincing. People are not committing their money to enter anything related to bullish cases, surprisingly. There are bullish talks, but we don't see actions on-chain.

We do believe it's a good sign. We trust on-chain data. But the total amount of still positive news is a bit concerning. Too high expectations.

It could be that we need one more dip. But for the short-term metrics we've seen the last – it's a good chance we should go a bit higher."
Bitcoin trades at $40,415 at the time of writing, up 0.16% on the day.