Google queries for Bitcoin have declined to their lowest levels since 2020, in line with a lack of any major price movements.
Separately, the popular metric known as the Bitcoin Fear and Greed index has remained in 'fear' territory despite Bitcoin's reversal above $40,000.
Retail Interest Dwindles
Search engine trend results are a primary indicator for retail interest in Bitcoin. Over the months, demand from retail investors has plummeted to levels not seen in two years, according to data from Google trends.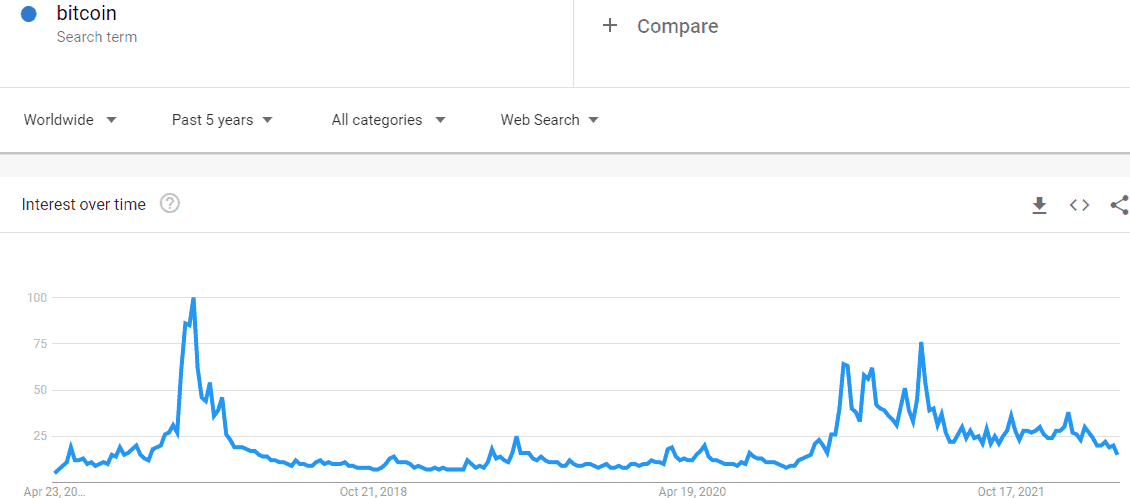 The number of Google queries in the world's leading search engine tends to inform behaviours of smaller investors. In late 2017 when Bitcoin spiked to its then all-time-high at $20,000, searches for the coin spiked with it on Google trends.
As the asset cooled off and entered a bear market, searches for Bitcoin faded. Similarly, when Bitcoin ran up to $69,000 in April and late November, queries also peaked.
Bitcoin has corrected around 50% since the all time high, and search trends compliment this cooling off period.
---
Cryptocurrencies aren't going away. Buy Bitcoin & Litecoin here.
---
Fear is Back Among Investors
The lack of interest in Bitcoin among retail investors is also apparent in the Fear and Greed Index.
The index estimates the general sentiment within the growing crypto community by including several factors in its calculation such as volatility, surveys, BTC dominance, trading volume, and social media interactions.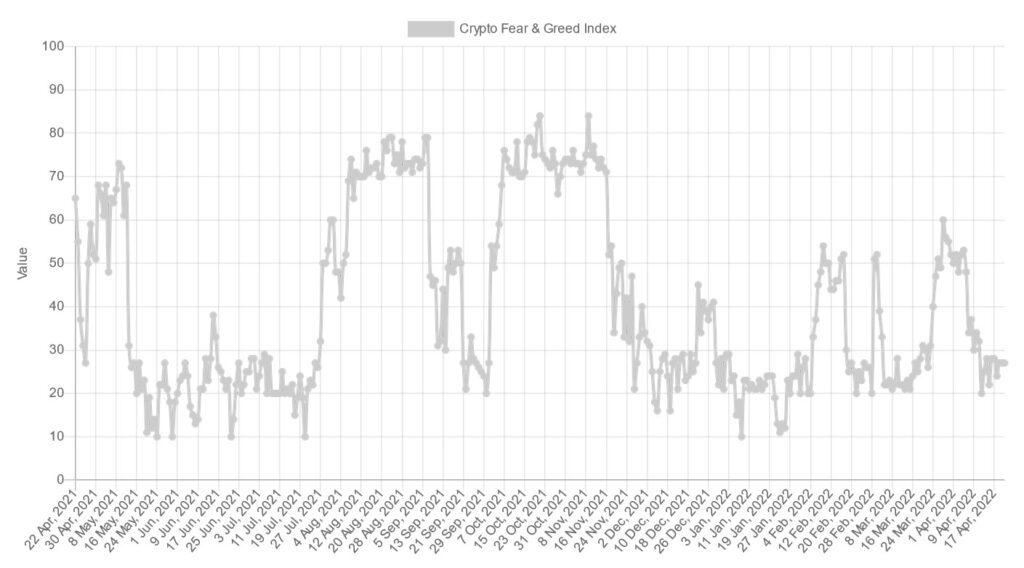 Daily results are printed on a 0-100 basis, where zero represents 'extreme fear' and 100 denotes 'extreme greed.'
In late March, when BTC was on the March towards $50,000, the metric flung into extreme greed.
on towards the $50,000 mark, the metric went into greed territory for the first time since November. But as BTC fell below $40,000 in April, the Index dropped down to extreme fear. Since then, BTC/USD cemented a local trend reversal, as discussed in Monday's analysis.
Today, Bitcoin exchanges hands at $42,000 and the index is showing 'fear'.
---
Join the telegram channel for updates, charts, ideas and deals.
Did you like the article? Share it!