Bitcoin experienced an explosion in transacted value in 2022, as noted by crypto analytics firm CoinMetrics. The number one blockchain recorded $8.2 trillion worth of transactions, highlighting how more users are joining the network, contrary to naysayers and anti-btc goblins.
What does the milestone mean?
Proof-of-work blockchains like Bitcoin and Litecoin have been registering milestones in the last 12 months. The $8.2 trillion yearly transaction metric averages around $260,000 per second for the Bitcoin blockchain in 2022.
This astronomical number was generated over the course of 2022, a period that was fraught with scams, ponzi scheme blowouts and a near-total collapse of the ecosystem. The bear market saw Bitcoin fall precipitously from $69,000 to $15,400 in November, with little to no respite.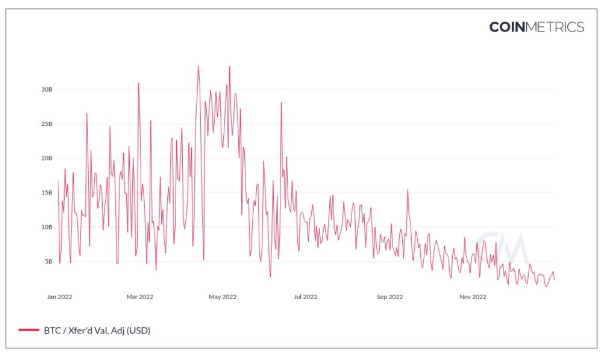 High profile bankruptcies and implosions broke out in the latter half of 2022. From Terra Luna and the UST depeg, to the fraud-ridden FTX scandal, investors and traders can confidently say that there is no trust in centralised crypto services. In fact, self-custody skyrocketed in 2022, with 450,000 Bitcoin removed from exchanges to cold storage throughout the year.
Bitcoin has continued its general growth trajectory regardless, per CoinMetrics data.
On Bitcoin's 14th birthday, we look back at its adolescence: in the past four years, the network has added more accounts and settled more value than it's first ten. pic.twitter.com/SZYsVnlmQd

— CoinMetrics.io (@coinmetrics) January 3, 2023
Investors and analysts optimistic on BTC
Long-time Bitcoin bulls like VC Tim Draper and Paul Tudor Jones remain optimistic about the cryptocurrency's future.
Tim Draper expects Bitcoin to reach a whopping $250,000 in 2023. The VC believes female participation will in part take adoption to the next level. Meanwhile, hedge fund manager Paul Tudor Jones anticipates Bitcoin's speculative store of value and finite properties to make a comeback once the US Federal Reserve fails to tame inflation. Jones attributes BTC's value based on the asset's absolute scarcity relative to central banker's infinite cash cow.
The high-profile peers are joined by veteran commodity strategist at Bloomberg Intelligence, Mike McGlone, who recently noted that he expects BTC to transition to a 'high-beta version of gold and US Treasury bonds'. 
Gold is up 15.5% since its November lows.
Bitcoin's latest $8.2 trillion in transaction-milestone should provide a welcome respite from doubts that still haunt the wider crypto market, which left a bitter after-taste after all that happened in 2022.
---
Join the telegram channel for updates, charts, ideas and deals.
Did you like the article? Share it!