Gemini exchange co-founder Cameron Winklevoss has said that the next bitcoin bull run will start in Asia. His remarks come as reports emerge about Hong Kong potentially opening up select cryptocurrencies for retail trading.
At the same time, the crypto sector is facing deluge of enforcement action and crackdowns from US regulators, especially the US Securities and Exchange Commission.
According to a Chainalysis report in September 2022, Central & Southern Asia and Oceania (CSAO) was the third biggest crypto market in its index last year. Investors received $932 billion in aggregated crypto value from July 2021 to June 2022.
CSAO housed seven of the top 20 countries in 2022's index such as: Vietnam (1), the Philippines (2), India (4), Pakistan (6), Thailand (8), Nepal (16), and Indonesia (20).
My working thesis atm is that the next bull run is going to start in the East. It will be a humbling reminder that crypto is a global asset class and that the West, really the US, always only ever had two options: embrace it or be left behind. It can't be stopped. That we know.

— Cameron Winklevoss (@cameron) February 19, 2023
In the Twitter thread, Winklevoss said governments who didn't offer clear rules and guidance on cryptocurrencies would be "left in the dust," and miss out on "the greatest period of growth since the rise of the commercial Internet," adding:
And it will mean missing out on shaping and being a foundational part of the future financial infrastructure of this world (and beyond).
Winklevoss is among a growing chorus of high-profile industry thought leaders who have voiced their criticisms (e.g. SEC Commission Hester Pierce) against the US' hostile regulatory approach to digital assets.
Coinbase CEO Brian Armstrong has also said the strict enforcement actions from the US could drive crypto businesses out of the United States.
Hong Kong opens up to crypto?
Per Bloomberg, Hong Kong outlined a plan to allow retail investors to exchange coins like Bitcoin, Litecoin and Ether. Individual investors would be allowed to trade larger coins on exchanges licensed by the Securities and Futures Commission. The consultation period ends on March 31st.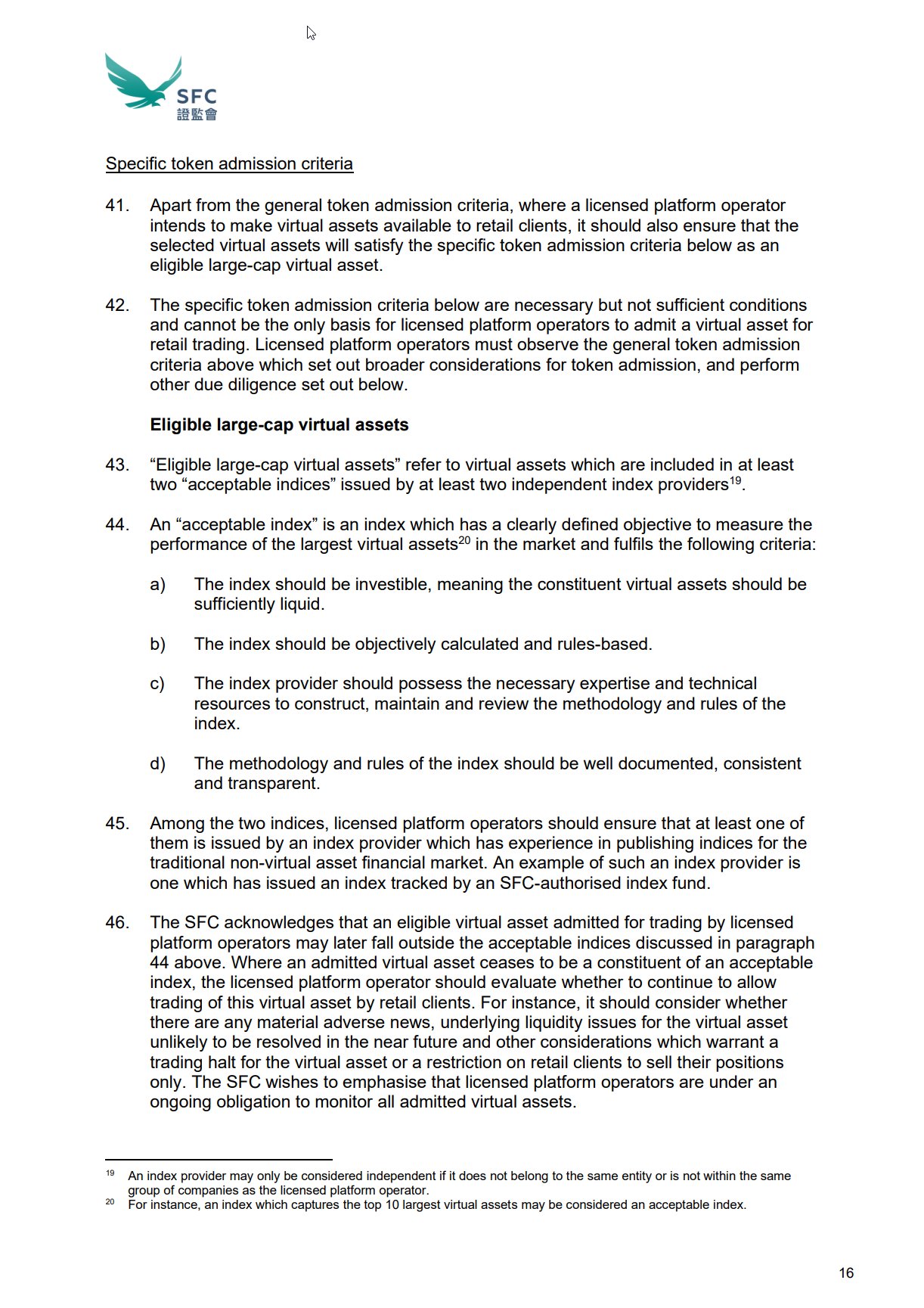 The paper doesn't specify particular crypto indexes as a reference point for a taxonomy of allowable tokens. However, coins with at least 2 indexes include Bitcoin, Litecoin, Ethereum, Bitcoin Cash, Polkadot, Solana, Cardano, Avalanche, Polygon and Chainlink.
Former Bitmex exchange CEO, Arthur Hayes, predicted in October that the next bull run will begin when China moves back into the market. The OG crypto player went a step further, stating that Hong Kong could even "attempt to re-crown itself the premier crypto capital hub".
Specifically, Hayes argued that Hong Kong might become a testing ground for crypto experiments, and a place where crypto markets and Chinese capital intermingle and meet with global markets.
At the time, he said "China has not left crypto — it has just been dormant."
The Chinese regime infamously banned bitcoin mining in 2021, resulting in a temporary hashrate downturn for the number one crypto. In March 2022, European bureaucrats also tried to ban proof-of-work mining, but this moronic bill fizzled out – much like the pointless Chinese government crackdown against Bitcoin.
Earlier in the year, Hong Kong's financial secretary, Paul Chain said in a Jan. 9 speech at the POW'ER Hong Kong Web3 Innovators Summit, that lawmakers passed legislation to set up a licensing system for virtual asset service providers in December.
The China coin narrative has flipped regulatory FUD on its head

The more actions US takes against crypto, the more the narrative is reinforced and induces more shorts to enter the market that need to buy back higher

Bullish FUD

— Andrew Kang (@Rewkang) February 19, 2023
Consequently, so-called "Chinese Coins Pump" narratives have been gaining steam as speculators flock towards an apparent reversal of crypto-regulatory hostilities in Hong Kong.
---
Join the telegram channel for updates, charts, ideas and deals.
Did you like the article? Share it!