The US Securities and Exchange Commission is cracking down on Terraform Labs and its founder Do Kwon, charging the two with defrauding investors in what the regulator deemed a multibillion-dollar scheme.
In an announcement on Feb 16, the SEC revealed it was charging Do Kwon and Terraform Labs with "orchestrating a multi-billion dollar crypto asset securities fraud" related to its algorithmic stablecoin and other cryptocurrencies.
Today we charged Singapore-based Terraform Labs PTE Ltd and Do Hyeong Kwon with orchestrating a multi-billion-dollar crypto asset securities fraud involving an algorithmic stablecoin and other crypto asset securities.

— U.S. Securities and Exchange Commission (@SECGov) February 16, 2023
The lawsuit was filed in the US District Court for the Southern District of New York, wherein the regulator accused the company and its founder of violating the anti-fraud provisions of the Securities Act and the Exchange Act.
The SEC categorizes all of the Terra ecosystem as one that was "neither decentralised, nor finance." Instead, it was simply fraudulent propped up by its algorithmic stablecoin UST, said Director of the SEC's enforcement division, Gurbir S. Grewal. He argued that the UST price was controlled by the defendants and not code.
The lawsuit also alleges that Terraform Labs and Do Kwon intentionally marketed these assets to the public in order to profit, naming the 20% interest offered for the UST stablecoin via Ancho Protocol. The complaint goes on to state that investors were misled about UST's stability, because of intentional deception by Kwon and Terraform Labs.
In a statement, SEC Chairman Gary Gensler said:
We allege that Terraform and Do Kwon failed to provide the public with full, fair, and truthful disclosure as required for a host of crypto asset securities, most notably for LUNA and Terra USD. We also allege that they committed fraud by repeating false and misleading statements to build trust before causing devastating losses for investors.
UST implosion
In early May, Terra's algorithmic stablecoin UST lost its $1 peg several times in three days, dropping as low as $0.61. In a would-be futile attempt to avoid further downside, the Luna foundation (LFG) started selling its Bitcoin holdings, which began a vicious cycle of wide-spread market selling and panic, crashing the entire crypto market.
The Luna Foundation Guard (LFG) eventually drained its official 80,000 bitcoin reserves and loaned out reserves to Market Makers in a bid to defend the peg. The final exercise in futility was an attempted roll-out of Luna 2.0, which resulted in a 70% drop on launch.
On the run?
Do Kwon is wanted by South Korean authorities for violating the country's capital markets act. While denying claims that he is on the run, Kown is believed to be in Serbia, according to various reports.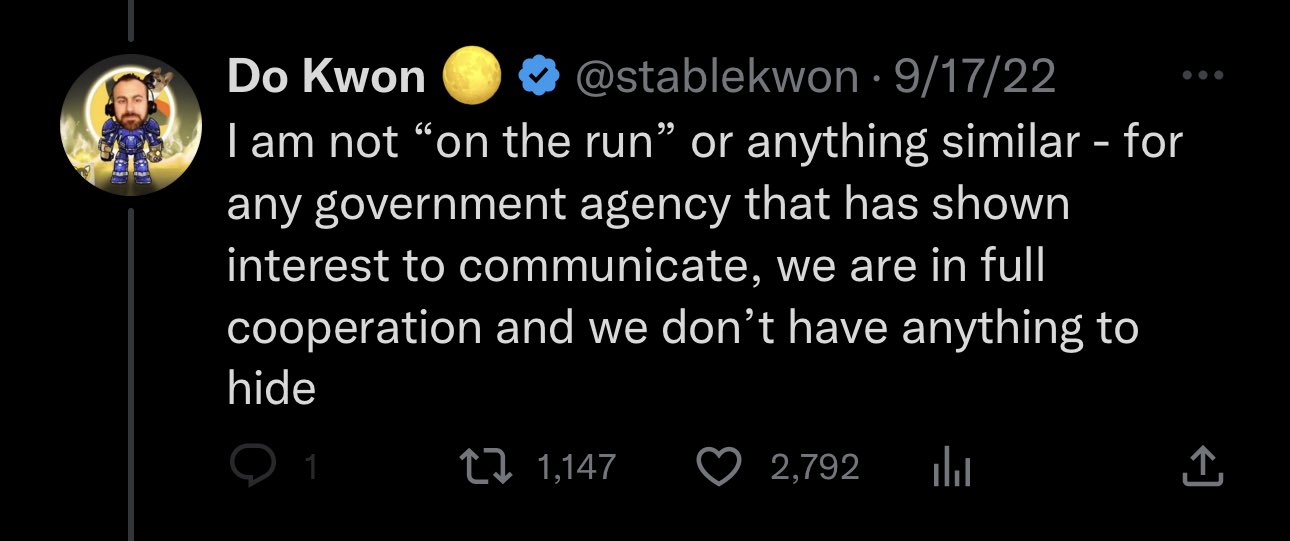 Interpol has issued a red notice for his immediate arrest and his passport has been nullified by South Korean authorities. South Korea's Ministry of Justice has also requested assistance from the Serbian government in locating the Terra founder.
Notably, the SEC has filed the complaint a full 10 months after first reports about the incident emerged.
---
Join the telegram channel for updates, charts, ideas and deals.
Did you like the article? Share it!