The market capitalisation of TerraUSD has surpassed that of BUSD, placing it in third place after USDT and USDC. The UST stablecoin market cap now stands at $17.7 billion.
In Brief:
TerraUSD (UST) market cap has reached $17.5 billion, reaching third place after Tether (USDT) and USD Coin (USDC).
UST trading volumes are only one-fifth of BUSD.
Both LUNA and UST have been in the media spotlight.
---
The TerraUSD (UST) stablecoin, a product of the Luna ecosystem has overtaken Binance USD (BUSD) by market cap. Valued at $17.5 billion, UST is now only behind Tether and USD Coin, which have market caps of $82.8 billion and $49.9 billion respectively.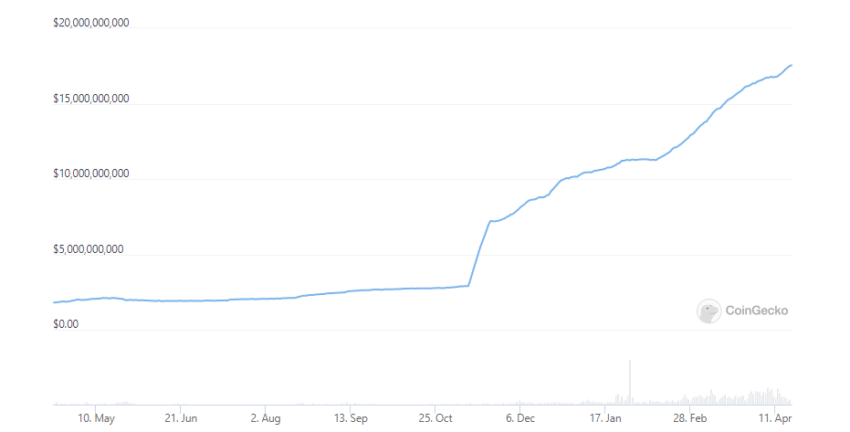 The UST stablecoin has been expanding at a rapid pace since the start of the year. The increase in the size of the market was accompanied by exposure for both the LUNA token and UST. However, this exposure hasn't always been a tailwind as controversies surround Terra.
The Luna Foundation Guard (LFG), a non-profit organisation that supports Terra research and development, has been accumulating more Bitcoin and AVAX. The LFG has over 42,000 Bitcoin and is aiming to acquire $10 billion worth of the king crypto.
The tailwinds coincided with the LUNA token hitting an all-time high, with Terra expected to add 160 new projects by the year's end.
Is UST adoption sustainable?
While UST has taken the third position by market cap, the stablecoin's trading volume is still one-fifth that of BUSD. According to data from data analytics platform Messari, since the starts of the year, UST circulating supply nearly doubled from 10.1 billion to 17.4 billion. On the other hand, USDT, USDC, and BUSD's supply increased from 78.3 billion to 82.7 billion; 42.1 billion to 50 billion; and 14.6 billion to 17.4 billion respectively in the same period.
If the increase supply is not met with a simultaneous increase in currency demand and adoption, TerraUSD celebrations might be short lived.
The co-founder was served a subpoena by the United States Securities and Exchange Commission (SEC) at a public conference. Terraform Labs filed a lawsuit against the regulator after getting served.
---
Join the telegram channel for updates, charts, ideas and deals.
Did you like the article? Share it!