Russia is facing a forced-default due to Western sanctions which have crippled payment rails for the distribution of funds to international creditors.
Per a Bloomberg report on Monday, the country missed the payment deadline on payments due on May 27. The missed payment after the grace period of 30 days is considered a default.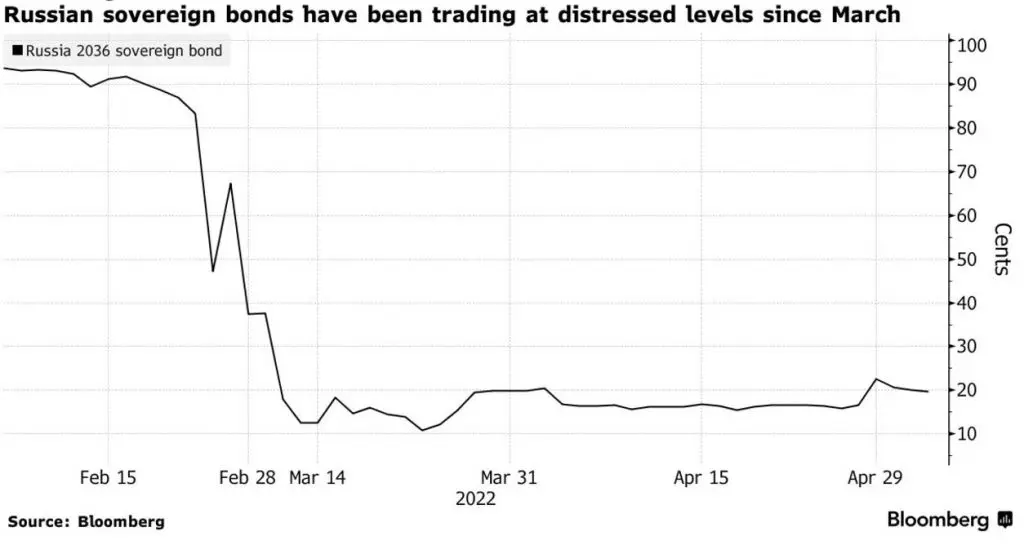 Credit agencies usually officially certify such payment defaults. However, sanctions on Russia by the Western governments have forced them to withdraw ratings on any entities in the country.
Russia technically sent the international interest payments to Euroclear (a financial services company that focuses on securities settlements) before the deadline, but that payment is stuck, and the creditors failed to receive it. Euroclear did not confirm the status of the Russian government's payment, but noted it adheres to all International sanctions.
Reuters reported that Taiwanese holders of Russian bonds denominated in euros did not receive payment passed the Sunday deadline either.
Disconnected from Legacy International Payments Network
Since President Putin's decision to invade Ukraine, the Russian financial system has faced Western sanctions which had a ripple effect on the country's finances, economy and risk-asset valuations. Since touching $0.065 on March 7, Russia's ruble reversed and strengthened to levels not seen in 7 years.
---
Cryptocurrencies aren't going away. Buy Bitcoin & Litecoin here.
---
Per reports, the ruble has become so strong that the country's central bank is actively taking measures to weaken it in order to maintain competitive export prices. Still, Russia is disconnected from the International payment rails, meaning its $40 billion in outstanding national debt simply cannot be paid.
Last week, the Russian Finance Minister, Anton Siluanov called the default situation a 'farce', saying that the county has the means and will meet its payment obligations.
"Anyone can declare whatever they like," he said. "But, anyone who understands what's going on knows that this is in no way a default."
Due to sanctions, Western ratings agencies stopped rating Russian enterprises.
According to online reports, Russia's last default happened in 1998 when it failed to pay Soviet era FX liabilities. This is in conflict with media reports saying that the situation marks the first default since the Bolshevik Revolution.
Meanwhile, Bitcoin and Litecoin transactions remain fully functioning, boasting 100% uptime since inception, and running flawlessly without arbitrary influence from developers.
---
Join the telegram channel for updates, charts, ideas and deals.
Did you like the article? Share it!