As miners pile into securing the network, Litecoin has witnessed an upswell of data points which indicate a significant dislocation between price and fundamentals.
Address Creation Goes Parabolic
Throughout the crypto-market downturn, the decade-old cryptocurrency lost upwards of 80% of its value in USD terms, witnessing a full market cycle since the initial markdown in the first two weeks of May 2021. However, network activity has been on a steep and accelerating uptrend as network upgrades roll out.
---
Cryptocurrencies aren't going away. Buy Bitcoin & Litecoin here.
---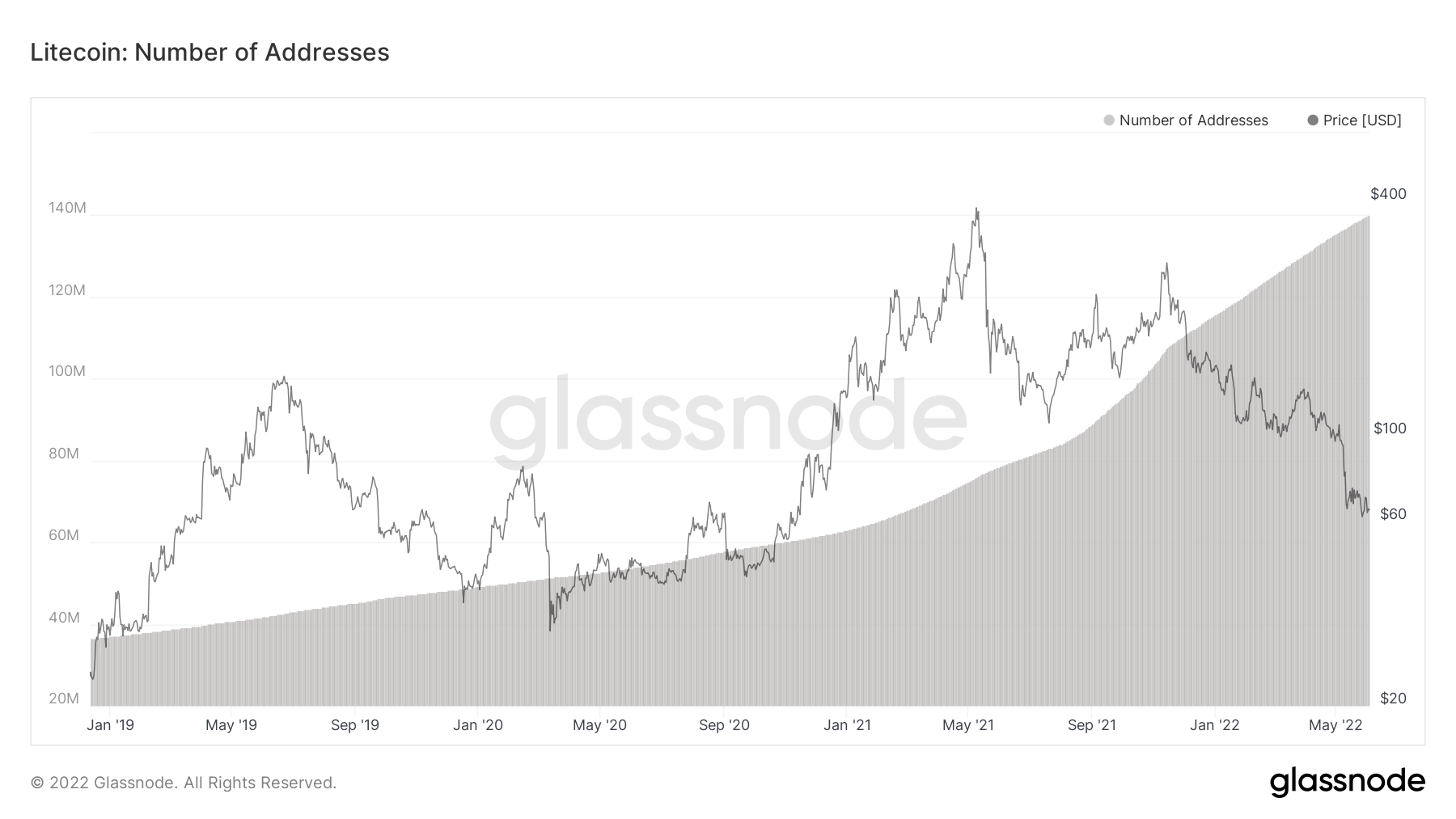 Since May 2021, the total number of addresses almost doubled from 76 million to 140 million (30-day EMA), marking a parabolic growth in interest that hasn't been seen previously. The sharp rise roughly coincides with the release of the decentralised token creation platform Omnilite in September 2021.
Is Litecoin Mispriced?
The mantra 'price eventually follows hashrate' is not unheard of in the crypto space, particularly for time-tested proof-of-work coins like Bitcoin and Litecoin. Besides providing network security, an increase in mining activity is viewed as a barometer for miners' confidence in Litecoin's price. After all, miners are more likely to dedicate resources to securing the network if they expect prices to trend higher over time. Otherwise, they'd likely scale back their operation.

Per data from bitinfocharts, Litecoin's network security reached all-time-high territory on May 9 (30-day EMA), hitting 490 TH/s. The raw data without a moving average registered a hashrate of 520 TH/s. Since June 2021, the network's hashrate more than doubled from 225TH/s to 477TH/s today (30-day EMA).
The question as to whether Litecoin is mispriced remains an open one. But if miners are linearly investing in Litecoin's infrastructure without pause, it's worth considering that battle-hardened cryptocurrency may be somewhat undervalued.
Developers Building Litecoin Infrastructure
The gaping dislocation between the data points comes after the much anticipated privacy-tool, MimbleWimble Extension Blocks (MWEB), was released. Fully deployed on May 19, the upgrade added the ability for senders and recipients to mask transactions and transaction amounts, thereby providing basic privacy rights acknowledged in the traditional financial system.
While various privacy coins exist, Litecoin has implemented the update in such a way as to reduce friction points between regulators and cypherpunks. In fact, the coin maintains robust liquidity and accessibility across all major exchanges at the time of writing, retaining its top 20 position on Coingecko.
As mentioned, Litecoin developers also entered the NFT space in Q4 2021 by building a decentralised marketplace on top of Litecoin.
Using Omnilite, the second-layer technology which was originally used to launch Tether tokens in 2014, artists can create custom tokens that are recorded on the Litecoin blockchain.
---
Join the telegram channel for updates, charts, ideas and deals.
Did you like the article? Share it!