The first ever inverse Bitcoin ETF launched in the United States last week has become the second largest Bitcoin ETF in the country. Meanwhile, the US Securities and Exchange Commission (SEC) has denied Grayscale's Spot Bitcoin ETF conversion a full week before the July 6 deadline; raising concerns about the regulator's motives.
ProShares' short bitcoin ETF (BITI) launched on June 21, and has seen strong daily inflows to the tune of 1,684 BTC on June 29, per data from Arcane Research.
Short-demand is seriously outpacing long-demand in U.S. ETFs.

BITI's net short exposure doubled yesterday, seeing a daily net inflow equivalent to 1684 BTC. Current net short exposure: 3086.2 BTC!

Meanwhile, BITO saw its largest daily net outflow since May 20 (5th largest YTD) pic.twitter.com/PF2XYqi4Hm

— Vetle Lunde (@VetleLunde) June 30, 2022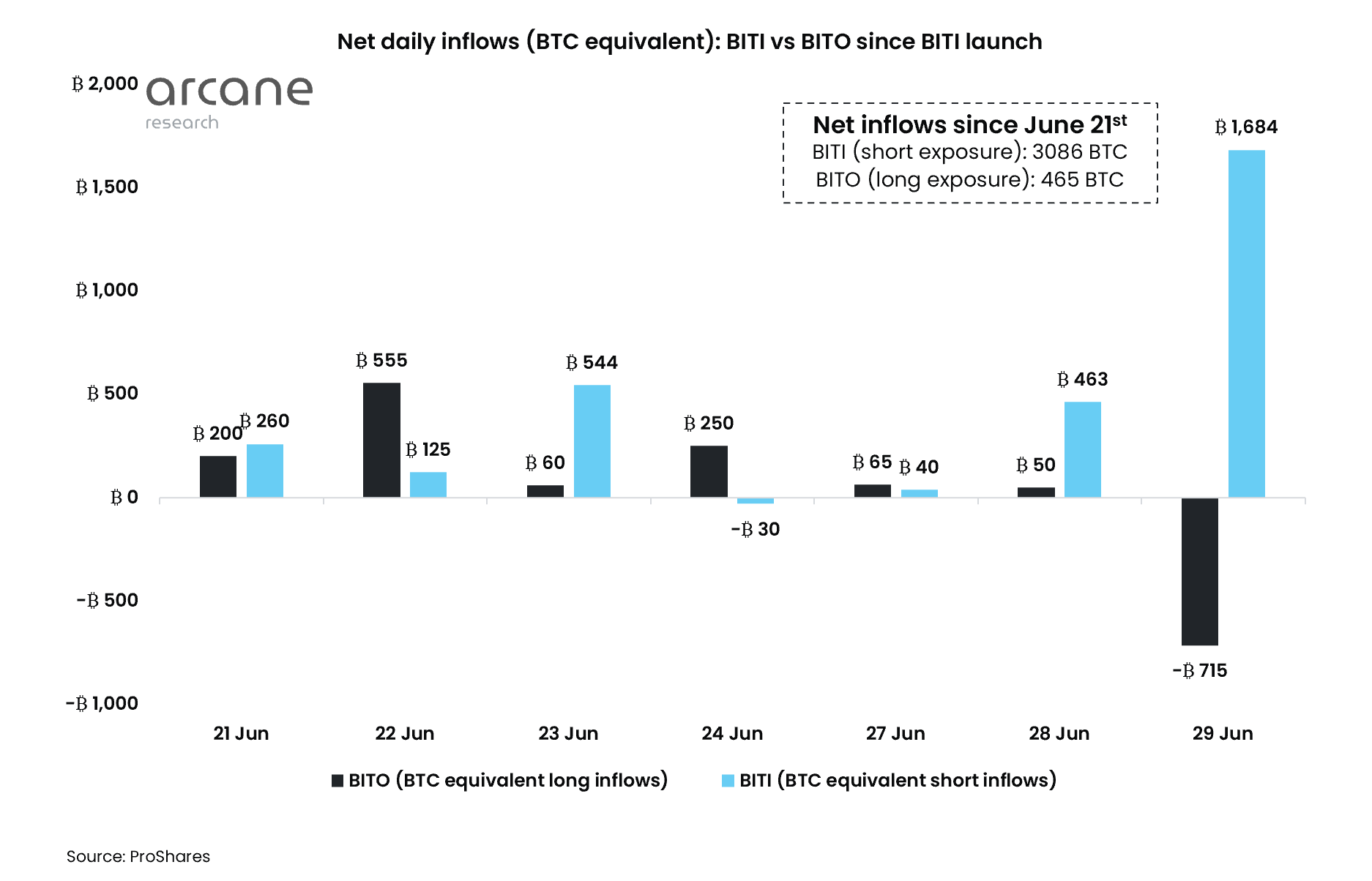 Currently, net short exposure for the ETF has hit 3,086 BTC (roughly $60.2 million).
---
Cryptocurrencies aren't going away. Buy Bitcoin & Litecoin here.
---
No US Spot Bitcoin ETF
For years, the United States Securities and Exchange Commission has denied spot Bitcoin ETFs, all the while approving high-risk futures products. The SEC has done so while simultaneously maintaining that it's interests are 'investor protection'.
Admittedly, the ProShares ETF enables investors to express bearish sentiment in the market, but the disapproval of Spot Bitcoin ETFs is the same as putting the cart before the horse. There are various compelling reasons why investors would choose a Spot ETF over a Futures ETF. Currently, US investors do not have that option.
In October last year, Grayscale asset management announced that it would seek to change GBTC – the most popular Bitcoin product with $16.7 billion AUM – to a Spot Bitcoin ETF. On June 29 2022, the SEC denied the application to "protect investors and the public interest", because the proposal failed to demonstrate how it is "designed to prevent fraudulent and manipulative acts and practices."
The decision comes a full week before the July 6 deadline, and raises concerns about the regulator's intentions given its approval of riskier Bitcoin products like the Proshares ETF. Grayscale has since filed a lawsuit, challenging the SEC's decision.
We've filed a lawsuit against the SEC. $GBTC

— Sonnenshein (@Sonnenshein) June 30, 2022
---
Join the telegram channel for updates, charts, ideas and deals.
Did you like the article? Share it!