Litecoin has lingered within a narrow trading range of $61 to $65 over the last month, but long-term holders are increasingly throwing their weight around at these depressed prices, according to data from on-chain analytics firm, Glassnode.
Long-term investors are buying Litecoin
The Litecoin network went through its 3rd halving event on August 2, 2023. The milestone event saw block rewards cut from 12.5 LTC to 6.25 LTC, and was followed by a perennial slump in prices in keeping with previous halving event market behaviour.
Following a 46% drawdown in the last three months, an on-chain indicator from Glassnode showed a noteworthy positive development for the cryptocurrency. According to Glassnode data, Litecoin's Holder Net Position Change started ticking higher on October 5th. The network shows holders adding 406,000 LTC to their cumulative balances in 5 consecutive days between October 13 and October 17.
A closer look at the historical trends shows that the 413,949 LTC added on October 15 is the highest since June 2021.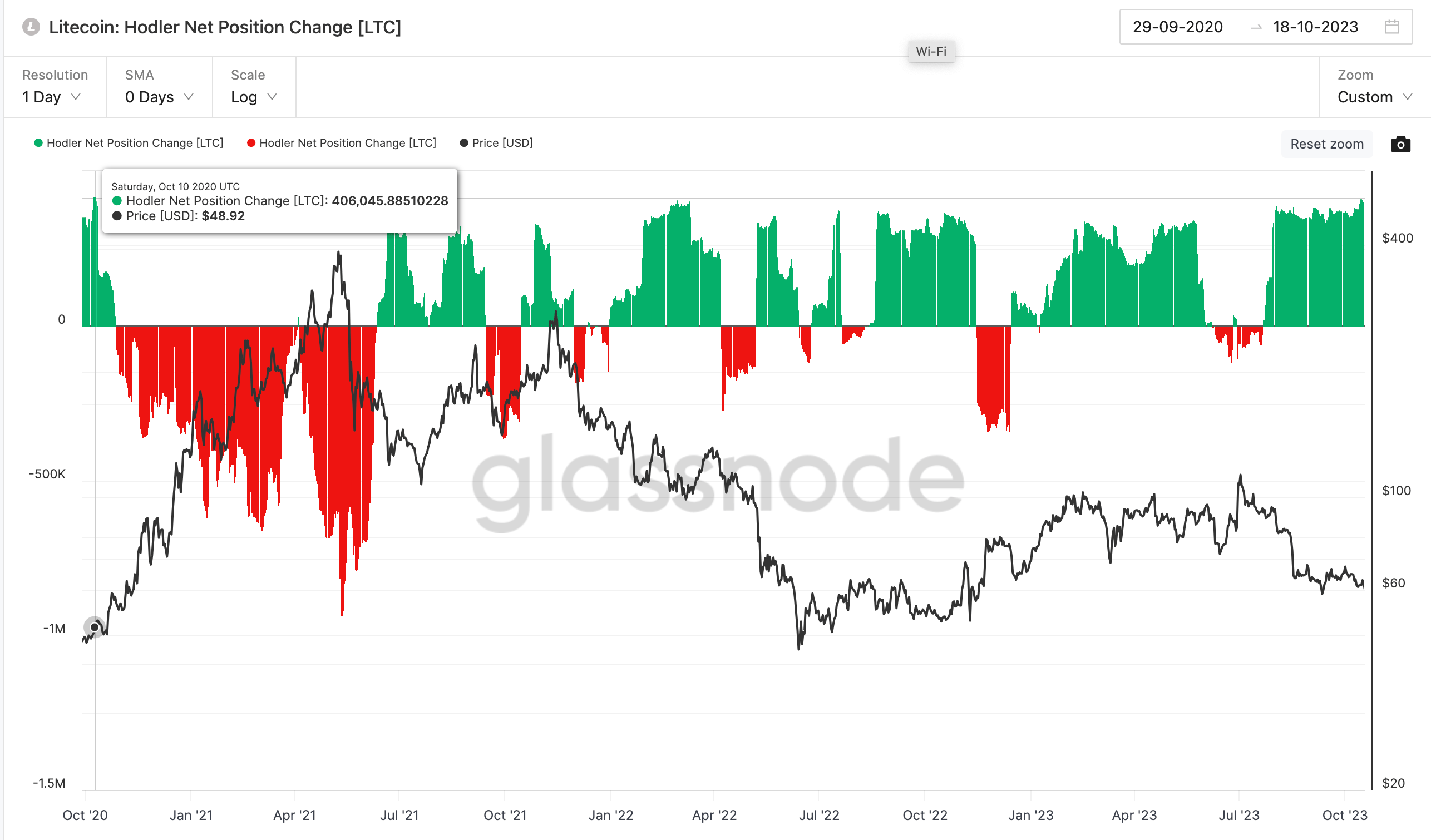 The Holder's Net-inflow metric highlights the daily growth in the amount of LTC coins held in wallets of investors who have held onto their balances for at least one year.
An increase in this metric implies a growing accumulation trend among long-term holders, which in turn indicates underlying confidence in the cryptocurrency's future. Another confluent data point signalling underlying strength comes from the cryptocurrency's ever-increasing hash-rate, with miners adding Scrypt machines to secure the network and gain block rewards.
Analyst: LTC holders to surpass those of BTC by April 2024
The increase in holder accumulation hasn't gone unnoticed. Forward-looking data analyst and engineer, Shan Belew, noted in early October that Litecoin holders are projected to surpass those of Bitcoin by April 2024.
Litecoin holders are trending to pass Bitcoin holders April 2024. Lots of time to accumulate. Tell your friends and family now. pic.twitter.com/98nnyFTJzc

— Shan Belew Ⓜ️🕸 (@MASTERBTCLTC) October 4, 2023
For long-standing, high integrity proof-of-work coins such as Bitcoin and Litecoin, a secular uptick in long-term investors tends to precede bull-market rallies.
As fewer coins are readily available on exchanges, an uptick in demand could cause a cascading effect on Litecoin during its accumulation and recovery phase.
All in all, these data points show accumulation trends which favour long-term investors over short-term traders.
---
Did you like the article? Share it!