Digital asset investment products witnessed their fourth consecutive week of outsized inflows, totalling $66 million according to a CoinShares report.
The investment surge stands in contrast to the prior week when inflows hit a modest $15 million. The 340% week-on-week spike underscores rapidly changing market dynamics, suggesting investors are warming up to Bitcoin this quarter.
However, according to the report these inflows are still relatively low compared to the upswing in activity in June following the BlackRock ETF announcement. In that period, inflows totalled $807 million in four weeks, averaging at $201 million each week as investors piled in on the positive news.
James Butterfill of CoinShares argued that this indicates a cautionary approach from investors, despite the upbeat news from the Grayscale vs. SEC court ruling. This suggests market maturation as investors become more sophisticated.
The report found that Bitcoin investment products dominate the market, attracting a whopping 84% of inflows, pushing the year-to-date total to $315 million. It's worth noting that the initial surge in short-inflows reached $23 million following a Bitcoin price spike, but these gains were reversed by the end of the week, resulting in net inflows of only $1.7 million.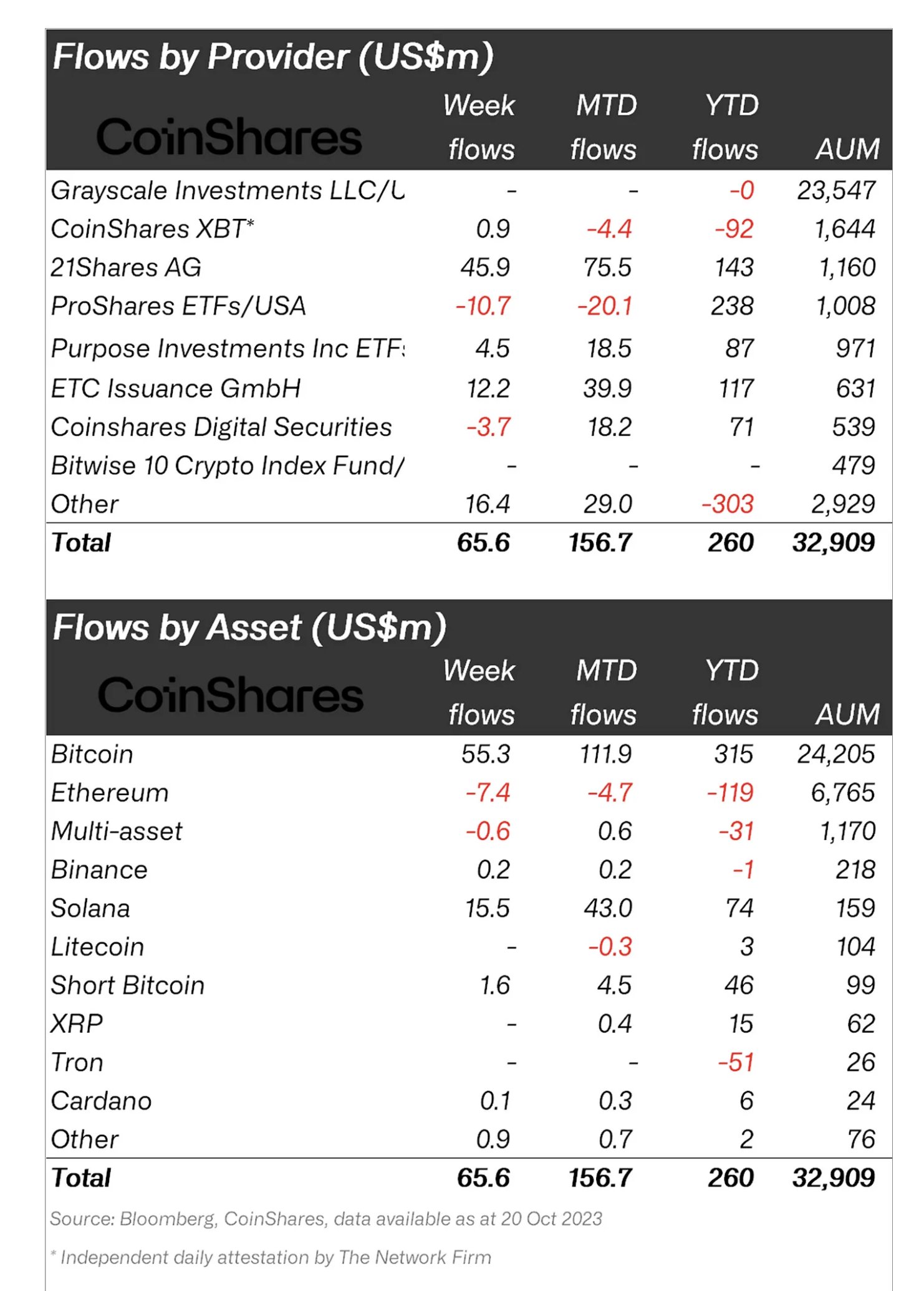 While the general trend is positive, Ethereum finds itself in an inconvenient position, as outflows amount to $7.4 million, registering itself as the only coin to witness a trend change last week. Meanwhile, Solana attracted $15.5 million in new inflows, despite its confounding status as a centralised asset. This boosts its year-to-date inflows to $74 million, account for 47% of its total Assets under Management (AUM).
Investors are certainly eager about the prospects of a spot Bitcoin ETF, yet their approach indicates a level of prudence in comparison to previous bouts of rapid buying.
This equilibrium between optimism for innovative investment vehicles, and a lukewarm stance towards market fluctuations appears to bode well for general stability and resilience in the crypto market in the days to come.
CoinShares provides these insights via its weekly report on digital asset investment products, available on its website.
---
Did you like the article? Share it!