Following Binance's decision to axe USDC, JPMorgan analysts expect Tether (USDT) to gain ground moving forward.
In brief
JPMorgan says Binance's decision to auto-convert USDC deposits to BUSD could make Tether even more important when it comes to trading.
Tether's enormous daily trading volumes (ten times the nearest competitor) pose a serious opportunity, per the report.
---
Cryptocurrencies aren't going away. Buy Bitcoin & Litecoin here.
---
From Sept. 29, Binance will begin converting existing balances and stablecoin deposits of USDC, USDP and TUSD to its own stablecoin, BUSD. Moreover, the exchange will halt trading pairs for the three stablecoins against BUSD and Tether (USDT), as well as major cryptocurrencies like bitcoin and ether.
JPMorgan analysts believe this decision will make Tether more structurally important in all cryptocurrency trading.
"In our opinion, this decision is likely to bolster the importance of Tether in the stablecoin universe which had been under threat by USDC," analysts wrote in a research note last week.
The investment bank said that USDT's share of stablecoin ecosystem had been consolidating over the last 18 months. The bank argued that the importance of the stablecoin has been dwindling.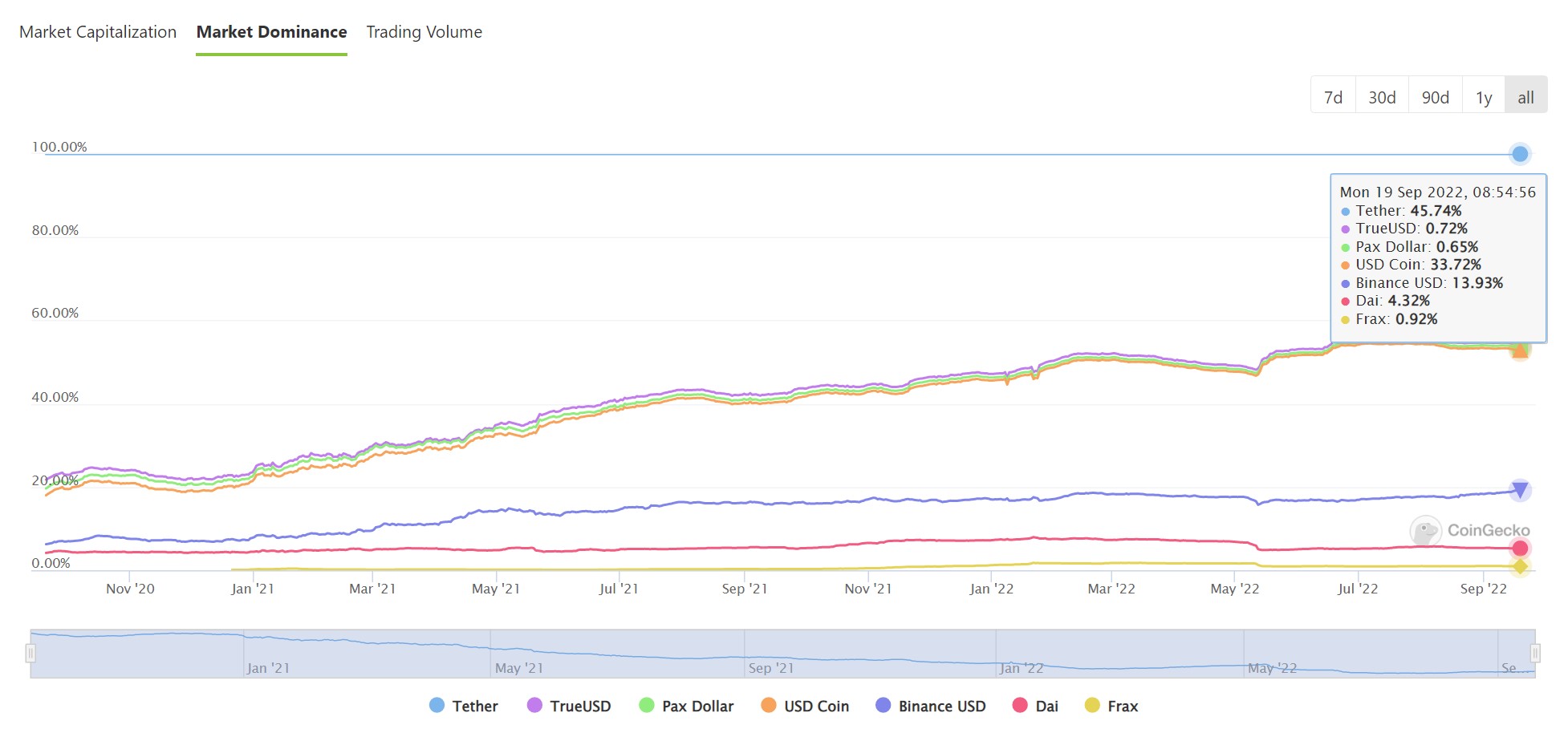 Additionally, the collapse of Terra and its stablecoin (TerraUSD) in May appears to have been captured by USDC and BUSD, not Tether. According to the report, this is an issue, but Tether's importance is not solely confined to its market cap.
In our opinion, Tether's importance is not only confined to its market cap share in the stablecoin universe but also depends on its usage, in particular in trading.
Tether exists across eleven blockchains, compared to USDC's eight, with an annualised daily trading volume that is far greater than USDC – or even bitcoin and ether. The research report went on to say that Tether's average daily trading volume is ten times that of USDC.
Based on this rationale, JPMorgan researchers expect Tether's importance to increase following the Sept. 29 conversion. The bank also noted that BUSD will gain in importance too, noting its new fee structure.
Binance has now introduced zero maker fees applied to all BUSD trading pairs and also made USDT/BUSD trade with zero taker fees, according to their website.
Despite the recent Terra-induced bank-run, which saw Tether redemptions numbering in the billions, the most widely used stablecoin remains the top dog in the space.
USDT holds $67.8 billion in market capitalisation, followed by USDC's $50 billion and BUSD's $44 billion at the time of writing.
---
Join the telegram channel for updates, charts, ideas and deals.
Hangout and participate in crypto discussions on OCT.
Did you like the article? Share it!