According to the latest forecast from Citigroup, UK inflation is set to reach 18.6% in January 2023, the highest level in half a century. The quoted reason for rising inflation is soaring wholesale gas prices, but the elephant in the room is the 10-odd-trillion in funny money added to global circulation in the last few years.
The investment bank predicted that retail energy prices would increase to £4,567 in January, then £5,816 in April compared with the current £1,971 per year. Citi analysts said the shift would lead to inflation "entering the stratosphere".
Chief UK economist at Citi said:  "We now expect CPI inflation to peak at over 18% in January. The figure would be higher than peak inflation following the Opec oil shock of 1979, when CPI hit 17.8%, per estimates from the Office for National Statistics.
---
Cryptocurrencies aren't going away. Buy Bitcoin & Litecoin here.
---
This vertically increasing inflation rate would squeeze household incomes hard, pushing the UK economy into a recession. However, the scale of such figures would likely push the Bank of England to tighten monetary policy further. Today, UK and European natural gas prices exchange hands at nearly 10 times their normal levels, with various forecasters raising inflation predictions.
Goldman Sachs and EY said they see a 15% inflation rate at the start of next year, with the BoE now saying that inflation would exceed 13% towards the year-end. The UK energy regulator Ofgem is set to announce the energy price cap for October and January on Friday, which analysts expect to increase over £3,500 per household assuming average energy usage. That's still a 75% increase on current levels.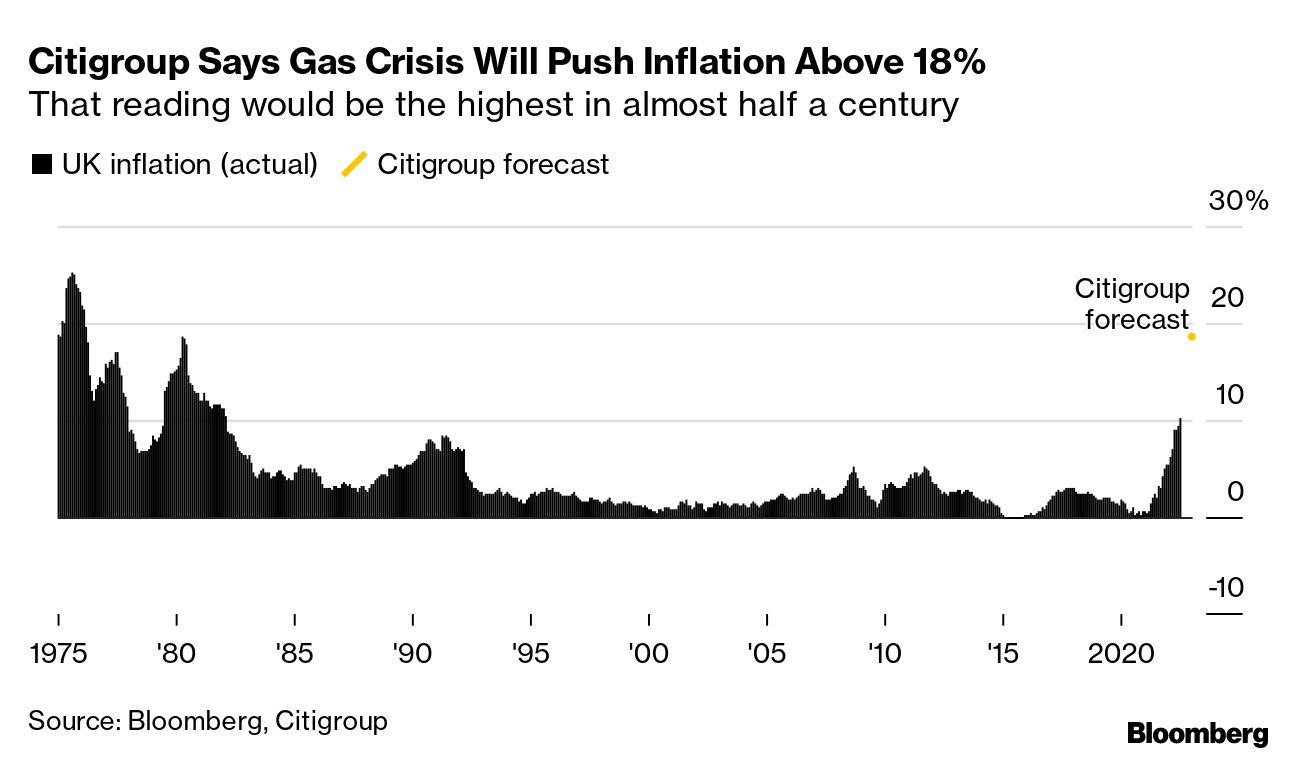 Based on the latest data, Citi analysts expect a higher figure for Q4 2022, at around £3,717 with forecasts for 2023 looking to be "substantially greater", as noted. Nabarro said Citi's new prediction takes into account a 25% increase in wholesale gas prices last week, and a 7% rise in wholesale electricity prices.
"Even with the economy softening, last week's data reaffirmed the continued risk of pass through from headline inflation into wage and domestic price setting could accelerate," he said.
The inflation rate apparently exceeded expectations this year, despite many analysts openly discussing the writing on the wall following the largest increase in fiat money supply in history in 2020-2021. Central banks printed Trillions in that time-frame.
The ONS said CPI stood at 10.1% in July, the highest in over 40 years, exceeding the rate among G7 countries. With the energy squeeze potentially increasing, UK political candidates for Conservative party leadership have focused their ire on plans to support households ahead of Ofgem's Friday announcement.
Frontrunner Liz Truss said she was likely to introduce a support package alongside tax cuts in an emergency Budget in September, which would be accompanied by independent economic forecasts from the Office for Budget Responsibility. Her rival Rishi Sunak's team has criticised this approach, saying, "Truss cannot deliver a support package as well as come good on £50bn worth of unfunded, permanent tax cuts in one go".
The ominous forecast comes at a time of heightened rhetoric surrounding a looming hyper-inflationary collapse of major Fiat currencies worldwide. High net worth individuals have been increasing their Bitcoin and Gold exposure in the face of devaluing Euros, Dollars, Pounds and Fiat currencies more broadly.
---
Join the telegram channel for updates, charts, ideas and deals.
Did you like the article? Share it!