There's a new Bitcoin whale on the loose. Sparing no capital, the entity made its first ever large-scale Bitcoin purchase to the tune of 3 billion dollars.
Bitcoin Whale is a Newcomer
According to data compiled by BitInfoCharts, the new whale is unidentified and first appeared on July 19, 2022, before it executed its first large purchase of 3,000 BTC. On July 20, a purchase of 15,499 BTC was made – equivalent to $360 million at the time. A day later, the whale wallet made three consecutive purchases totalling 71,379 BTC, worth $1.64 billion per the latest data.
In three days, the buyer acquired 132,177 Bitcoin, worth over $3 billion.
---
---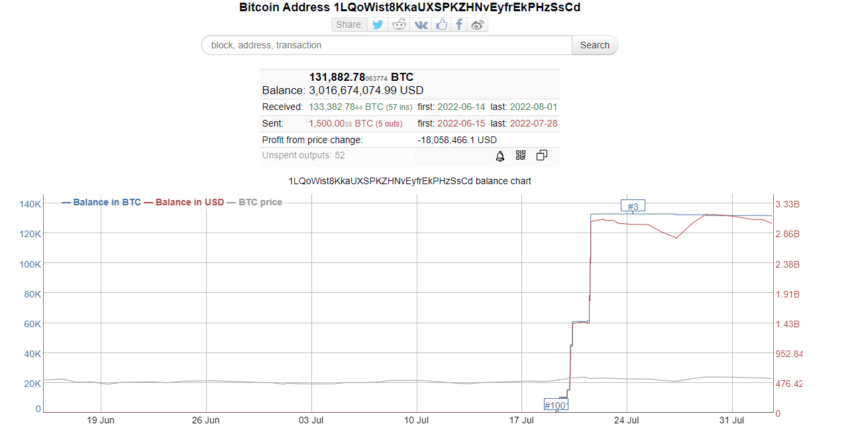 The total balance of this whale wallet now stands at 131,882 BTC, valued at $3.02 billion. The wallet now holds third place in the list of wallets with the most Bitcoin, owning 0.70% of the total Bitcoin in circulation.
Notably, the purchases coincided with a modest price recovery over the past couple of weeks, which saw Bitcoin rise roughly 17% since the initial whale wallet purchases on July 17. While the extent of the market impact this wallet had on price trends is debateable, it's clear that for now this wallet has contributed to sell-pressure absorption.
The identity of this new player in the market is presently unknown, and it remains to be seen whether the wallet is an individual or entity.
A severe stress test
The Bitcoin and crypto markets have been dealing with the most severe stress test ever in recent months. As funds and previously large companies seek financial aid and move ahead with bankruptcy proceedings, other players in the market have taken to accumulating more crypto assets.
One mining firm by the name of Blockware, expects 'the miner capitulation to end in August or September at the latest'. And Coinshares' Chief Strategy Officer Meltem Demirors believes the number one cryptocurrency will reach all-time highs in the next 24 months.
Bitcoin is still more than 65% below its all-time high, reached last November ($69,000).
---
Join the telegram channel for updates, charts, ideas and deals.
Did you like the article? Share it!