Stablecoin issuer Tether published the results of its latest quarterly assurance opinion by accounting firm BDO on Friday, revealing a 58% decrease in the company's commercial paper holdings on a quarterly basis.
In brief
A fresh report of Tether's reserves reveals it holds $28.9 billion in US Treasury bills.
It also shows a more than 58% decrease in Tether's commercial paper holdings over the prior quarter from $20 billion to $8.5 billion.
Tether remains the dominant stablecoin issuer in crypto as of August 20, 2022.
---
Cryptocurrencies aren't going away. Buy Bitcoin & Litecoin here.
---
A quarterly assurance opinion is a mechanism by which stablecoin issuers show their coins are backed by real assets. It involves assessment and analysis of various operations in the firm, conducted by a third party accounting firm (in this case BDO USA).
The report shows Tether holds $28.9 billion in US Treasury bills, $6.8 billion in money market funds, cash and bank deposits of $5.4 billion, reverse repurchase agreements of about $3 billion and non-US Treasury bills of $397 million.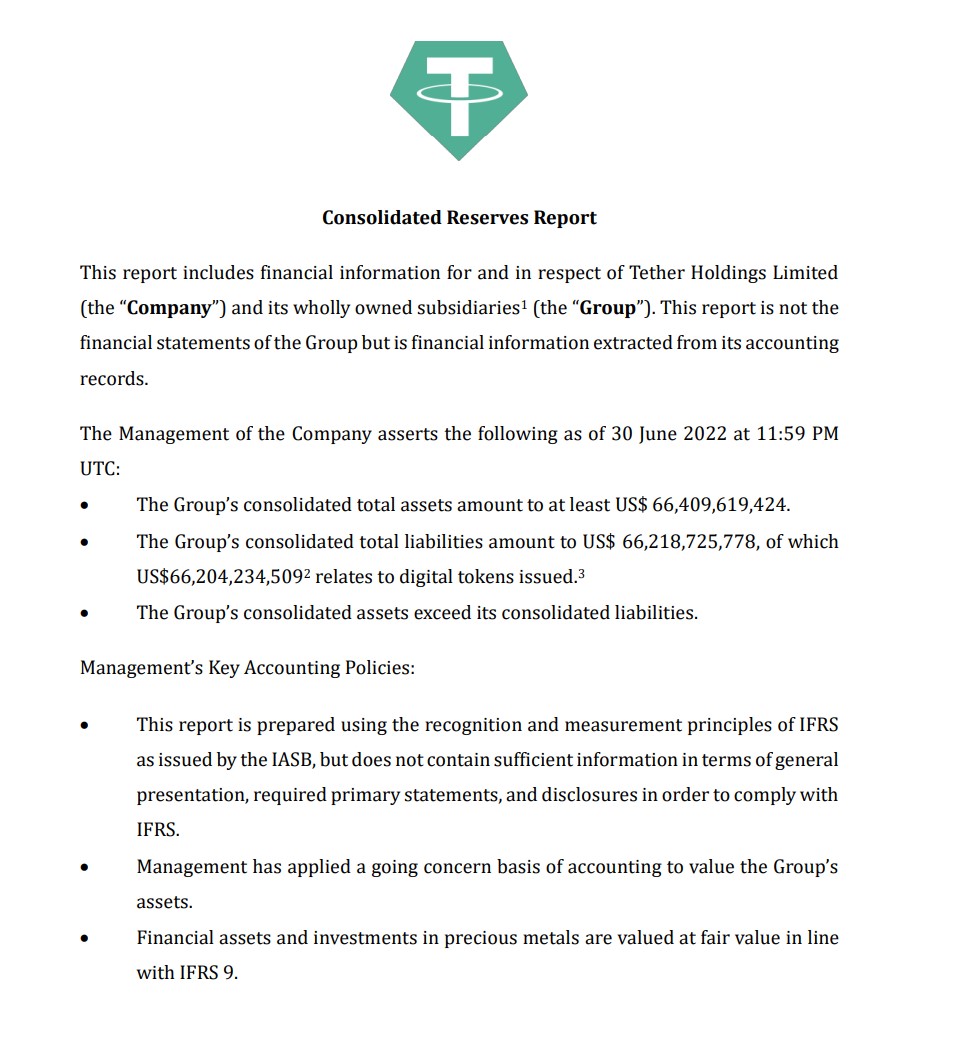 The report also shows a significant decrease in Tether's commercial paper holdings over the last quarter, from $20 billion to $8.5 billion. This is in line with the firm's commitment to reduce its exposure to zero by the year's end.
"As previously announced, the exposure to commercial papers will be down to 200m by the end of August 2022 and to zero before the end of the year," a post on Tether's website says. "During the same period, Tether has increased its holdings of cash and bank deposits by 32%."

"The utility of Tether continues to be supported by the transparency of its reserves and has been a leading source of stability allowing us to build a tool for the global economy," said CTO of Tether, Paolo Ardonio in a statement. "Our commitment to transparency and the community is a long-standing pillar in the underlying ethos of the company and aligns with our responsibility as a market leader."
The assurance opinion comes several weeks after the largest stablecoin issuer highlighted that it holds no Chinese commercial paper following false information reports about the company's liabilities.
Tether Retains Market dominance
Tether's absolute market dominance has come under pressure this year, as BUSD and USD Coin gained traction in the wake of the worst market down-turns in crypto history (in dollar terms). Fears of contagion effects brought about by the Terra-Luna collapse lent themselves to a cycle of panic in the market as stablecoin redemptions skyrocketed across the board. Despite the bank-run, Tether maintained redemptions which numbered in the billions, a feat traditional banks cannot achieve on a good day.
USDT holds $68 billion in market capitalisation, followed by USDC's $52 billion at press time.
---
Join the telegram channel for updates, charts, ideas and deals.
Did you like the article? Share it!