The Bitcoin network's total processing power breezes above 200 exahashes per second (EH/s) as exchange withdrawals hit the highest rate since July 2021.
Two weeks ago on Feb 27, the BTC hashrate slipped modestly to 169 EH/s after tapping an all time high of 249 EH/s on Feb 15. Following the drop, bitcoin miners caught a short break as mining difficulty adjusted for the first time in several months.
On March 3, the difficulty fell 1.49% after six consecutive difficulty increases higher.
Bitcoin's mining difficulty today is floating at around 218 EH/s, staying above the 200 EH/s range for the last 10 days. The current Bitcoin difficulty level is at 27.55 trillion, with the next adjustment slated to take place on March 17.
The next epoch mining difficulty adjustment is slated to happen in less than four days and its expected to rise 1.03%. If the rise above 1% is takes place, the mining difficulty will change from 27.55 trillion to 27.83 trillion.
The difficulty level adjusts in order for blocks to be generated consistently, and increases or decreases depending on the network's hashing power.
Calculated on a 7-day exponential moving average (EMA), Bitcoin network has never been more secure to date.
---
Cryptocurrencies aren't going away. Buy Bitcoin & Litecoin here.
---
Negative net exchange flows
Meanwhile, as the fundamental value proposition for Bitcoin enters a new epoch, exchange flows from exchanges spiked to -9,987 BTC (7-day EMA), a figure not seen since July 29 (when flows reached -17,455 BTC).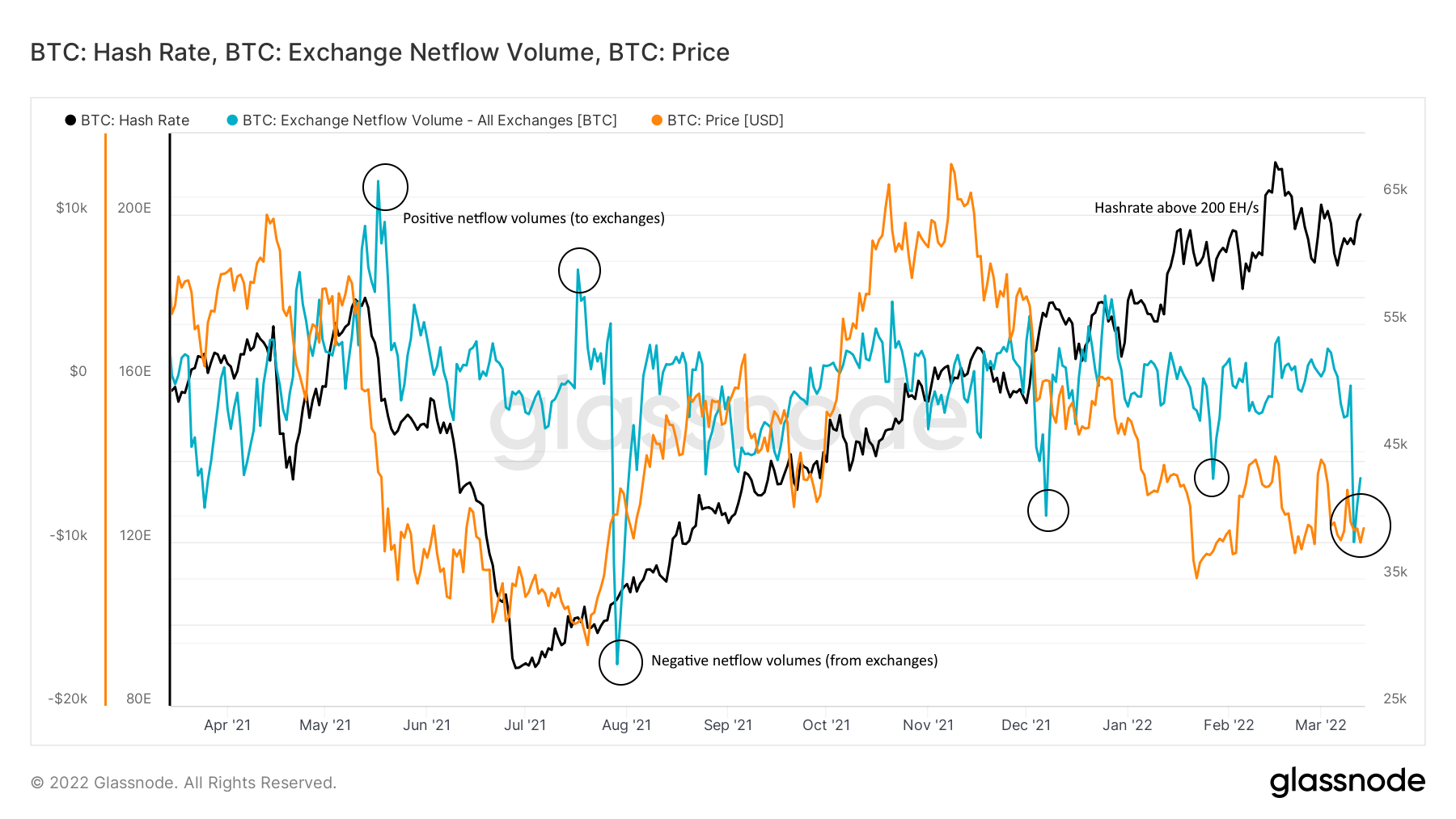 Since July 2021, exchange net flow volumes have seen three noteworthy negative spikes on Dec. 7 (-8,376 BTC), Jan. 27th (-6,117 BTC) and most recently on March 11. This typically signals growing market illiquidity as buyers move coins into cold storage.
The trend of outflows from exchanges comes at a time when the official US inflation rate hit 7.9%, the highest ever recorded in 40 years.
---
Join the telegram channel for updates, charts, ideas and deals.
Did you like the article? Share it!