The amount of Bitcoin available in the open market has decreased dramatically in March as buying pressure increases across the board.
Popular on-chain analyst Will Clemente noted that Bitcoin's illiquid supply is "essentially going vertical". The analyst tweeted:
Illiquid supply shock ratio going essentially vertical. Supply continues to get absorbed by entities with a low statistical history of spending their BTC.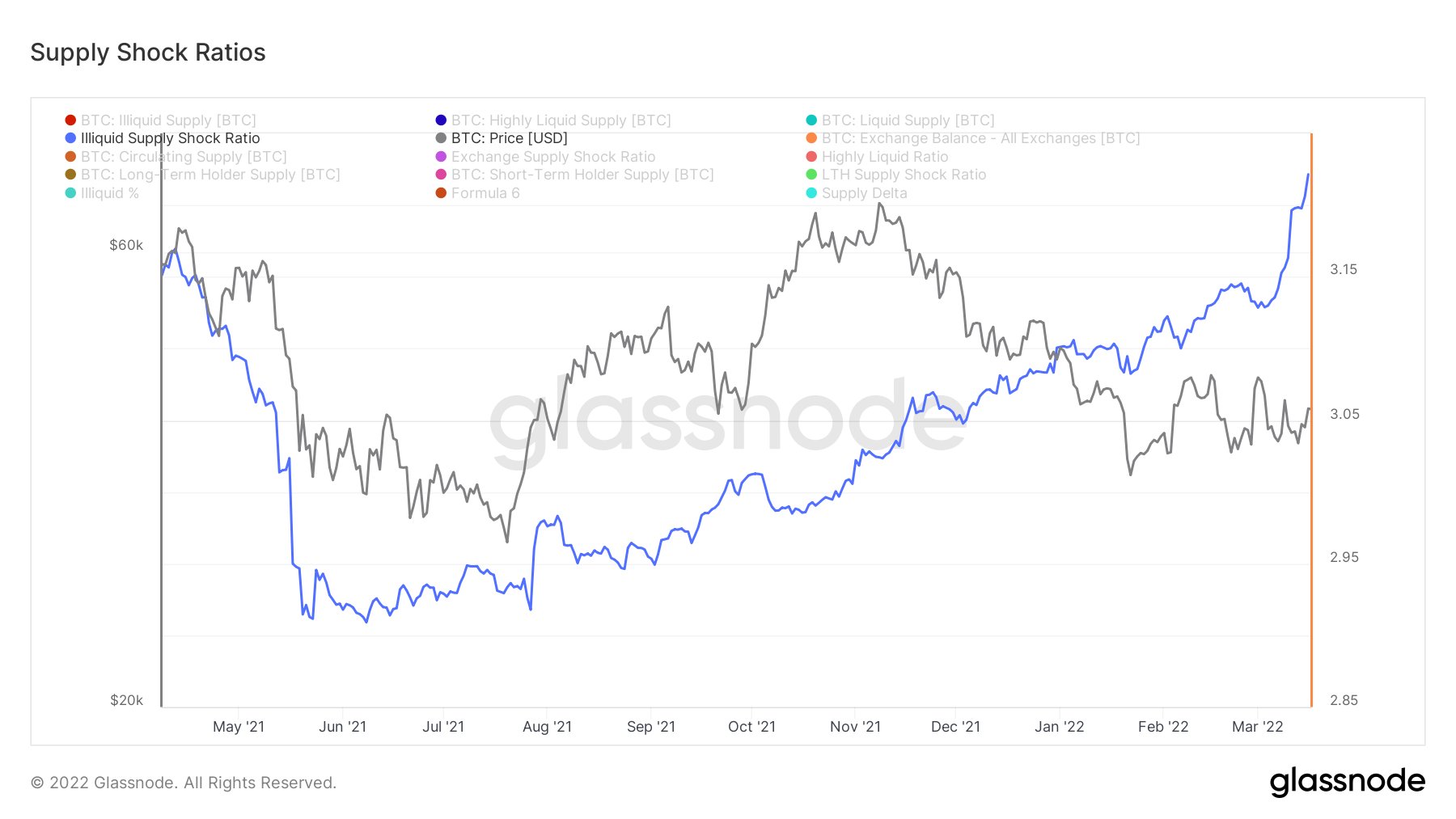 ---
Cryptocurrencies aren't going away. Buy Bitcoin & Litecoin here.
---
The buying pressure from entities (wallets that belong to the same person or group) with about 1-10 BTC increased over the last two weeks. At the time of writing, 10 BTC is worth $408,000.
It appears recent buyers have been a bit smaller in size, with a spike in buy pressure coming from entities with 1-10 BTC (orange line) over the last 2 weeks. pic.twitter.com/5MXCtD7Hvw

— Will Clemente (@WClementeIII) March 17, 2022
Illiquid Supply on the Rise
Since July 2021, a fairly major divergence between bitcoin's price trajectory and 'holding' behaviour has developed. The trend began when Bitcoin meandered near the $30,000 lows in July last year as entities picked up discounted BTC.
Briefly, when the number of available bitcoin in the open market decreases, a modest uptick in demand can cause a surge in prices. On-chain analysts have often discussed this probable event within the context of a high-inflation environment.
The latest figures from the Fed show the US consumer price index (CPI) at an ominous 7.9%. This is the highest reading in 40 years.
This week, Fed Chairman Jerome Powell announced a 0.25% interest rate hike, marginally increasing the cost of capital to combat inflation. However, the policy will have little material effect on inflation and the next FOMC meeting is in May.
In short, Americans and by extension, Western and global economies are facing months of elevated inflation with no off switch besides hard assets like Bitcoin.
---
Join the telegram channel for updates, charts, ideas and deals.
Did you like the article? Share it!