According to data published by Santiment, large investors have accumulated litecoin over the last four months, marking the longest buying period since 2017.
Specifically, whale addresses holding 10,000 to 1 million Litecoin have bought up 5% of the total supply in the last 15 weeks. The on-chain analytics firm noted that this streak is the longest since 2017, while suggesting that the altcoin – often regarded as the silver to bitcoin's gold – is showing sings of life.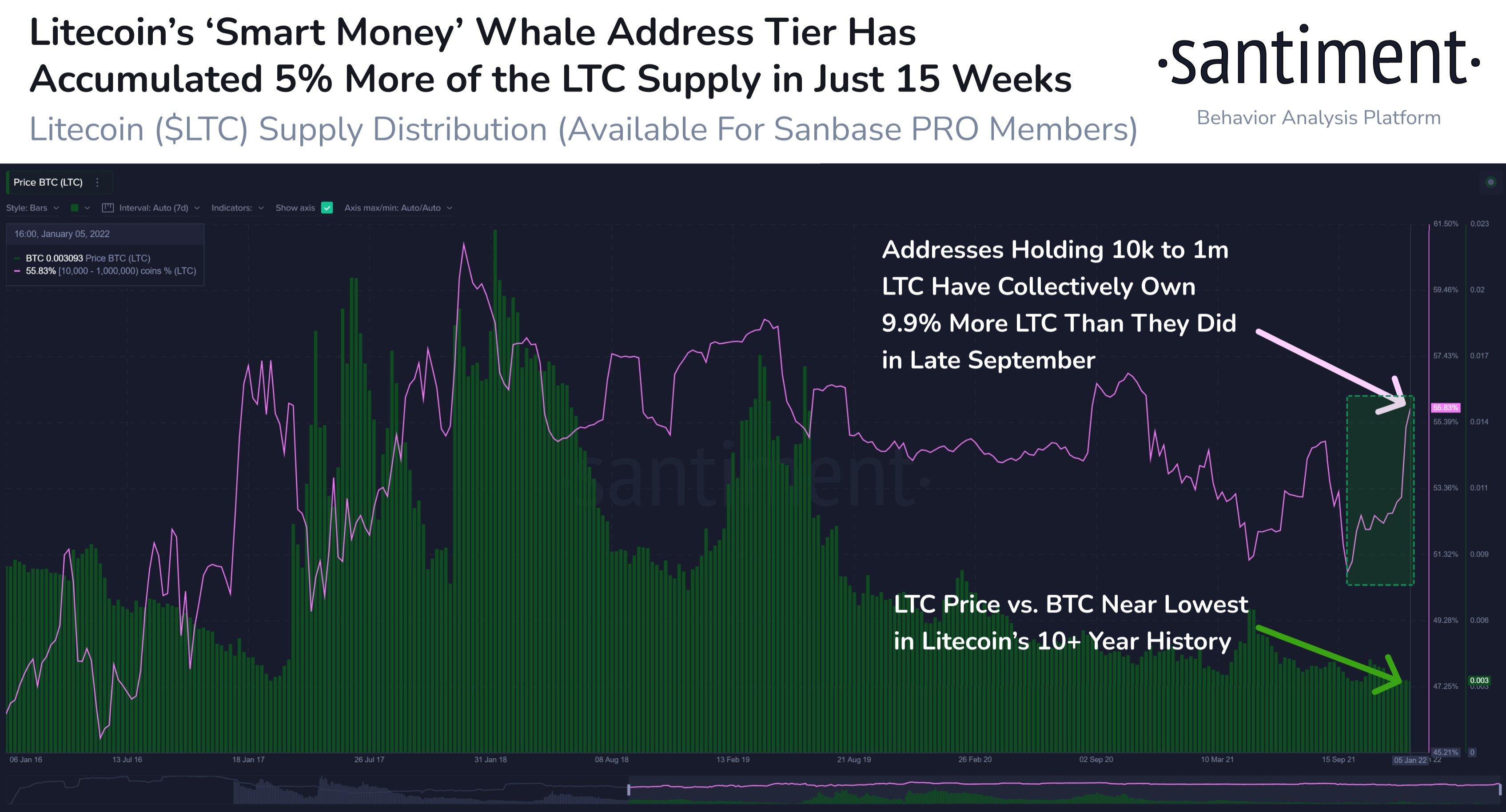 🐳⚡️ #Litecoin is showing some signs of life, up about +5% against $BTC in the past 2 days. Whale addresses holding 10k to 1m $LTC are in a 15-week accumulation pattern that is their longest since 2017. They have added 5% of $LTC's supply in just 15 weeks. https://t.co/76OWL8t3Al pic.twitter.com/nOspXIoPzw

— Santiment (@santimentfeed) January 12, 2022
Since topping out at $300 on Nov. 10, Litecoin has steadily declined to about $130, as discussed in our bi-weekly analysis. After the decline, the ensuing months saw large investors scooping up more Litecoin, acquiring the asset at a stable discount.
---
Cryptocurrencies aren't going away. Buy Bitcoin & Litecoin here.
---
At the time of publishing, Litecoin exchanged hands at $138, up 0.8% on the day. Presently, the coin is down 66.41% from all-time highs of $412 reached on May 10, 2021.
According to data from coingecko, the coin is ranked as the 22nd largest ever, having slid from the ranks due to recent declines.
MimbleWimble is coming
Regardless of the cryptocurrency's price, developers have continued to work on the decade-long project. Since 2019, MimbleWimble (MW) has garnered a lot of interest from crytpo users, but developers have so far repeatedly delayed its launch after the testnet launch in September 2020.
Still, the Litecoin Foundation's creative director has said that MW is "currently in the final code review", and can be expected to launch very soon.
The project's lead developer hinted at a January launch this year.
---
Read More: Three reason to own Litecoin 
---
Join the telegram channel for updates, charts, ideas and deals.
Did you like the article? Share it!