The Bitcoin hash rate, which is one of the most consequential indicators of network activity trends, has witnessed a significant jump of over 100% in six months.
Data analytics firm Glassnode shows that Bitcoin's 7-day mean hash rate has reached a new all time high of 196 Exahashes.
Last year, China launched an inquisition on crypto mining, introducing a ban on mining activities in the country in order to make way for its digital Yuan. Since China previously dominated the mining sector, the hash rate plunged over 54% in May 2021, but has since recovered spectacularly as miner operations moved to more friendly jurisdictions.
---
Cryptocurrencies aren't going away. Buy Bitcoin & Litecoin here.
---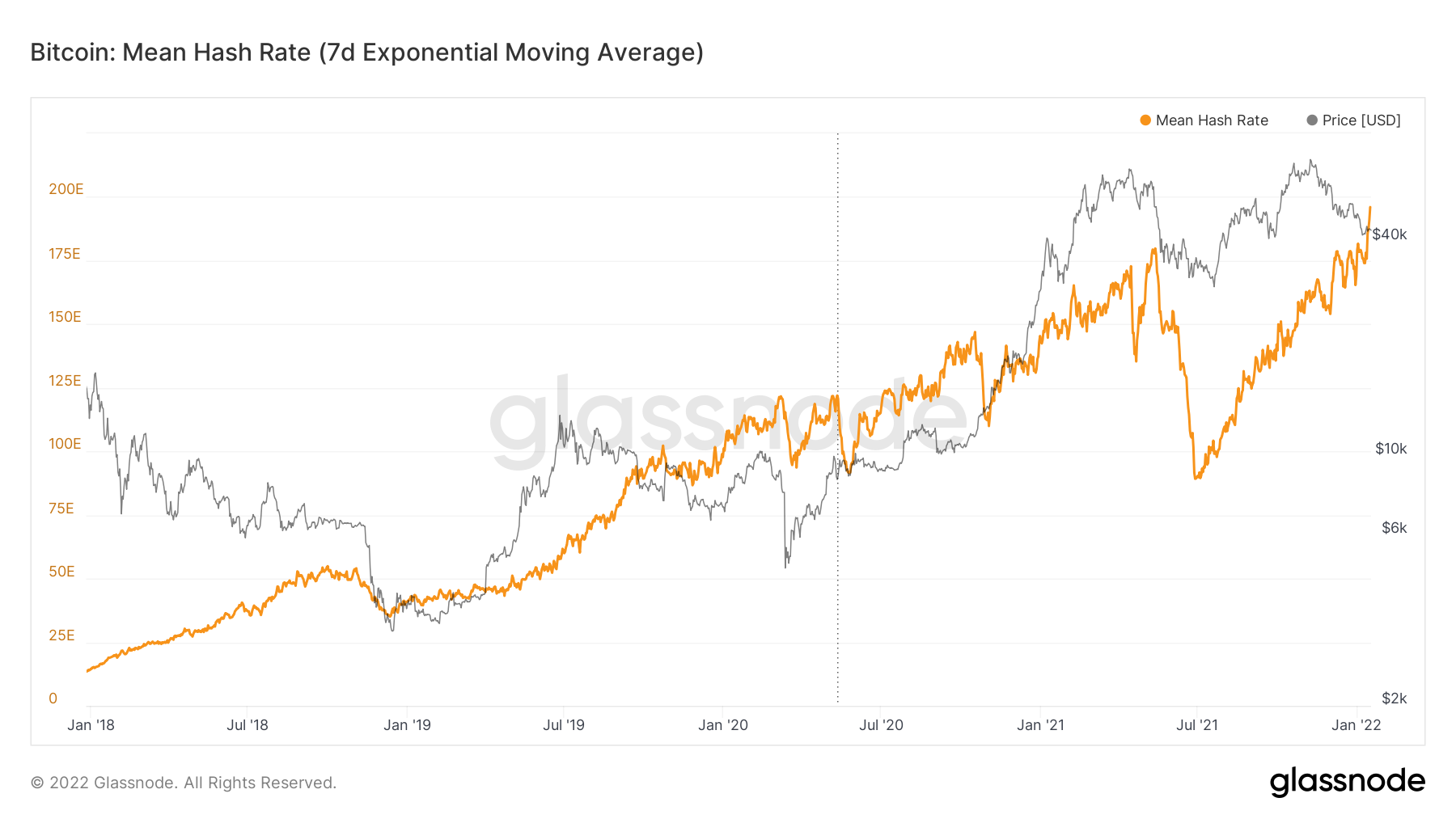 Since then, a jaw-dropping pump of over 120% since July 2021 wiped the floor with China's draconian anti-crypto stance.
Today, the mining sector has returned to its highest operational capacity and continues to grow.
BTC Hash Rate has reached 183 Exahash, a new all-time high. After a -54% reduction in May last year, resulting from a ban in China, mining rigs have returned to operation, growing network security by +117% since July 2021, Glassnode noted.
Bitcoin's growing network also brought with it a strong price surge in 2021. However, as the network activity surges, bulls are anticipating substantial upside since the two metrics tend to compliment one another.
Currently, bitcoin trades around the $42,700 region, remaining nearly flat for seven days in a row. The pioneer crypto is up 8% week-on-week, while Litecoin is up 26.60% during that same time-frame.
Short-Term Buyers Hold 3 million bitcoin
On-chain data also points to an interesting development over the last few months. Specifically, short-term holders of the asset own 3 million BTC – the lowest level since August 2020. Nearly 40% of BTC transfer volume is currently in profit.
Short-Term Holders, investors who bought their coins within the past few months, currently hold 3 million BTC. This is a historically low level, and one that hasn't been seen since August 2020. Low ST Holder Supply in Profit combined with a low Stablecoin Supply Ratio indicates lots of sideline money waiting to be reinvested into Bitcoin, Yann and Jan, the Co-Founders of Glassnode, continued.
---
Join the telegram channel for updates, charts, ideas and deals.
Did you like the article? Share it!