New data from analytics platform Santiment reveals that Litecoin transaction volumes are on the rise, all the while the network's hashrate reached a milestone not seen in three years.
Transaction Spike Above $100,000
Litecoin is often on the receiving end of criticism partly exacerbated by its muted price-action in 2021. However, the network continues to experience robust growth regardless, with recent whale transaction counts extending higher, as indicated by on-chain analysis platform Santiment.
🐳 #Litecoin may not be on many traders' radars right now, but it quietly just saw the largest amount of daily $LTC whale transactions exceeding $100k+ (3,458 transactions) in 2022. Typically, this is an indicator of mid-term price direction shifts. 👀 https://t.co/mhi60PtUhX pic.twitter.com/uvCCTmW1Qy

— Santiment (@santimentfeed) April 6, 2022

Specifically, the number of transactions exceeding $100,000 hit the highest level since December 2021.
---
Cryptocurrencies aren't going away. Buy Bitcoin & Litecoin here.
---
Hashrate Reaches Level Not Seen in 3 Years
Meanwhile, Litecoin's network security has also experienced a strong uptrend, reaching levels not seen since July 2019. At the height of its network security (468 TH/s), the coin had experienced a 452% rally from $25 (Dec. 2018) to $138 (June 2019).
Since June 2021, Litecoin's hashrate more than doubled from 225TH/s to 466TH/s today.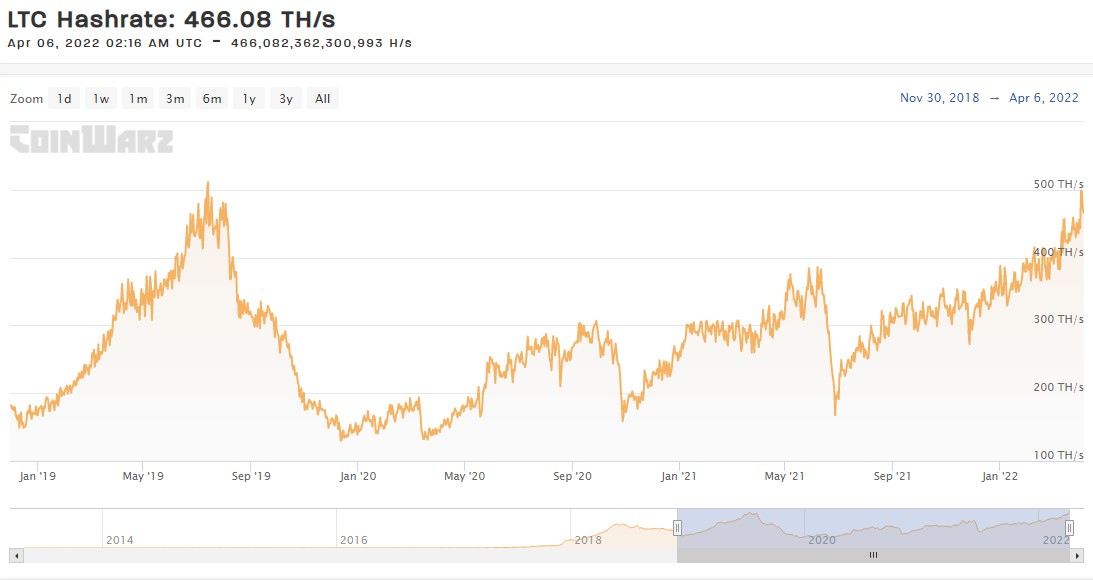 The "hashrate" refers to the total computational power used to mine and process transactions on the proof-of-work blockchain. It is an important metric which assesses network strength and security. Currently, Litecoin's hashrate hit 466 TH/s, according to the latest data.
The most recent hash rate uptick comes in conjunction with the largest LTC transaction cluster spike in its 10-year history.
Litecoin exchanges hands at $121 at the time of publishing, up 19% on the month.
---
Join the telegram channel for updates, charts, ideas and deals.
Did you like the article? Share it!