The Bitcoin illiquid supply metric is on the rise as coins move to wallets with little-to-no spending history amidst increasing investor interest. As capital flows move into the primary digital bearer asset, the likelihood for a supply squeeze increases.
Bitcoin Illiquid supply increases in June
According to data from Glassnode, Bitcoin's illiquid supply, i.e. the number of coins held by wallets on a specific date compared with the same day the previous month, rose to 147,351.58 BTC ($4.5 billion) in June.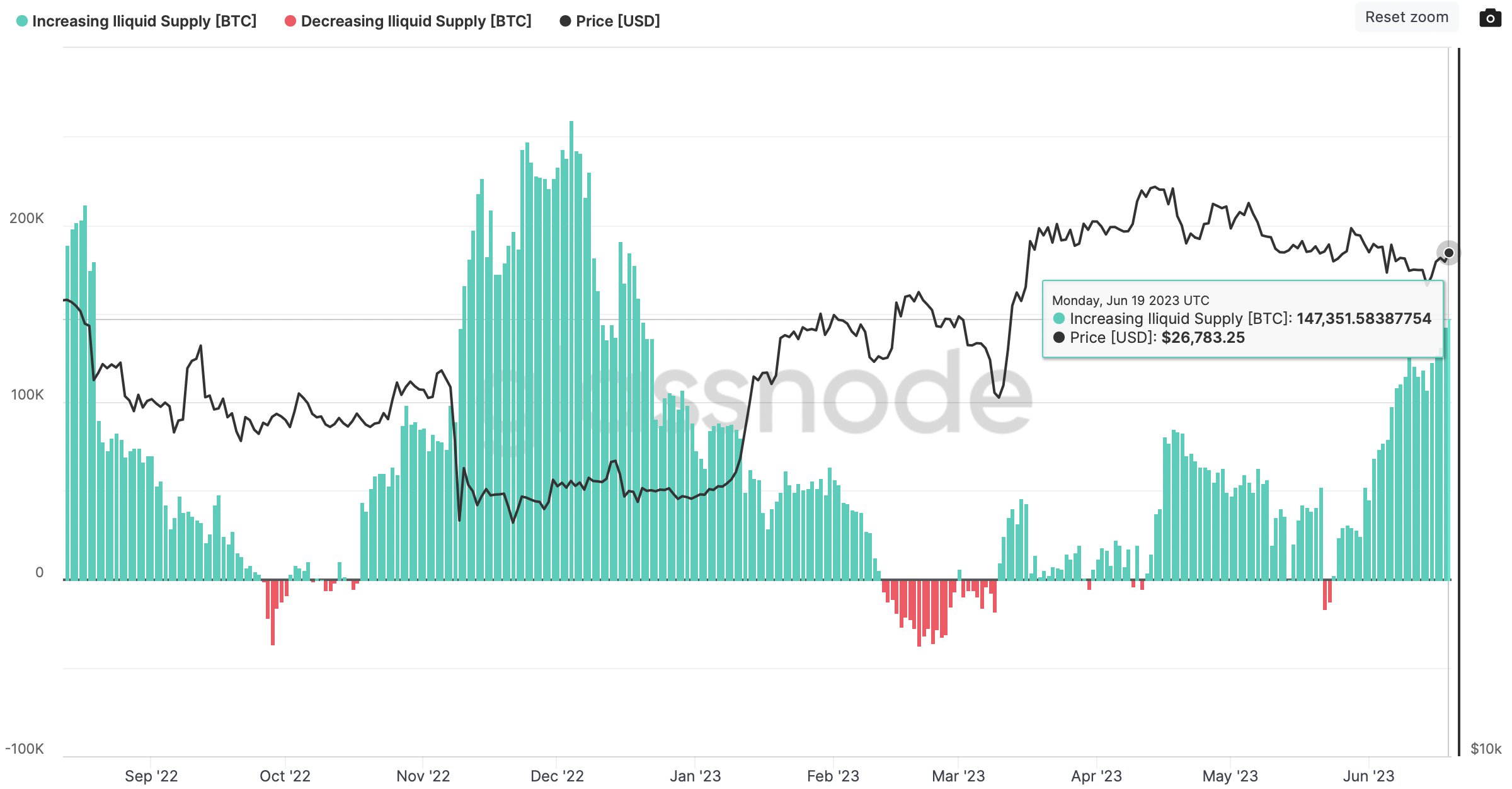 As recently noted by Glassnode analyst James Check, the volume of flows into illiquid entities is "supporting the case for a gradual and steady accumulation taking place. The data point suggests an "undercurrent of demand."
The analysts went onto say that the market is in a period of quite accumulation despite regulatory headwinds.
BTC Dominance rises in tandem
The increasing illiquid supply ratio comes at a time when Bitcoin Dominance (BTC.D) has been on the rise.
Since the FTX exchange collapse in November, Bitcoin dominance (including stablecoins) increased from 39.6% to today's 51.9%. Over the last seven months, Bitcoin has absorbed a majority of flows in the cryptocurrency space, resulting in disproportionate upside in comparison to the rest of the cryptocurrency market.
In the last two weeks since June 14, Bitcoin is up 21%, exchanging hands at $30,300 at the time of writing. Bitcoin dominance increased 6.2% in that same period, which came amidst an influx of positive news like the recent BlackRock ETF filing.
The news brought about a wave of institutional hype for pristine assets in the space, with Bitcoin being the clear front-runner with $199 million recorded inflows in the back of BlackRock's ETF filing, per CoinShares data. So far, digital silver (Litecoin) has not benefited from similar flows, but with the halving coming up in just over a month, investors are eying Litecoin as a complimentary asset to digital gold.
As Bitcoin availability falls on increasing demand, analysts speculate that a supply shock will be highly positive for the asset's dollar value.
---
Join the telegram channel for updates, charts, ideas and deals.
Did you like the article? Share it!