Bitcoin miners have been selling Bitcoin to cover costs for two consecutive months, but as miner capitulation comes to an end so do selling incentives, per a new report.
According to an intelligence report from Blockchain mining firm Blockware released on July 29, the mining ecosystem is expected to shift from distribution to accumulation.
"Expect" capitulation to be done by September
In its most recent market research series, the firm noted that the hash ribbon indicator indicates miners have been retiring for an "extended period of time." In fact, as of August 1, hash ribbons have been signalling capitulation for 55 days.
"The current miner capitulation began June 7th, 2022, and it has lasted a significant amount of time. It's important to note that miner capitulations are particularly relevant because it reveals that a large number of machines are no longer hashing," the authors wrote.

Since June 7th, other new generation mining rigs have likely been plugged in by both public and private mining companies. However enough old generation machines or inefficient overleveraged miners have shut off, that hash rate and difficulty have actually decreased in size.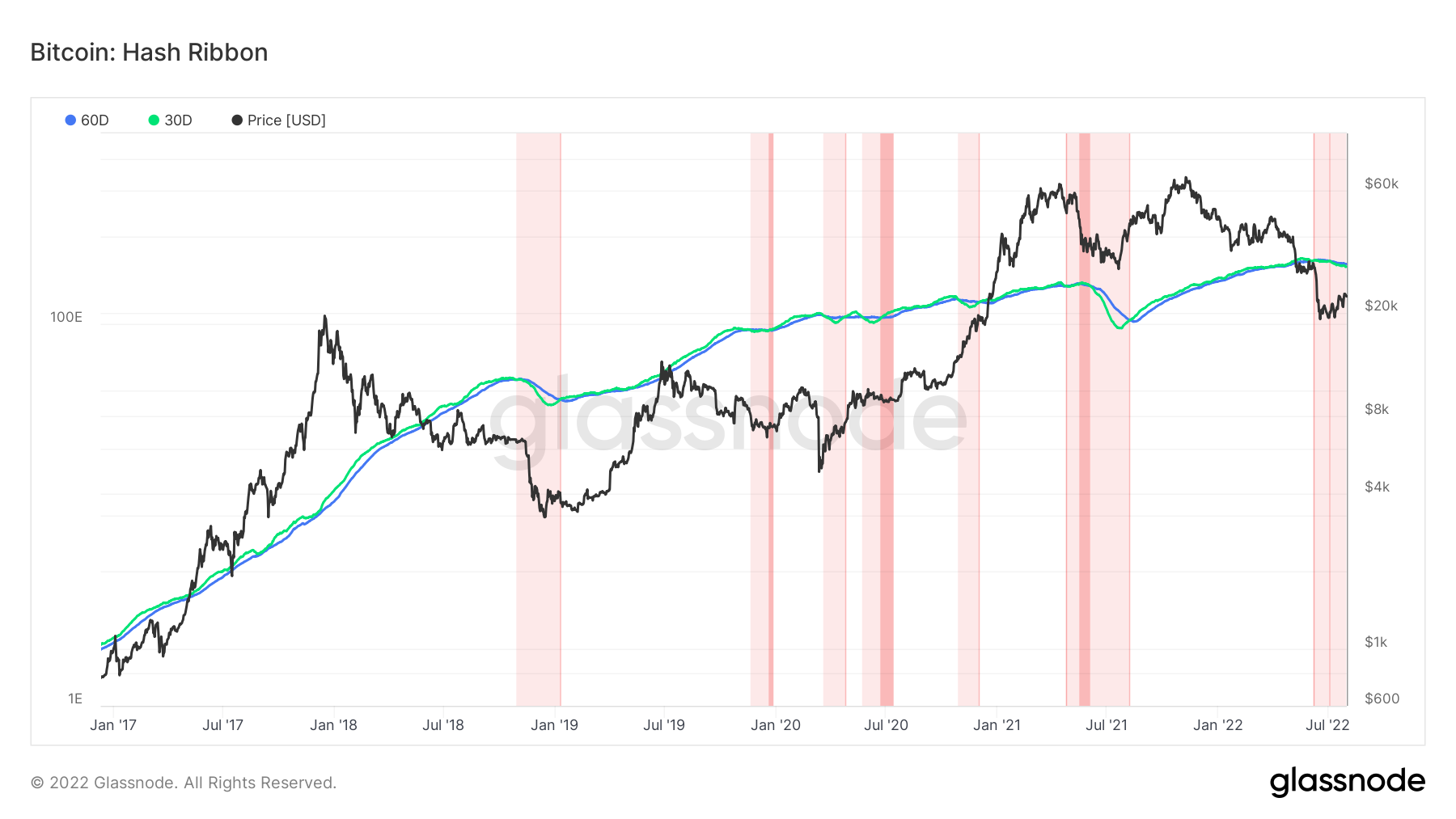 The turmoil of profitability margins is due to the steep Bitcoin downturn, which reached $17,600 in June. However, initial signs for better mining conditions are slowly returning. According to Blockware, capitulation – as defined by hash ribbons – should be over before the summer's end.
"If there are no new lows in Bitcoin, we should expect the miner capitulation to end in August or September at the latest," added the researchers.
---
Cryptocurrencies aren't going away. Buy Bitcoin & Litecoin here.
---
Mining difficulty to break multi-month downtrend
When it comes to miners, automatic difficulty adjustments to the bitcoin network come part and parcel with ebbs and flows in market conditions. It is now time for an upward revision.
Specifically, mining difficulty should witness its first increase in two months on August 4, following three consecutive downward revisions.
"Currently it's projected to be positive, and there is a high probability that it persists," Blockware summarised.
Should current prices persist, the uptick will be a modest one of around 0.5%. Previous difficulty decreases totalled -5% for comparison.
---
Join the telegram channel for updates, charts, ideas and deals.
Did you like the article? Share it!