Celsius Network, a crypto company that's facing bankruptcy has taken out 428,000 staked Ethereum (stETH) worth $780 million. The transaction aligns with the introduction of a withdrawal option on Lido Finance, a liquid staking service for Ethereum.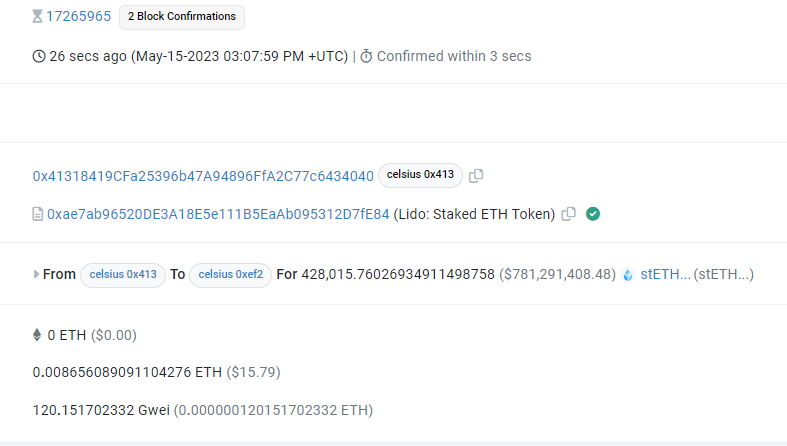 Celsius and Voyager both went bankrupt after Terra's collapse last May. Last week, Celsius moved around $780 million dollars' worth of Lido staked ETH to the protocol, presumably to withdraw and sell. This could be bad news for ETH, but it takes time for withdrawals to go through Lido and the Beacon Chain. As such, the effect could be absorbed in an orderly fashion.
Briefly, stETH represents Ethereum that has been staked in a proof-of-stake (PoS) network. In this model, participants stake their Ether by locking it up in a smart contract. This contributes to network security and consensus, in which participants earn rewards from new ETH.
Celsius bankruptcy proceedings
Celsius faced liquidity problems and eventually filed for bankruptcy in July 2022 following the Terra-Luna blowout of 2022. According to a May 18 WSJ report, the lender attracted $50 million in liquidity injections by Apollo Global Management and Fortress Investment Group. If the bidding ends in success, the bankrupt cryptocurrency firm's creditors can expect to receive more funds back.
Prior to the bankruptcy filing, Celsius suspended withdrawals in June 2022 to prevent a run on the platform and further compounding losses. In December, reports revealed that Celsius had received bids for its retail platform and crypto mining operation restructuring plans.
In a court presentation, it was then shown that the company's crypto mining operations were not only generating a positive operating cash flow, but that Celsius was expanding its operations.
A subsequent February filing articulated the provision for certain customers to withdraw funds, contingent upon fulfilling certain criteria.
Damning revelations
However, the lender has faced scrutiny regarding its unethical and illegal behaviour following revelations from a court-ordered 476-page examiner's report.
For instance, the report revealed that despite Mashinsky's assertions that he did not sell the CEL token, the CEO did in fact sell 25.1 million tokens for $68.7 million.
The report enumerated a series of damning instances which indicate the firm's operations were similar to a ponzi scheme.
---
Join the telegram channel for updates, charts, ideas and deals.
Did you like the article? Share it!