JPMorgan Chase has revealed that it will invest over $200 million in controversial carbon credits, supposedly to help neutralise its environmental footprint, per a Wall Street Journal report.
With the move, the bank is aligning itself with environmental, social and governance (ESG) proponents in a supposed attempt to become a leader in the so-called green energy sector. In 2022, JPMorgan participated in a $650 million funding round by carbon removal startup Climeworks.
"We're jumping in the pool all in. This is us putting our weight and our capital behind something we believe is truly important to bring to market now."

– said BrianDiMarino, head of operational sustainability at JPMorgan.
JPMorgan, the largest bank in the US, intends to buy credits to remove 800,000 metric tons of carbon dioxide (CO2) from the atmosphere, even though 85% of offsets fail to reduce emissions, per an EU study. Climeworks is a Swiss-based startup that pledged to remove 25,000 metric tons of carbon dioxide over nine years.
Is JPMorgan a systemic risk to the banking system?
In May, JPM rescued upwards of $200 billion in deposits for First Republic Bank customers, raising questions as to the financial health of its own books. The acquisition raised the bank's Net Interest Income by $3 billion (from $81 billion to $84 billion), with each US regional banking failure making JPM more systemically critical to the US financial system.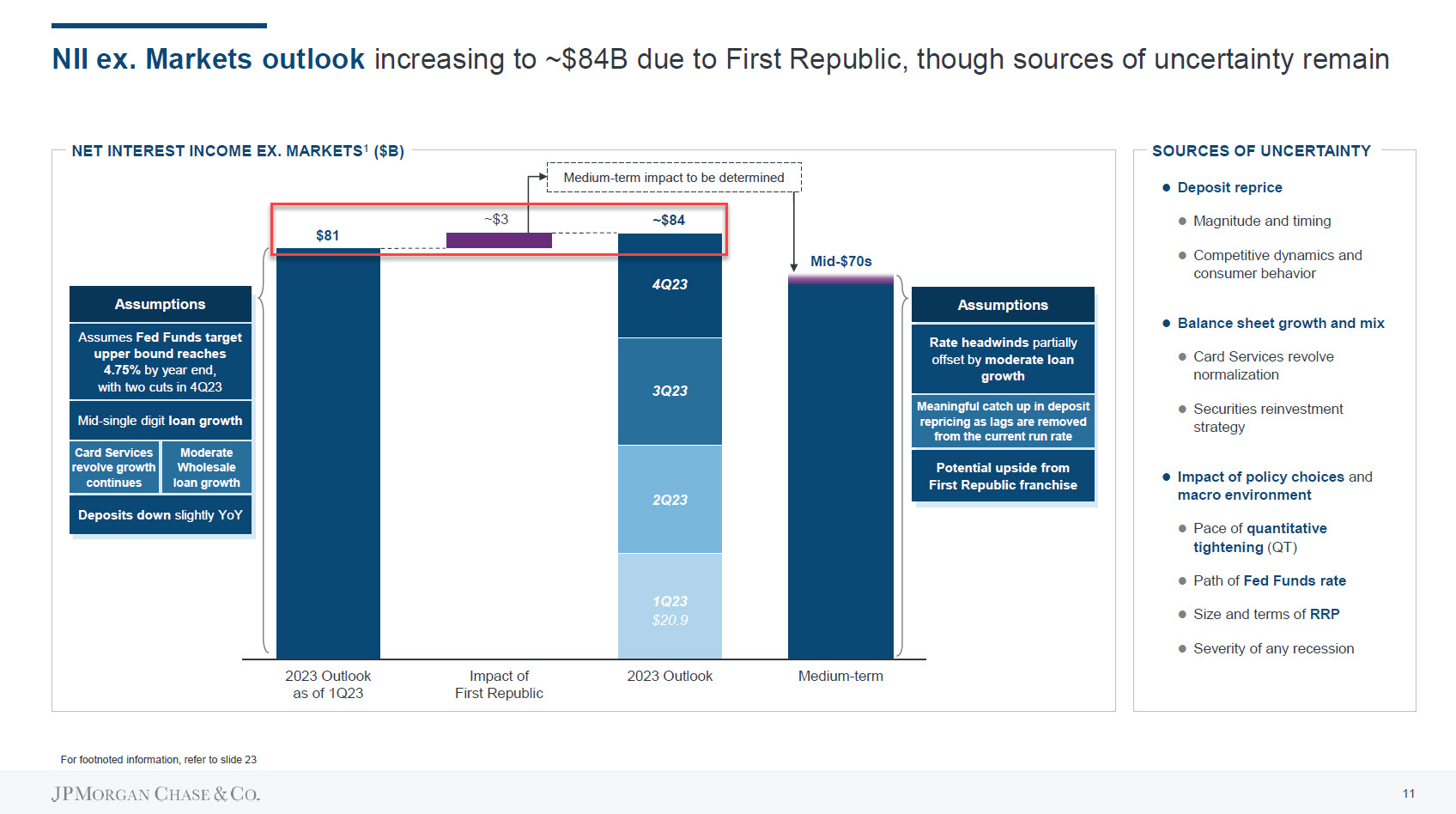 At the same time, JPM's financial health might be under stress. Recently, JPM CEO Jamie Dimon shocked markets when he effectively argued against a free market and free-flowing capital.
He said:
People going short and then making a tweet about a bank, [the SEC] should go after them, they should be punished to the full extent of the law.
The jarring comments weren't received well across the board. According to a May 21 WSJ report, "JPM now has more than 13% of the nation's deposits and 21% of all credit-card spending, a bigger share in each than any other bank".
Peers shun ESG
Carbon credits are promoted as a means to reduce the CO2 footprint and minimize the impact of greenhouse gasses. However, their institutional implementation has received widespread criticism from independent media voices.
Coin Bureau, an independent media characterises the entire multinational ESG-carbon-neutral investment narrative as a giant bait and switch scheme which attempts to introduce a social credit score in the West by implementing an individual carbon-footprint system.
Independent media are not alone in their carbon-credit critiques.
Many financial organisations and major institutions have also halted or paused their efforts on so-called environmental, social and governance (ESG) investments too. In October 2022, KPMG, a big four firm published a 2022 US Outlook report noting growing public awareness of 'greenwashing', and an increasing scepticism over 'virtue signalling' ESG policies.
Former BlackRock executives have also spoken out against ESG investing. In November 2022, Terrence Keeley, summarised the entire scheme in three words: 'it doesn't work'. Such compounding issues may explain why most banks were 'quiet quitting' on net zero policies just a year after their introduction.
All in all, JPMorgan's latest investment into carbon-credits raises more questions than answers, seeing as how peers are going the other way. ESG investing does not generate income, but increases costs, per KPMG's research. Still, some banks might begrudgingly conform to ESG policies in order to access credit from larger banks and investments from asset managers, as detailed in a Coin Bureau analysis.
In an environment where banks are collapsing every other week, it appears that JPMorgan is committing to a carbon-neutral scheme that its peers have ejected from their portfolio. Net-zero policies have also been comprehensively debunked by academics such as Alex Epstein, who cites public data, available and compiled on a substack archive.
---
Join the telegram channel for updates, charts, ideas and deals.
Did you like the article? Share it!