Ethereum's Vitalik and Polygon's Sandeep Nailwal are set to donate $100 million to covid-19 research projects amidst a growing body of disconcerting evidence indicating that 'pandemic preparedness' is all wrong.
Vitalik for Pandemic Preparedness
The two founders setup a relief fund in which the pair will contribute $100 million in follow-on grants, according to a Twitter thread. The news comes at a time when the World Health Organisation, an unelected international body which was responsible for the draconian pandemic response to covid-19, announced plans to adopt the EU's digital Covid health passport framework to create a network of digital health certificates.
"Covid and future pandemics are a global problem that requires a global solution combining frontier scientific innovation and on-the-ground implementation all over the world," said Buterin on Twitter. "Work in India continues to be a key part of the solution, but we also need an integrated global approach."
Buterin and Nailwal insist on "maximal viable open-source" for any projects they fund, with a focus on looking into indoor air quality due to supposed research showing that Covid-19 is airborne as well as research into the impact of so-called long covid-19.
Fraudster Sam Bankman Fried on pandemic preparedness
The disgraced former FTX CEO, Sam Bankman also undertook a project to spend "potentially billions of dollars on pandemic prevention, a long-neglected priority on Capitol Hill even amid the coronavirus crisis" prior to his downfall, as reported by the WSJ. It was later revealed that the fraudster had made significant donations – using customer money – to both the Democratic and Republican parties in the US in a bid to sway political sentiment.
In a video interview  from the Bahamas published in August 2022, Bankman-Fried had maintained that his priority was 'pandemic preparedness', and that "many" donations "had nothing really, specifically, to do with anything related to FTX." He acknowledged a wider agenda at the time.
"Obviously people in key positions are going to be in key positions on every issue and when you look at things like pandemic preparedness, they're going to be in key positions there," he said at the time.
Bankman Fried faces charges of fraud, conspiracy to commit wire fraud, wire fraud, conspiracy to commit commodities fraud, conspiracy to commit securities fraud, conspiracy to commit money laundering, and conspiracy to defraud the Federal Election Commission and commit campaign finance violations, among others.
By no means is this a reason to pursue a guilt-by-association mantra, but the announcement and its timing certainly raises eyebrows given today's readily available information on covid-19.
Vaccine injuries, weakened immune system, censorship
On a policy level, governmental responses to covid-19 have been widely criticised by previously censored scientists and health specialists. At the same time, rising all-cause mortality data which has yet to be explained by public health officials raises serious questions about mRNA vaccine technology and public health policy.
As reported by the Epoch Times, a new peer reviewed study found that repeated covid-19 vaccination weakens the immune system, potentially making people susceptible to life-threatening conditions such as cancer. Specifically, a growing body of evidence indicates that the "abnormally high levels" of the immunoglobulin subclass actually make the immune system more susceptible to the COVID-19 spike protein in the vaccines, as researchers explained.
Excessive deaths after 2021, which are deaths over and above historical averages, have been elevated in countries with a high mRNA vaccine uptake. A peer-reviewed study which examined excessive deaths in Germany in 2020-2022 found that "something must have happened in spring 2021 that led to a sudden and sustained increase in mortality."
"Inspecting the numbers of vaccinations and excess deaths per month confirms the above impression: Other than in the year before, during the months with a high number of the first, second, and third vaccinations, also a high number of excess deaths was observed. The temporal relationship between the courses of vaccinations and excess deaths is especially pronounced for the third vaccination."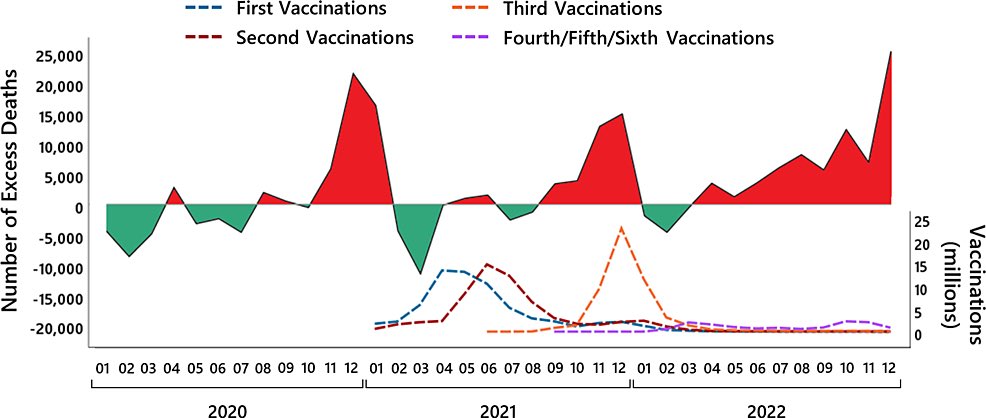 While the mainstream mantra and self-appointed fact-checkers reiterate that there is no causal link between mRNA vaccine therapeutics and rising excess deaths in countries with a high uptake, the evidence can no longer be ignored.
That said, the out-of-the-blue comments from Vitalik Buterin are somewhat curious given the tattered and deeply disconcerting history of 'pandemic preparedness' policies, unnecessarily draconian measures and harmful mRNA technology. Until recently, discussions surrounding the wide-ranging implications of the public-private response to covid-19 was shrouded in a veil of blanket censorship, per the UK Telegraph.
Facebook CEO Mark Zuckerberg spoke to this veil of censorship in a recent interview.
Mark Zuckerberg: " Just take some of the stuff around COVID… A lot of the kind of establishment on that…asked for a bunch of things to be censored that, in retrospect, ended up being more debatable or true… It really undermines trust."pic.twitter.com/O0eCKqVG3Z

— Michael P Senger (@michaelpsenger) June 9, 2023
As of June 6th, 2023, almost everything that was censored on Facebook as 'covid misinformation' turned out to be true. The question is, which so-called conspiracies are next in line?