USDT was the only leading stablecoin whose market cap increased in May 2023, reaching a new high of $83.25 billion on June 1st.
USDT Adds $1.4bn to its market cap in May
Tether's USDT is solidifying its position as the dominant stablecoin in the market, as its market capitalization reaches a remarkable milestone of $83.25 billion. The upward revision surpasses its prior record of $83.2 billion. According to CoinGecko data, USDT's supply has grown by around 2% over the past month, while other stablecoins like USDC, BUSD and DAI saw their market capitalisations slide in the same period.
Specifically, between May 1 and June 1, Tether's mcap rose from $81.81 billion to $83.25 billion. This indicates a one-month increase of $1.44 billion; an impressive 2% growth in the 30-day period.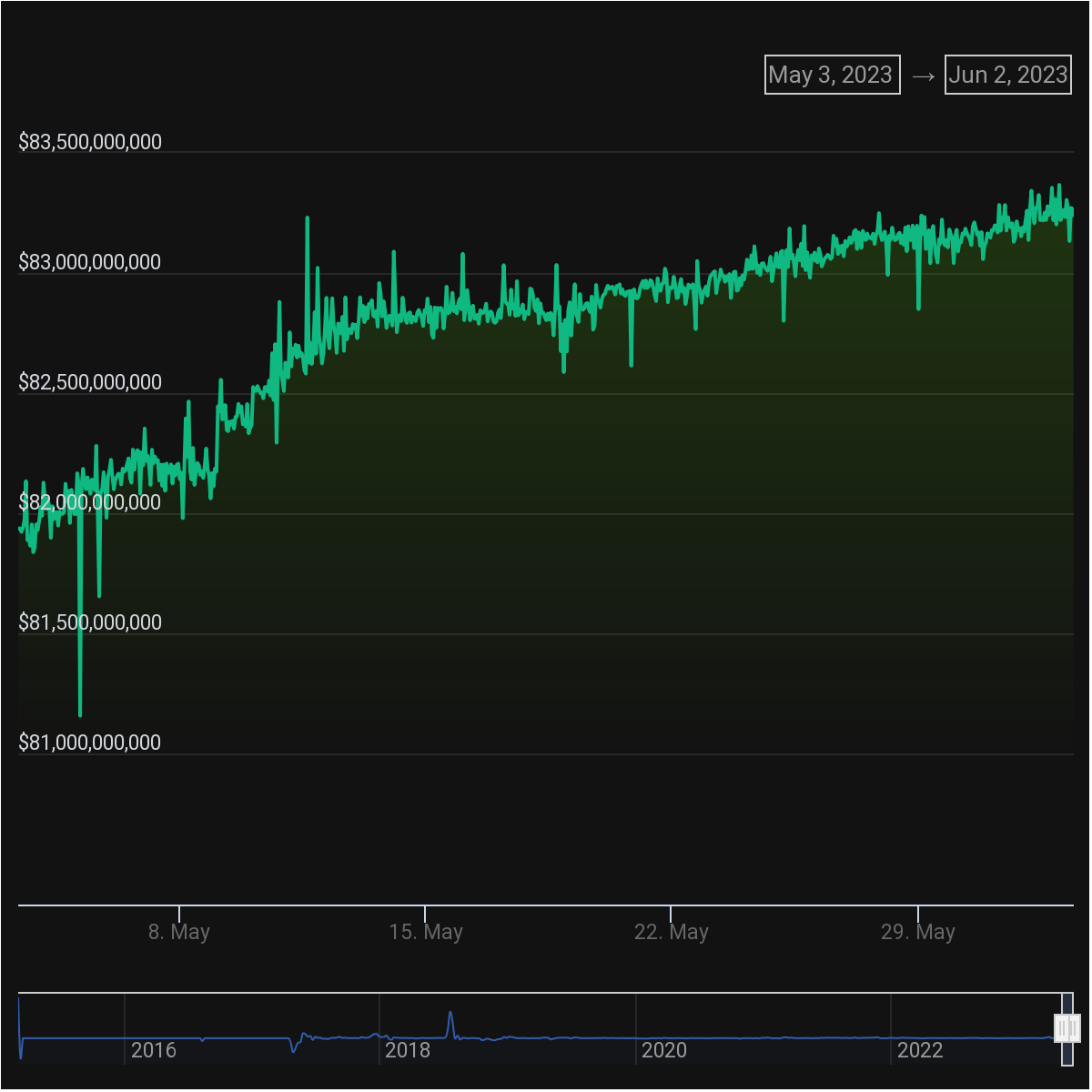 By comparison, the second largest stablecoin, USDC, shrunk from $30.41 billion to $28.8 billion during the same time-frame – a 5.2% decrease. Similarly, BUSD fell by 16.3% from $6.1 billion to $5.1 billion that same month.
Chief technology Officer and Tether spokesperson Paolo Ardoino explained that the demand came from investors' pursuit o financial independence and that the stablecoin represents a safe-haven asset for unbanked populations. Earlier in the week, Tether announced plans to launch a sustainable mining operation in Uruguay, in what was viewed as a major expansionary move by the stablecoin issuer.
Tether dominance increases
Tether's impressive recovery began during the 2022 crypto market cataclysm. In the downturn in November, USDT and USDC experienced a notable decline of more than $20 billion and $10 billion respectively. However, Tether's recovery was more pronounced in the following months. In February, Tether dominance reached 52%, with market dominance increasing to 66% presently, per data from CoinGecko.
USDC's recovery was not reliable due bankruptcies of its underlying banking providers. Its woes continues into 2023, with the stablecoin losing its peg in March during a banking crisis and the collapse of Silicon Valley Bank.
---
Join the telegram channel for updates, charts, ideas and deals.
Did you like the article? Share it!