Transactions on the Litecoin L1 blockchain jumped amidst the rising usage and fees of BRC-20 Bitcoin ordinals. The underdog cryptocurrency may witness a radical repricing in the coming cycle amidst numerous tailwinds and surging adoption.
Bitcoin L1 congestion
The congestion had a spill-over effect on Litecoin, which saw transactions reach all time highs amidst the ordinals frenzy and high fees on the Bitcoin network. Bitcoin miners raked in over $21 million (789.4 BTC) amidst the craze, as noted in the weekly newsletter.
On May 8, Litecoin registered over 525,000 transaction in 24 hours, reaching Bitcoin's 575,000 daily transactions, per data from bitinfocharts. That's five times the average compared to earlier this year, and more than double the previous all-time high peak at the height of the bull market in 2018. It's the largest daily volume spike ever witnessed on the Litecoin blockchain.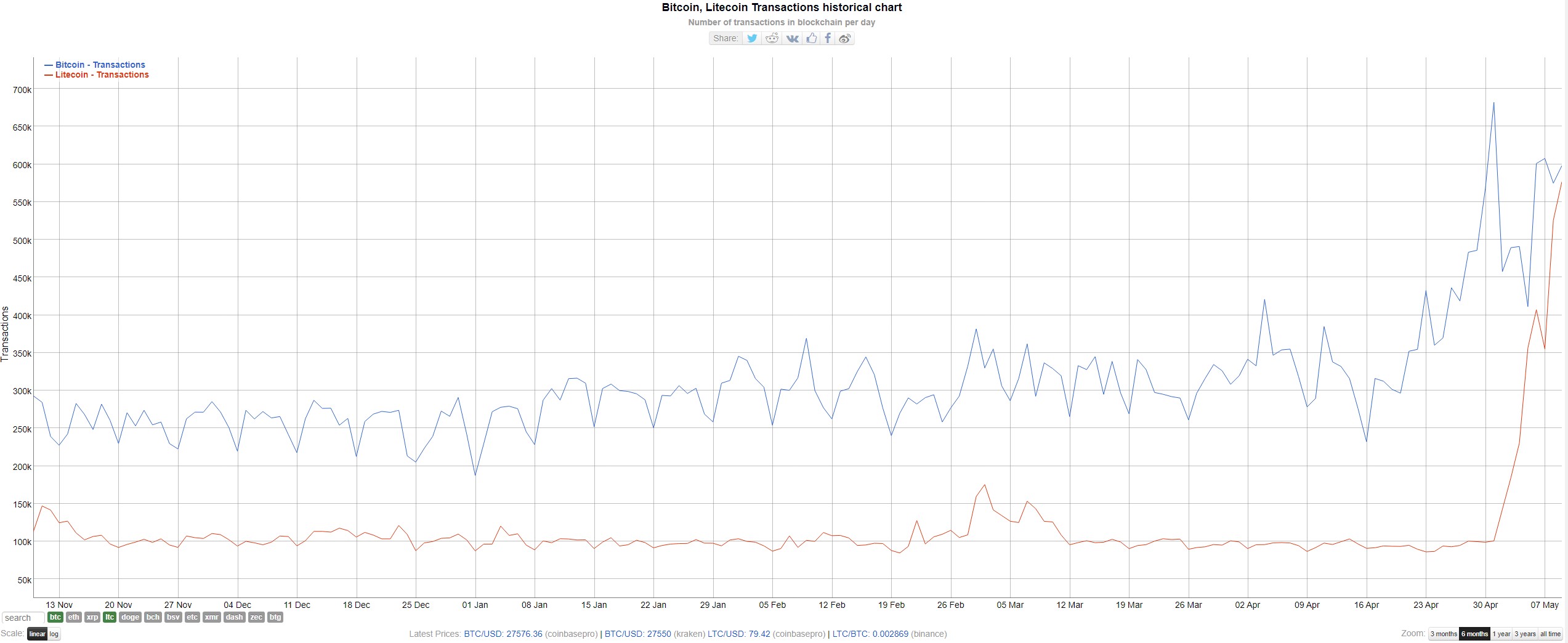 Specifically, Litecoin saw 576,708 transactions on Tuesday, compared to 100,684 transactions on May 1. Litecoin address creation also soared, hitting 677,769 on the day, per Glassnode data too.
Users look elsewhere
The surge comes as Bitcoin's blockchain witnesses mempool congestion due to BRC-20 token issuance. A BRC-20 token standard allows users to create and transfer tokens (NFTs) on the Bitcoin L1 network. Bitcoin's L1 has a 4MB capacity which is not designed for high transaction processing (hence the creation of the BTC-LTC Lightning network). However, ordinals printed on top of the cryptocurrency may be viewed as more valuable than if they were to be launched on proof-of-stake blockchains such as Ethereum, which has a changeable supply.
The rising ordinal popularity pushed transaction fees to levels not seen since May 2021, after BTC hit a peak of around $64,000. Binance exchange temporarily stopped withdrawals on Monday, supposedly due to high volumes and increasing processing fees.
Long story short, the jump in fees prompted users to consider various alternatives, including both Litecoin (L1) and the Lightning Network (L2), which enable faster transactions.
Litecoin fundamentals shine
As argued by engineer and Litecoin OG, Shan Belew, the Litecoin network has ample fundamental tailwinds which tend to go unnoticed by mainstream commentators and media pundits. Using the on-chain network value model  indicator (NVM), available on TradingView, the analyst compares "Litecoin's network growth and usage compared to Bitcoin's and models an equivalent fair value in Bitcoin terms."
Litecoin is measurably undervalued compared to Bitcoin. We can see this from its network value model, which compares Litecoin's network growth and usage compared to Bitcoin's and models an equivalent fair value in Bitcoin terms. Wouldn't surprise me if Litecoin is trading at 5… pic.twitter.com/8dJsY5L32F

— Shan Belew Ⓜ️🕸 (@MASTERBTCLTC) May 9, 2023
Last week, Litecoin founder Charlie Lee argued that Litecoin could rally significantly in the coming market cycle, suggesting a potential 700% increase when measured against Bitcoin.
The ordinals craze appears to have placed a spotlight on the underdog cryptocurrency, which is often derided despite ticking all the boxes as an open, decentralised and high-integrity cryptocurrency. Litecoin's fundamental trends have been at play since before the 2021 bull market, during which time the coin underperformed relative to Bitcoin.
According to Litecoiners, a radical repricing for the underdog bearer asset is on the horizon, not least due to the upcoming halving in August 2023.
---
Join the telegram channel for updates, charts, ideas and deals.
Did you like the article? Share it!