Grayscale has launched its 18th product which focuses on providing exposure to various smart contract ecosystems amid the ongoing development of decentralised finance (DeFi).
As of March 16, the Grayscale Smart Contract Platform ex Ethereum Fund (GSCPxE) holds Polkadot (DOT),  Solana (SOL), Avalanche (AVAX), , Polygon (MATIC), Algorand (ALGO) and Stellar (XLM) and Cardano (ADA). Grayscale CEO Michael Sonnenshein says the idea is to provide investors a variety of developing platforms instead of betting the farm on one platform. In other words, Grayscale sees opportunity in an emerging multi-chain ecosystem.
---
Cryptocurrencies aren't going away. Buy Bitcoin & Litecoin here.
---
"Smart contract technology is critical to the growth of the digital economy, but it's still too early to know which platform will win
– from attracting and retaining the most vibrant developer communities, to ensuring the platform is high-speed, flexible, and scalable," he said in a statement. "The beauty of GSCPxE is that investors do not have to choose one winner, and instead can access the development of the smart contract platform ecosystem through a singular investment vehicle."
The fund does not include ether given that Grayscale already has a product for it. This product essentially aims to cast a wide net and acts as a quasi-index fund for the rest of DeFi.
Portfolio assets are weighted by market capitalisation and are tracked by CoinDesk indices. Cardano and Solana are the two highest weights in the fund, each making up over 24% of its holdings. Avalanche and Polkadot follow with 16% each.
At the start of the year, Grayscale announced a reshuffling of assets in its DeFi Fund as part of its quarterly rebalancing, removing Bancor and UMA and adding AMP.
Ethereum Dominance Challenged
Ethereum's market dominance has come under increasing scrutiny partly due to fees and network overload. Competitors claim to offer superior transaction speeds, lower costs and higher throughput capacity, often at the expense of decentralisation. While Ethereum still dominates the space, DeFi has evolved into a slightly more level playing field.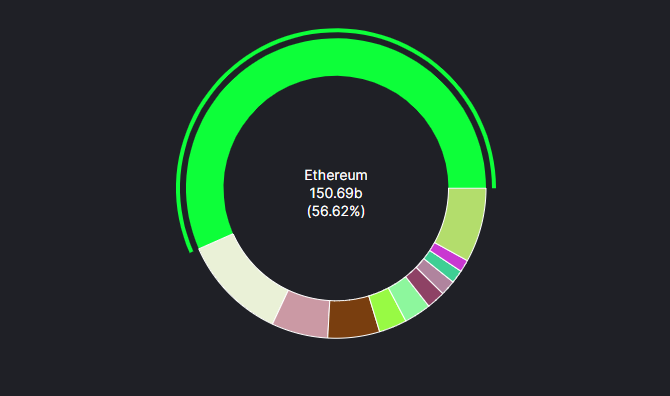 As of March 24, data from DeFi lama shows Ethereum accounts for 56.6% of the total value locked in DeFi protocols, down from 96% in January 2021.
Largest Asset Manager in Crypto
Grayscale is the world's largest crypto asset manager with over $37.7 billion in assets under management (AUM) as of March 24. In November 2021, Grayscale's total AUM hit $60 billion at the height of the Bitcoin rally.
The firm offers various products such as GBTC, EETC and LTCN, but is best known for is Bitcoin product. The firm has its sights on launching several crypto products in 2022, planning to file a spot BTC ETF once there's regulatory clarity from the US Securities and Exchange Commission (SEC).
The SEC continues to reject Spot Bitcoin ETF applications while accepting futures ETF products, putting investors at unnecessary risk while attracting the ire of the international investment community.
---
Join the telegram channel for updates, charts, ideas and deals.
Did you like the article? Share it!