US bank deposits fell between March 8 and March 15 as evidence of severe traditional banking stress emerged. Meanwhile, Bitcoin saw a 35% increase in the last two weeks.
In Brief
Federal Reserves data showed that banks' deposits fell significantly between March 8 and March 15.
Borrowing by small US banks reached its highest rate during that same time-frame.
Bitcoin rose 35% over the last two weeks.
Fresh data from the Federal Reserve shows that commercial bank deposits fell by $98 billion in the March 8-15 window. The figure rose by $67 billion for the top 25 banks in the country, however, indicating that customers moved funds from regional banks to banks which are considered 'too big to fail'.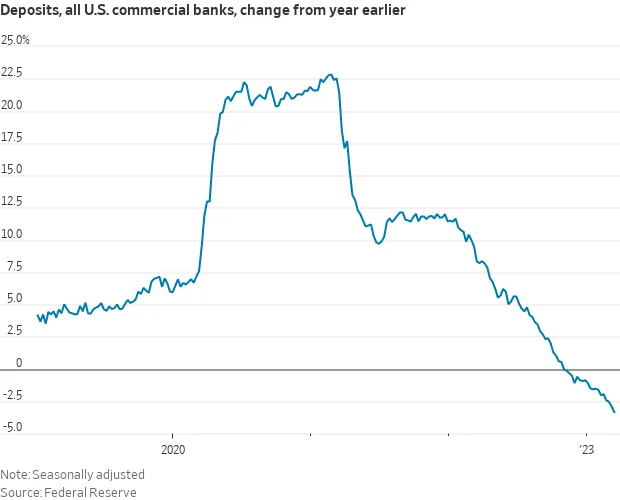 This consolidation of assets underscores concerns that governments might let small banks fail, especially if they're not considered 'systemically important' in preparation for central-bank digital currency rollouts. Gemini co-founder Tyler Winklevoss described the US banking system as a modern-day caste system with top banks being protected, while the rest are exposed to risk, making them less attractive for capital.
Banks Borrowing at Unprecedented Rates
Meanwhile, the government's move to calm nerves hasn't eased concerns about another financial crisis in the traditional banking system. A number of players are still moving money out of small banks, which has increased borrowing levels as the distressed banks attempt to prevent further bank runs by using credit facilities at their disposal (i.e. money printing).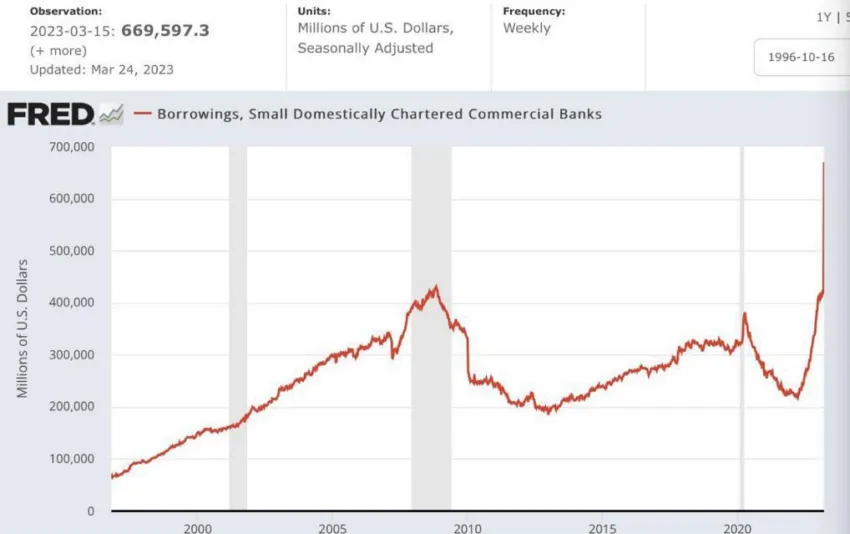 According to legacy media outlet, CNN, US bank borrowing reached the highest rate since the turn of the century. The report revealed that banks borrowed $669.6 billion last week. However, this may also be an effort to prepare for another bank run in the future.
Investors Jump Into Bitcoin
A look at Bitcoin's recent rally showed that US investors bought bitcoin in a hurry. As noted by head of research and strategy at Matrixport, Markus Thielin, "Americans are buying Bitcoin with both hands."
Thielen said that 47% of asset purchases originated from US institutions. This is in keeping with the latest CoinShares research report, which shows that weekly fund-flows into Bitcoin hit the largest level since July 2022.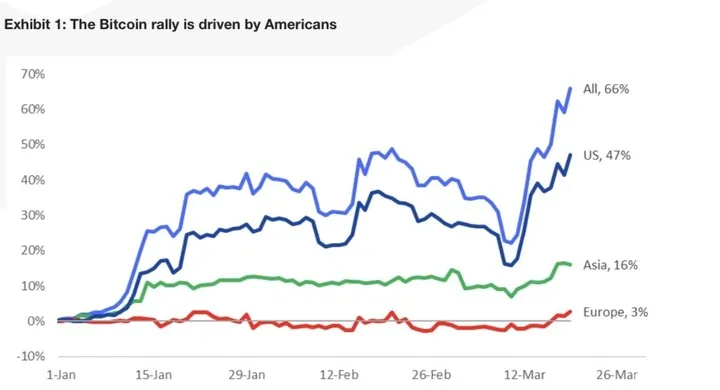 Former Coinbase CTO, Balaji pointed out that investors normally exit devaluing currencies at time of financial distress. According to the analyst, this is where the Dollar presently stands, adding that he expects Bitcoin to replace it as the global reserve currency.
In this developing banking crisis, Bitcoin has rallied by 35% two weeks to $27,944. Numerous BTC bulls have predicted the imminent collapse of the banking system and the possibility of Bitcoin hitting $1 million.
---
Join the telegram channel for updates, charts, ideas and deals.
Did you like the article? Share it!