Commission-free brokerage Robinhood holds over 118,000 BTC worth $3 billion, per market data. The brokerage is in charge of the third largest Bitcoin address following crypto exchanges Binance and Bitfinex.
Robinhood Unmasked as the 3rd Largest BTC Holder
According to BitInfoCharts data, Binance cold wallet address with over 249,000 BTC worth $6.5 billion is the largest BTC wallet, followed by Bifinex's cold wallet, which holds over 178,000 BTC, worth around $4.7 billion. Another Binance cold wallet holds 115,000 BTC, takes fourth place after Robinhood.

The recognition of Robinhood being the third top address came months after speculation about its possible owner. In recent history, speculators attributed the address to Gemini exchange, and BlackRock, the world's biggest asset manager – owing to the fact that it has a pending BTC ETF approval. In May, BlackRock's Spot Bitcoin ETF submission with the Securities and Exchange Commission inspired a flurry of similar submissions by other funds.
Who is this mysterious Bitcoin whale that accumulated $3 billion in BTC in 3 months?

*Now the 3rd largest wallet*

-Binance?
-BlackRock?
-The White house?
-Argentina? pic.twitter.com/sAHxYsaBlY

— The Bitcoin Express (@The_BTC_Express) August 22, 2023
Gemini has transferred bitcoins to the new address bc1q….59v2 in the past 3 months. It currently holds 118,000 bitcoins, or about 3.08 billion U.S. dollars. It is currently the third largest bitcoin holder. The first and second largest Bitcoin addresses are Binance Cold Wallet…

— Wu Blockchain (@WuBlockchain) August 22, 2023
Declining Trading Volumes
Meanwhile, data on BitInfoCharts' website shows that BTC was first sent to the Robinhood address on May 8th, 2020. The address reportedly received another transfer on Sunday. However, analysts from CryptoQuant show that the amount of Bitcoin held on exchanges fell earlier in the month to the lowest level since 2018, and is struggling to rebound.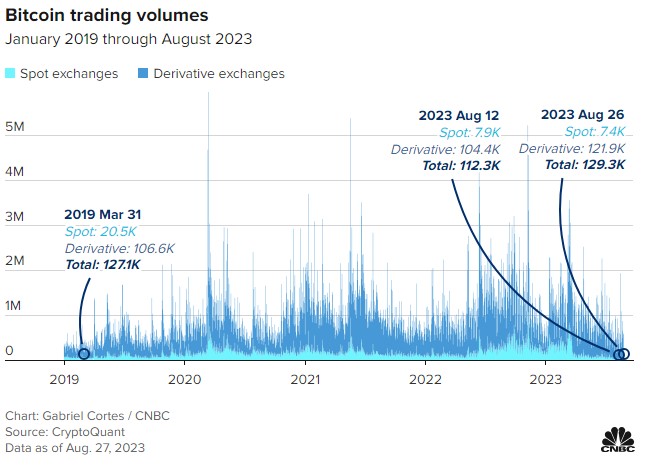 As of August 26, trading volumes on all exchanges sat at 129,307 BTC, per CryptoQuant data. On August 12, the figure fell to 112,317, the lowest level since Nov. 10 2018.
Speaking to CNBC, the head of research at CryptoQuant, Julio moreno, said: "Trading volumes decrease in bear markets as retail investors leave. This happened during 2022 on most exchanges. As we progress further into a bull market, the trading volume may continue to pick up."
Market participants appear to be waiting for a catalyst to drive a higher liquidity environment, which would bolster trading volumes, reduce slippage and increase overall market health. Some catalysts would include the approval of a Spot ETF, a new addition to Bitcoin Treasuries via the private sector, or a country adopting Bitcoin as a national strategy.
Bitcoin is up 57% this year, hovering around $26,000 at the time of writing.
---
Join the telegram channel for updates, charts, ideas and deals.
Did you like the article? Share it!