Crypto futures traders tallied over $400 million in losses on Wednesday as most cryptocurrencies fell below support levels following hawkish comments from the US Federal Reserve.
Liquidations were the third largest of 2022, with $870 million dollars worth of losses raking up on Jan. 21, and $460 million on Jan 22.
---
Cryptocurrencies aren't going away. Buy Bitcoin & Litecoin here.
---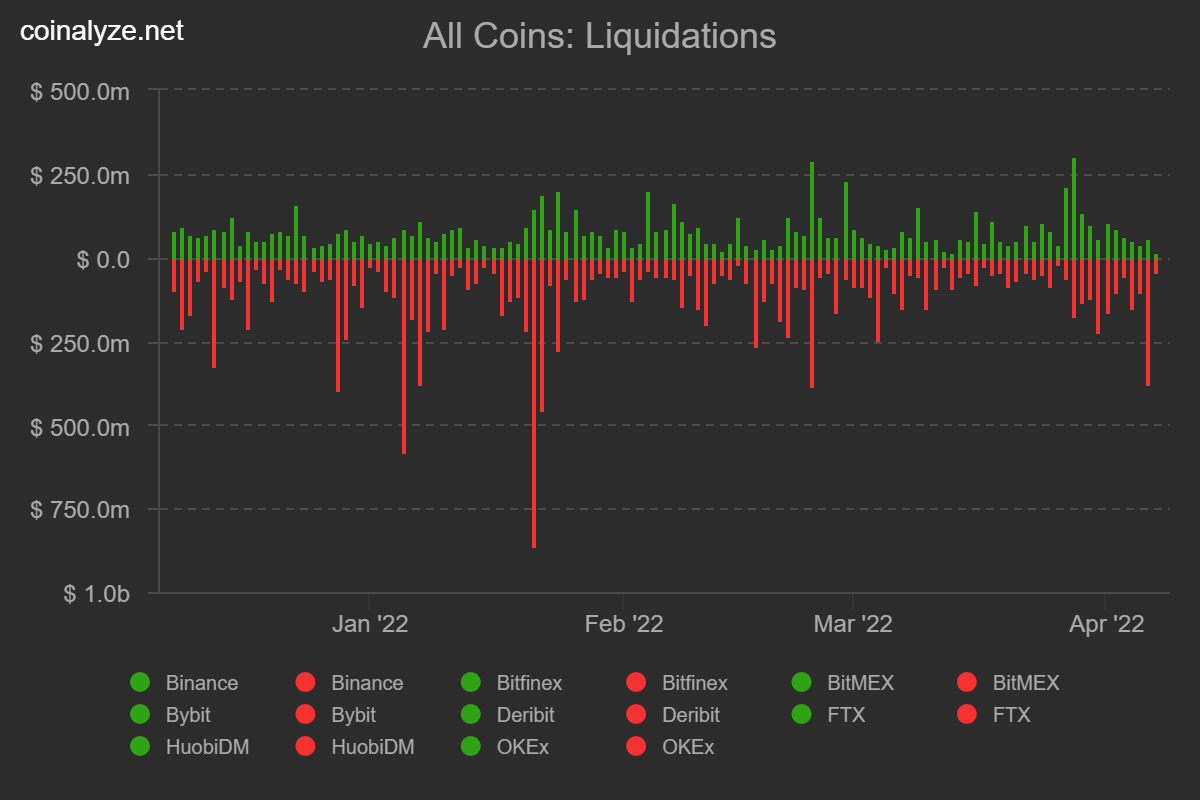 Liquidations occur when an exchange closes a trader's leveraged position as a safety mechanism due to loss of margin funds. This happens in futures trading, where tickers track asset prices, as opposed to spot trading where physical coins are bought and sold.
The slide came after the hawkish comments from the US Federal reserve, which hinted at an aggressive reduction in its balance sheet this week. It is believed that comments on a potential 50 basis point interest rate hike helped drive risk assets lower.
Data from tracking tool Coinglass shows most liquidations occurred on the Binance exchange, which tallied $133 million in losses. Traders on OKEX and FTX witnessed the next highest losses with $100 million and $68 million in liquidations, respectively.
Following a drop to $45,000 weekly support on Wednesday, the majority of traders bet on a price bounce. However, the asset lost a further 5.5% exacerbating the liquidity event.
Typically, liquidity events tend to be important for short-term price movements, and less consequential for Bitcoin's long-term growth. Several on-chain data points such as the asset's climbing illiquid supply ratio indicate that there is less available Bitcoin now than ever before.
Bitcoin's volatility has been largely muted in recent weeks historically speaking. However, the BVOL index, which tracks asset volatility against fiat currencies, indicates that a major move is due.
Bitcoin exchanges hands at $43,500 at the time of publishing.
For more technical insight, read the newsletter distributed every Monday and Wednesday.
---
Join the telegram channel for updates, charts, ideas and deals.
Did you like the article? Share it!