Bitcoin and cryptocurrency prices are stabilising above $40,000 after a pronounced sell-off on Wednesday.
Since the start of the new year, volatility has increased somewhat, with the sell-off resulting in nearly $800 million long liquidations accelerating price movements dramatically.
Liquidations occur when a trader can no longer maintain a leveraged position due to low collateral. As such, exchanges have a mechanism that causes forced selling which often results in partial or total loss of the initial capital used to fund the trade. Liquidity events happen primarily in futures markets which includes margin trading and derivative financial products.
Often enough, the technical (charting) picture is more pronounced with altcoins, since bitcoin holds the largest amount of liquidity in the industry.
---
Cryptocurrencies aren't going away. Buy Bitcoin here.
---
Bearish Sentiment near all time lows
The Bitcoin Fear & Greed index, which measures sentiment among market participants is at its lowest level since July 2021. A low reading indicates that market participants are fearful of future price-action. This is said to add selling pressure to the market, yet is often viewed as a contrarian signal at the extremes.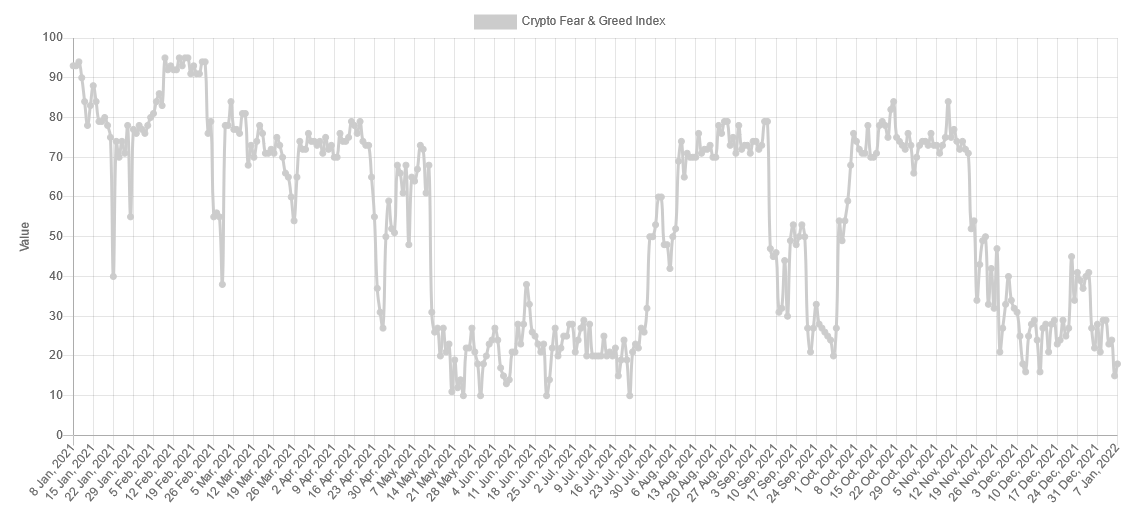 Bitcoin is approximately 40% down from the al time high of $69,000, set in November. The drawdown from peak to trough is the largest since July. Previous 'bear market' drawdowns have resulted in 80% corrections. When such persistent sell-offs occurred in the past, bitcoin took several months to eventually resolve higher.
For now, however, the drawdowns have been less extreme, historically speaking. This is partly explained by a maturing market with various financial products such as yield and interest accounts. The increasing diversity in crypto means investors have less reason to leave. And indeed, as pioneering countries like El Salvador push the boundaries of bitcoin adoption, the benchmark is set for more governments to potentially take a similar route.
As reported earlier this week, institutional crypto inflows hit an all time high in 2021, with $9.3 billion entering the burgeoning sector throughout the year. From a technical point of view, however, it remains to be seen whether 2022 will experience a similar trend.
Bitcoin is trading at $41,900 at the time of writing, just 6.25% shy of $44,500 – $44,600. Several analysts, including our bitcoin analysis this week, have outlined the relative significance of this level from a high time-frame perspective.
The question is: will buyers step in?
---
Join the telegram channel for updates, charts, ideas and deals.
Did you like the article? Share it!