The number of active Bitcoin addresses interacting with the BTC network can give investors a good indication as to what's next for the price of the digital asset. Specifically, a significant increase in the number has historically had a positive impact on the asset. Similarly, Litecoin's adoption curve has tilted towards exponential growth this year.
This week, active BTC addresses on the network remained above 1 million for five consecutive days.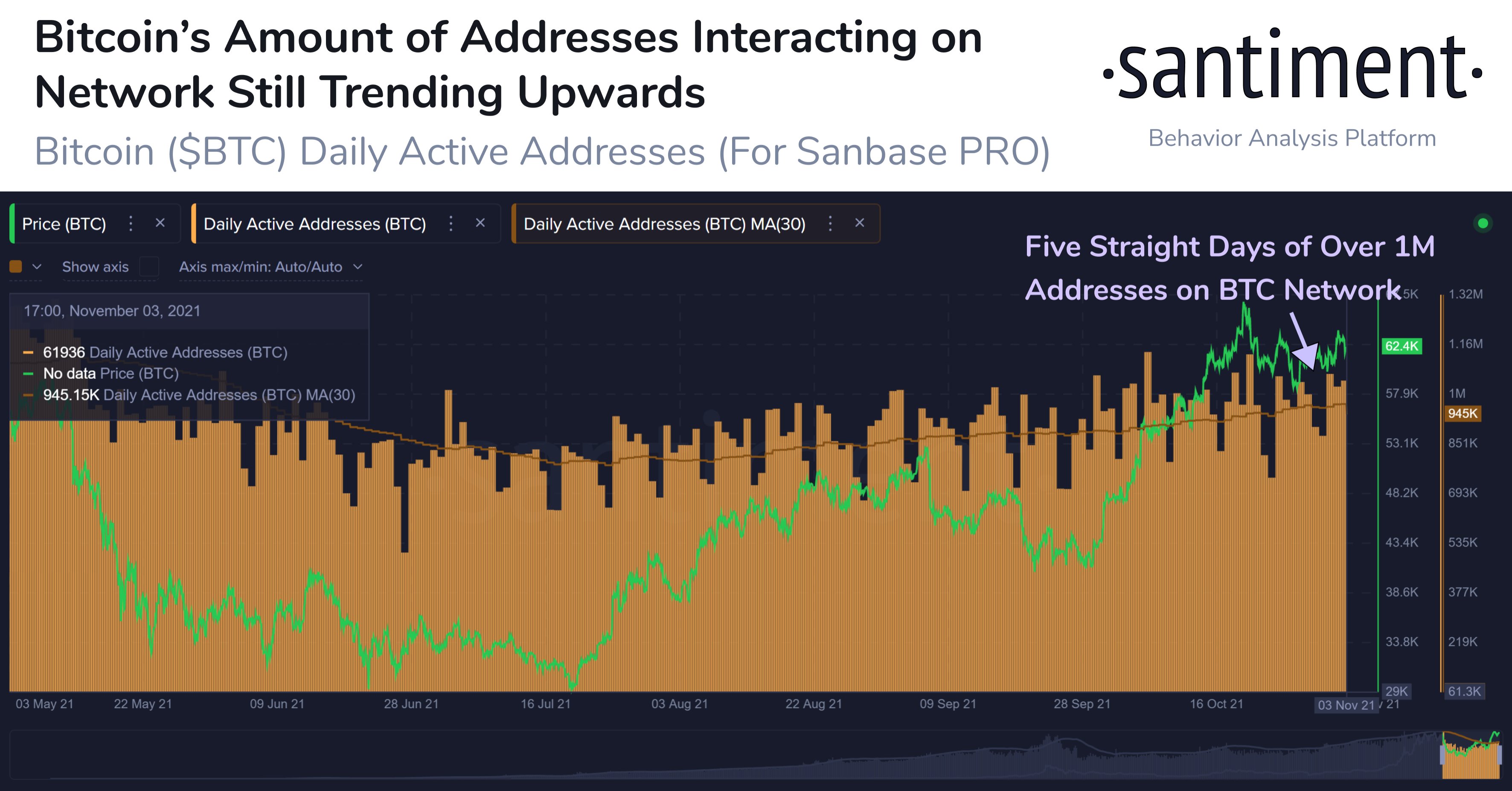 Per a tweet by data analytics firm Santiment:
Bitcoin has had 5 straight days (excluding historically slow weekends) of over 1M active addresses interacting on the BTC network. This rise is an encouraging sign that another all-time high can inevitably be tested.
Various other on-chain indicators highlighted in the newsletter  also attest to overall market health. Meanwhile, Bitcoin's lightning network has shown consistent growth over the last few days. In the first 10 months of 2021, nearly 9.2k nodes were added to the network.
Co-founders of Glassnode Yann and Jan noted:
The Bitcoin (BTC) Lightning Network keeps on growing. Around 9.2k new nodes have been added to the network in 2021 alone. This is a 111% growth rate in operating hardware YTD. The network currently has 11,464 LN nodes online
After having reached an all time high valuation of $67,000 on October 20th, Bitcoin entered into a range-bound environment as investors take profit and reshuffle their portfolios. Meanwhile, bullish fervour has taken the crypto market by storm as altcoins rally in aggregate.
Notably, the makeup of market participants has shifted somewhat from margined-futures investors to hodling activity. Glassnode's weekly on-chain analysis report noted:
Since the fervor of the spring 2021 bull run, crypto-margined futures contracts have been on the decline, falling from an average [of] around 66-69% down to 46% today. This means that over half (54%) of futures contracts presently are margined with cash or cash equivalents, reducing the effects of compounded volatility.
Bitcoin is not the only coin witnessing increasingly bullish fundamentals, however. Its brother, Litecoin, which has been flawlessly running for 10-years and has rigorous development in the pipeline, has also had a bout of strong fundamental developments.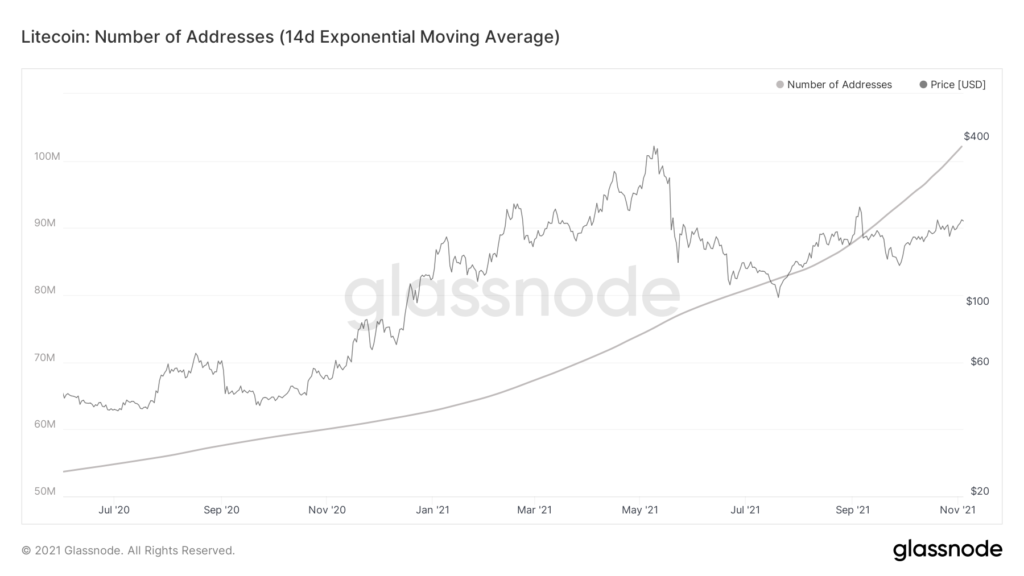 Wallet creation has been on the rise this year, with address numbers increasing exponentially since Q2 this year. The trend has accelerated with time, underlining a strong adoption curve that's facilitated with on-going development.
Being the digital silver-to-bitcoin's gold, Litecoin tends to follow the king's movements at a discount.
Bitcoin and Litecoin exchange hands at $62,000 and $202, respectively at the time of writing.