E-commerce giant Amazon will reportedly accept payments in Bitcoin by the year's end, according to an insider familiar with the matter.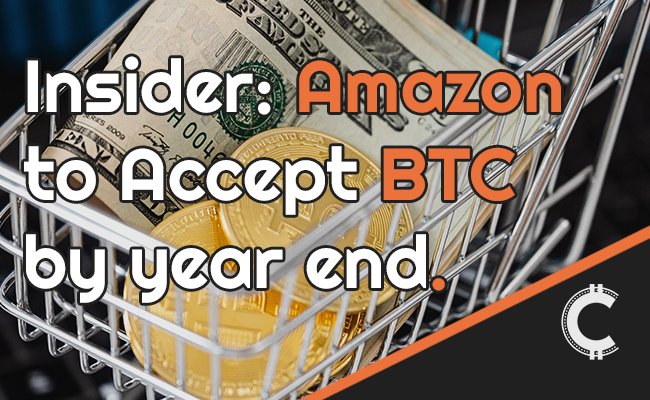 In Brief
The fourth-biggest company in the world will reportedly accept bitcoin as a payment method by the end of 2021. 
An insider claims that Amazon's crypto project is  "ready to roll."
The move is suggested to be initiated by founder and former CEO Jeff Bezos.
The info covered by City AM is a rumour until proven otherwise.
---
Amazon to accept Bitcoin and other cryptocurrencies, potentially
An insider familiar with the matter reportedly told City AM that the fourth largest company in the world, Amazon, will accept Bitcoin payments by the end of the year while potentially delving deeper into the cryptoverse.
The anonymous source added that while integrating crypto as a payment option is the first steps, the internet giant's ambitions reach much further.
The insider noted: This is a full-on, well-discussed, integral part of the future mechanism of how Amazon will work.
Per the source, Bitcoin will be the first cryptocurrency accepted given its trusted immutable status. However, the corporation is interested in possibly adding other popular currencies in the future, including Ethereum, Cardano and for some reason unbeknownst to anyone, Bitcoin Cash. The insider suggested that this was a decision taken by the higher echelons of the organisation, referring to founder and executive chairman of Amazon, Jeff Bezos.
The insider further suggested that the process to roll out digital  currency payments will not take long since this has been in development since 2019. 
As part of the e-commerce giant's plan of buying into the crypto space, Amazon will also aim to create its own crypto, which could come to market as early as 2022.
This development comes after Amazon published an advertisement for a cryptocurrency and blockchain lead job opening. Per the job description, the resource would need to develop the company's digital currency strategy and product roadmap.
---
Subscribe to the semi-weekly newsletter for regular insight into bitcoin and crypto. Go on. It's free.
Join the telegram channel for updates, charts, ideas and deals.
Did you like the article? Share it!